Heights' Moran Signs to Play Basketball at Hanover College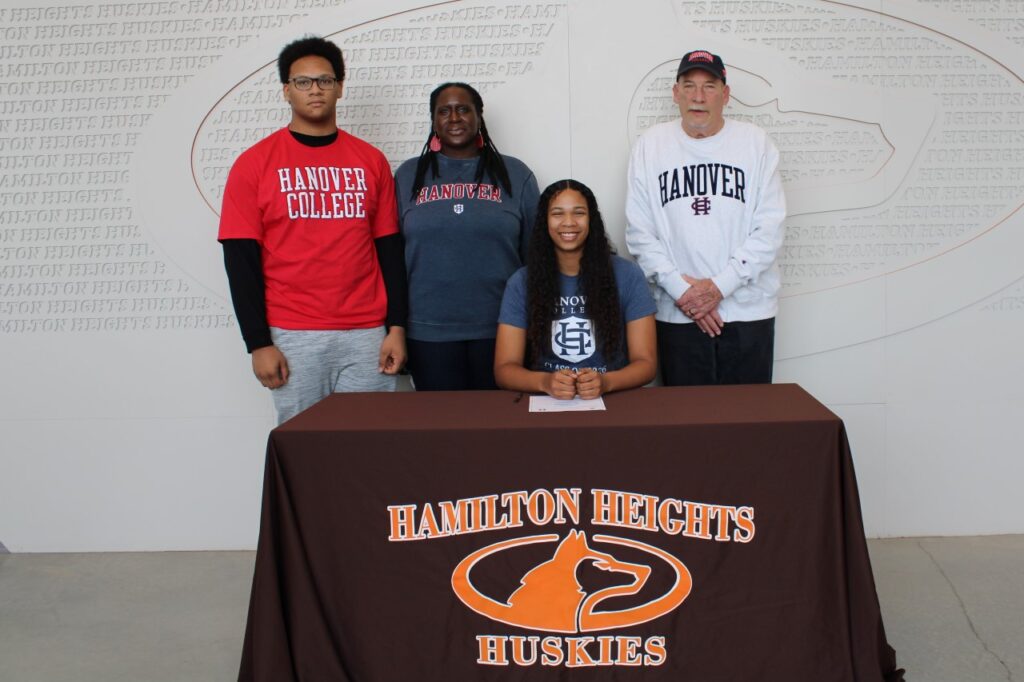 MyKayla Moran, Hamilton Heights' senior, has signed a letter of intent to play basketball for Hanover College in Hanover, Indiana this fall. Hanover College is a member of the Heartland Collegiate Athletic Conference (HCAC) and a NCAA Division III athletic institution. She is the daughter of Cherry and Ron Moran.
It was the Kinesiology and Integrative Physiology program, beautiful campus, and family atmosphere created by the women's basketball team that made this liberal arts institution in southern Indiana Moran's top pick to pursue her education and play collegiate basketball. She liked the fact that she would have many opportunities to gain hands-on experience with athletic trainers as she works toward becoming a Certified Athletic Trainer. In terms of the women's basketball program, the coaches and players were warm and welcoming. She felt like she could excel in the classroom and on the court at Hanover.
Moran has loved playing basketball since the age of five. She has worked to build her skill set, stamina, and presence on the court during practices, at Accel Indy to train with former Hamilton Heights player, Maddie Herr, and trained with M14 to bounce her game up to the next level.
She credits a lot of her success and development to her parents. Both pushed her to be the best person and player possible and she believes she would not be here today without their support and involvement.
Moran, a member of the National Honor Society and who works for Prairie Lakes Health Campus, is a four-year varsity letter holder. In addition, she was named the Most Improved Player 2019-20, Leading Rebounder in 2019-20 and 2020-21, All-Conference Honorable mention 2019-20, and All-Conference 2020-21.
"On behalf of the entire coaching staff here at Hamilton Heights, we wish to congratulate MyKayla on this fantastic opportunity," said Hamilton Heights Girls Basketball Head Coach Keegan Cherry. "We thank her for her commitment to the program and wish her the best as she pursues her goals as a student athlete at Hanover College." "MyKayla has worked extremely hard over her high school career to improve her game," added Hamilton Heights High School Athletic Director, Kurt Ogden. "It's exciting to see that the hard work has paid off for her and she has earned this opportunity to play at Hanover College. Incidentally, she wouldn't have received this offer without working just as hard in the classroom. She is a solid student and a great role model for our program. We wish her well as she prepares for the next level."