Hamilton County Parks Opens New Playground at Morse Park & Beach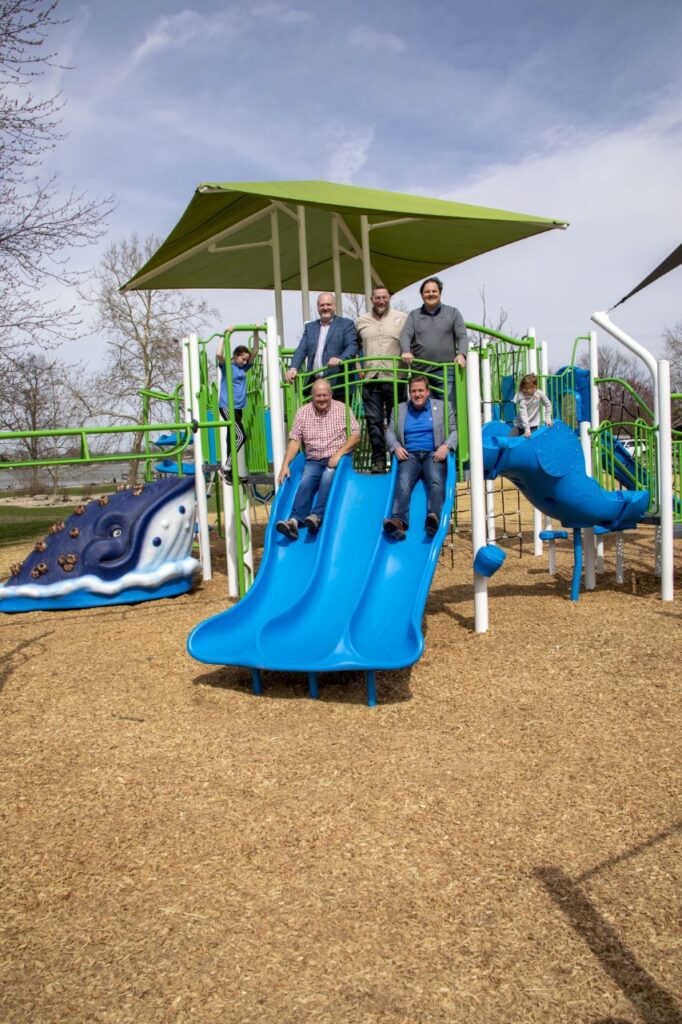 Hamilton County Parks and Recreation staff, elected officials and representatives from Sinclair Recreation, LLC, the firm responsible for the installation of the new playground at Morse Park and Beach, gathered in the park to celebrate the official opening of the department's latest addition to its collection of state-of-the-art community playgrounds.
In his remarks, made during the ceremony, County Council President and Parks Liaison, Steve Schwartz, commented on the importance of outdoor play for all Hamilton County families; not only for the fitness benefits gained, but for the important family time enjoyed by all ages. Schwartz commended park leadership and staff for their efforts in providing such recreational amenities that add to the enviable quality of life in Hamilton County.
Along with the imaginative and engaging play elements, those using the new playground will also be treated to a panoramic view of Morse Reservoir. Because of the playground's proximity to the water, it's collection of play pieces exhibits a fun, nautical theme. The play area will serve a variety of age groups from toddlers to teens – and even adults. A large climbing structure for children ages 5 through 12 is the centerpiece of the project, comprised of an inclusive Sensory Wave climber with handholds created for special needs users, a spinning GT Accelerator and a large polymer whale sporting "barnacle" climbing grips. Brightly hued, overhead shade canopies are designed to offer protection from the sun. Younger children will be able to explore the fun-packed Echo play system that provides musical, role-playing, sliding and crawling activities. Spinning and swinging fun await children on the Tri-Runner. Adults are provided the opportunity to engage in play with their little ones on the Expression Swing, which allows users to interact from an eye-to-eye perspective. The tandem version of that swing is designed so that two children or adults face each other while swinging together.
The playground is located in Morse Park and Beach, a 23-acre lakeside park that also offers visitors a seasonal beach, boat docks, kayak launch, disc golf course, softball complex, sand volleyball court, gaga ball pit, four large picnic shelters and the popular Osprey Pointe Pavilion event facility. A segment of Noblesville's Levee Trail runs through the park, as well.
If you'd like to learn more about the new playground, Morse Park and Beach or Hamilton County Parks and Recreation, visit MyHamiltonCountyParks.com, call 317-770-4400 or follow Hamilton County Parks on Facebook.