Rep. Spartz Helps Introduce Bipartisan 'Investigate Russian War Crimes Act'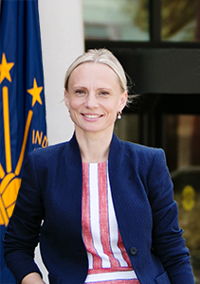 Yestersday, Rep. Victoria Spartz (R-IN) and Rep. Sara Jacobs (D-CA) introduced the Investigate Russian War Crimes Act, bipartisan legislation to allow the United States to provide material support or funding to the International Criminal Court (ICC) for their investigation of Russian war crimes and atrocities in Ukraine. Currently, U.S. law forbids any federal funds from being directed to the ICC.
"The loss of life and atrocities I have seen in Ukraine is heartbreaking and tragic," said Rep. Spartz. "These purported war crimes are inhumane and cannot be ignored by the international community for justice to be served."
Last month, the ICC announced that it would become a participant in investigations into alleged core international crimes committed in Ukraine.
"Russia's conduct in Ukraine has been appalling and demands a full international war crimes investigation," said Rep. Jacobs. "I am proud to introduce this legislation that will strengthen the international community's ability to hold Putin accountable, help the United States work collaboratively with the ICC, and boost our global leadership."
For more information, please visit Spartz.house.gov.