Hamilton County Company Helps Kentucky Flood Victims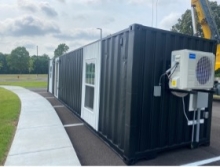 A Fishers company is stepping up to help flood victims in Kentucky.
Land Betterment Corporation, an environmental solutions company fostering positive impact through upcycling former coal mining and industrial sites to create sustainable community development and job creation, announced mobilization of its ekō homes in relief for the recent destructive flooding in eastern Kentucky.
"We are so saddened that Kentucky is enduring yet another natural disaster which has devasted eastern Kentucky," Mark Jensen, Executive Chairman of Land Betterment said. "With our recent experience with rapidly providing western Kentucky ekō homes following devastating tornados, we are ready to jump into action again and help victims of these terrible floods by providing them with our ekō Solutions shipping container homes. We need help and are asking for the support needed to deliver sustainable homes to families in need. Please contact us for more information and to make donations – info@landbetterment.com. We want to move quickly and help these folks get back on their feet, starting with a safe and secure roof over their heads."
ekō Solutions, a Land Betterment Company, uses innovative ecological structures to replace legacy inefficient and ineffective methods of living, growing and working. We provide durable structures which are affordable to operate, inhabit while also maintaining the ability to be utilized in a mobile environment. ekō homes are designed to be high quality, durable and affordable to live in from 1- 10 years. The sustainable craftsmanship of our homes is what separates us from the alternatives.
For more information visit ekosolutionsllc.com and connect with ekō Solutions on LinkedIn and Twitter.
Land Betterment Corporation, an Indiana Benefit Corporation and Pending B-Corp, is an environmental solutions company focused on fostering a positive impact through upcycling former coal mining sites to create sustainable community development and job creation. The Company utilizes a complete solution-based lifecycle program to restore and rehabilitate the environment and revitalize communities in need of change and opportunity.
Land Betterment accomplishes this by identifying un-reclaimed, run-down and neglected coal mining sites, fixing the environment through reclamation and remediation, and then repurposing the land to support a sustainable business that serves the community. Land Betterment firmly believes that with real solutions it is possible for restoration of impacted areas to live side-by-side long term employment, while building sustainable and safe surroundings for communities and our planet.
For more information visit landbetterment.com or connect with the Company on Facebook, Twitter, and LinkedIn.