Betty Charlene Lindenmayer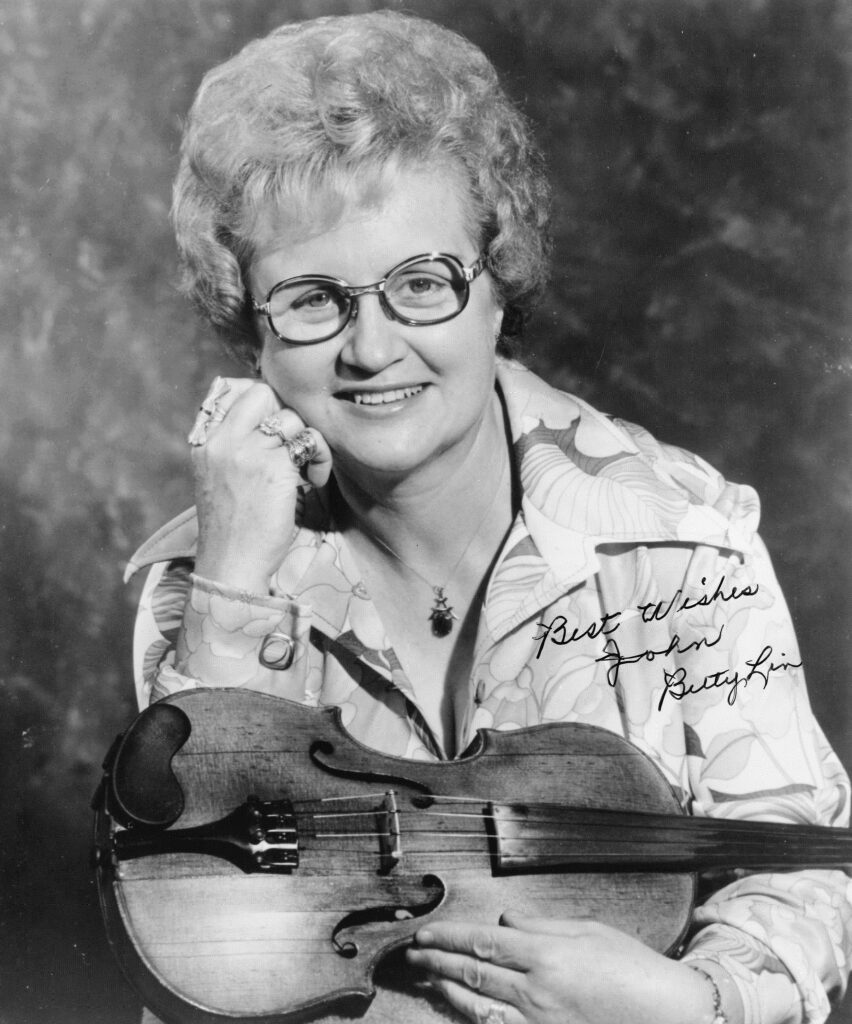 Dec. 17, 1925 – Jan. 19, 2022
Betty Charlene Lindenmayer, age 96, of Frankfort, formerly of Sheridan, passed away on Wednesday evening, Jan. 19, 2022, at Clinton House in Frankfort.
Born Dec. 17, 1925, in Sugar Creek Township of Clinton County, Ind., she was the daughter of the late Hersal "Heiny" and Nellie M. (Harris) Buzan.
She and husband Roy were married on November 2, 1942 and would spend the next 72 years by each other's side. Mrs. Lindenmayer graduated from Sugar Creek High School in 1944. Soon after, she traveled to Illinois for a performance on one of the local radio stations. It was in that moment a performer was born. For Betty, playing music was as natural as taking a breath. She would sit and play with her grandfather for hours as a child, developing her musical skills and a genuine love for "old timey" music. Betty could play piano and organ, but she could make a stringed instrument sing.
She earned numerous trophies and awards throughout her life, including winning the Indiana State Fair Old Fashioned Fiddler's Competition. Using the stage name Betty Lin, she quickly started making a name for herself in Bluegrass and square dance circles. In 1971 she began traveling to Renfro Valley, Ky., to play on their weekly radio show, The Renfro Valley Barn Dance. It was during those years that she released her live album, "Country Violin". In 1979 she helped establish the New Coon Creek Girls. Mrs. Lindenmayer eventually left the group she helped found, going on to play with many others acts throughout her career, including The Country Sunshine Band, The Sunny Valley Gang, and Loretta Lynn.
Mrs. Lindenmayer did have other interests outside of music, including collecting Native American jewelry and artifacts. She also loved to entertain, which made her the perfect Tupperware representative – a position that she held for 20 years. Music may have been her passion, but her family was her heart and soul. Her strong faith, along with the love and support of her family, helped her live her dream. She was a people person who loved nothing more than when her friends and family could get together to tell stories, enjoy being in each other's lives, and of course, play some good music.
Survivors include her sons, Gary (Janet) Allen Lindenmayer of Sheridan and Chris Morton (Kathy) Lindenmayer of Frankfort; grandchildren, Roy (Lindsey) Lindenmayer of California and Crystal Lindenmayer of Frankfort; great grandchildren, Austin Cearlock of Peru, Annissa (Andrew) Lynch of New Ross, Kendra Gregory of Ft. Wayne, Christian Lindenmayer of Frankfort, Kyle Lindenmayer of California, Gianna Lindenmayer of California, Lilly Lindenmayer of California and Knox Lindenmayer of California; 2 great-great grandchildren, Camdyn Cearlock of Peru and Freya Lynch of New Ross; brother, Morris (Karen) W. Buzan of Sheridan; and many nieces and nephews.
She was preceded in death by her parents; sister, Lilalee Wright; brothers, Gene W. Buzan and wife Phyllis, and Warren L. Buzan and wife Judith; grandchildren, Ray Lindenmayer and Tami Lindenmayer; and by her husband, Roy M. Lindenmayer on Dec. 24, 2014. Private family services are scheduled for Wed., Jan. 26, 2022, at Kercheval Funeral Home in Sheridan. Mrs. Lindenmayer will be laid to rest at Crown View Cemetery in Sheridan. Pastor George Cooper will be officiating.