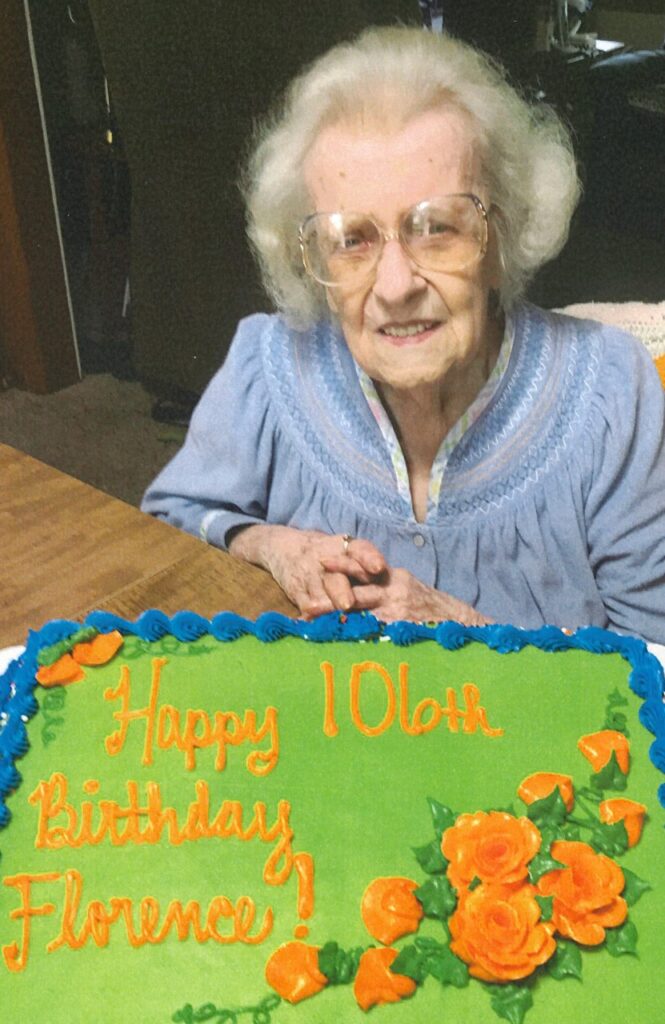 Aug. 19, 1915 – Jan. 10, 2022
Florence Cecile Fountain passed away in Milan, Tenn. on Jan. 10, 2022 at the age of 106.
She was born in Montreal, Canada on Aug. 19, 1915 to Ephrem and Emma Hurtubise.
On Sept., 1922 at the age of 7, her family moved to Chicago, Ill. She became a naturalized citizen of the United States in 1954.
After graduating from 8th grade, she helped her parents survive the Great Depression by cleaning houses. She always regretted not going to high school, but never regretted making sure her parents had food to eat during those difficult years.
She married her only love, Alfred Fountain, on Sept. 14, 1935, in Chicago. Together they raised three children, Fred (Marilyn) Fountain, Richard (Nancy A.) Fountain and Nancy F. Fountain.
In addition to raising a family, she worked at Madigan's store in Chicago during the 1950's. She also sold crocheted items to help raise money for a down-payment on a new house. She and Al bought their house in Justice, Ill. in 1957.
She then worked at Sears and Roebucks until she had to leave her job to care for her husband after he was diagnosed with cancer. After Al passed in 1967, she moved to Sheridan, Ind. with her son Richard, and began working at Curtis Automotive Devices, Inc. in Westfield.
She worked there until retirement at the age of 60. She then moved in with her daughter in Westfield, Ind. to help care for her granddaughters. She also worked as a babysitter for several families.
She lived in Noblesville, Ind. for a few years, then moved to Milan, Tenn. to live with her son, Richard.
She was preceded in death by her husband Alfred; her son, Fred Fountain; and daughter Nancy F. Fountain; and daughters-in-law Nancy A. Fountain and Marilyn Fountain.
Survivors include her son, Richard Fountain (Milan, Tenn.); grandchildren, Dan (Kathie) Fountain (Middletown, Ind.), David E. (Gina) Fountain (Anderson, Ind.), Sandra (Mark) Turzinski (Wisconsin Dells, Wis.), Sharon (Keith) Isley (Newton, Idaho), David W. Fountain (Branson, Mo.), Catherine (Dave) Mutchler (Florence, Ariz.), Deborah (Tony) Nelson (Aurora, Ill.), Joseph (Lindsey) Fountain (Milan, Tenn.), and James (Haley) Fountain, Milan, Tenn.; 33 great-grandchildren; 14 great-great-grandchildren; and three great-great-great-grandchildren.
Family and Friends will gather to celebrate Florence's life in East Union Christian church at 1711 E. 296th Street, Atlanta, IN 46031 on Sunday, Jan. 23, 2022 at 3 p.m.
The committal will follow at Union Cemetery.
Local arrangements entrusted to Bussell Family Funerals.