Legion votes to sell building to developer, move to new location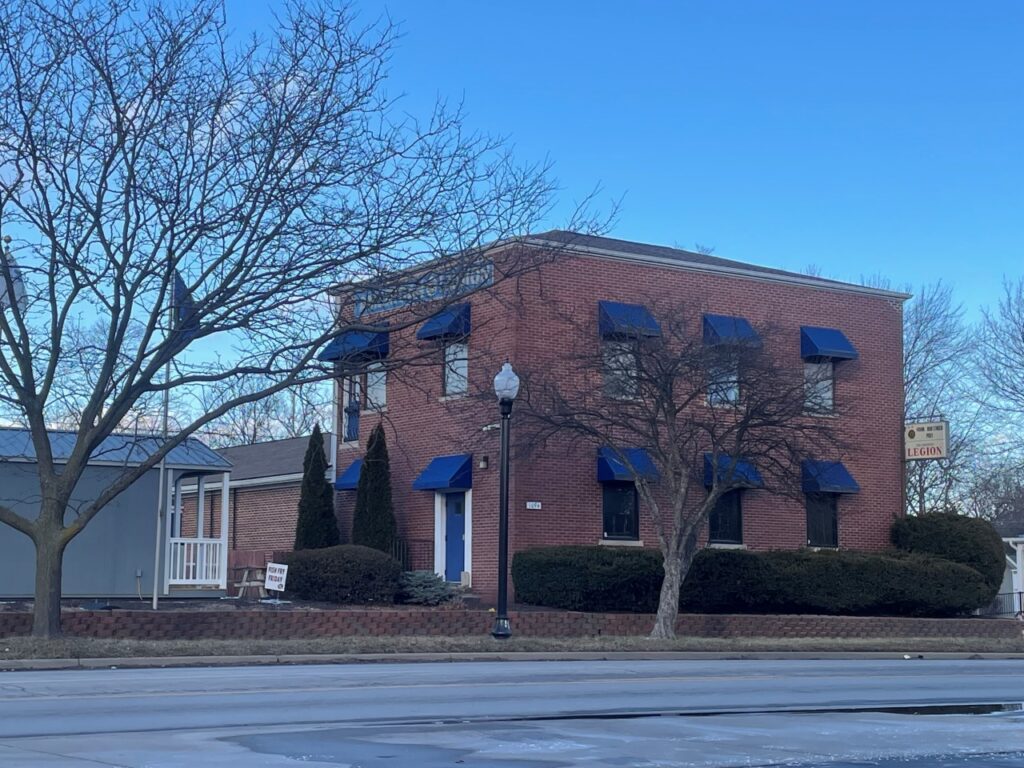 Noblesville American Legion Post 45 in Noblesville will soon be another downtown building that will become part of the City's past.
Voting members of Frank E. Huntzinger Post No. 45 on Thursday unanimously approved to sell the property at 1094 Conner St., to a developer and to purchase property elsewhere.
The Post 45 Legion members, Sons of the American Legion members and Auxiliary members were invited to the hour-long presentation at the Post, where membership cards were required for admission. About 40 people attended.
"We had a very good exchange of information, and I believe most people were satisfied with my presentation," said Post Commander John Morris. He said they also talked about "the option of staying in our current facility and addressing many issues that have come up due to neglect."
The sale comes as no surprise, as downtown properties are becoming highly sought after for development of parking garages and apartments.
Details of the sale, including buyer, selling price and plans for the property, weren't yet released, but Morris said there are positive reasons for moving forward.
"There are several benefits for us," Morris said. "We will be able to move to a larger property with more square footage and green space. We will be able to create a much larger financial cushion for future resiliency. We will also have the opportunity to have part of the property for third-party revenue generation back to us."
While Morris didn't flinch with this journalist's three guesses of new location, he did say, "The new site will also allow for us to increase and expand services to Noblesville veterans which is key to our future membership growth."
He said the current offer from a developer doesn't include any land swaps. "It is solely just financial," Morris said. And he couldn't speak on whether or not the adjacent parking lot that belongs to Church Church Hittle and Antrim attorneys at the northeast corner of 10th and Conner streets would or would not be part of the coming development.
Once the American Legion Post 45 deal is finalized, he said he would be able to provide more specifics. "But like any commercial property transaction, we are still in the letter of intent phase and working up sale agreements."
At the same time, he said, "We do have a letter of intent submitted and accepted for another property (to purchase)."
The current building has 8,000 square feet and sits on about ¾-of-an-acre, Morris said.
The proposed new property is more than an acre with an 11,000-square-foot building structure on it.
"The conversation with the interested party started a few months ago," Morris said. "The issue of exploring options goes back to June (2021) I believe after a meeting with (Noblesville Mayor) Chris Jensen."
While Jensen is aware of the developers' interest in the property, the CIty isn't involved in the land deal, Morris said.
"The City is not playing a role in any of this," he said. "We have been keeping them in the loop, however, just to ensure the correct information is being put in front of them. We did present photos, CAD drawings and layouts during the meeting."
Morris, 51, who has been Post Commander for seven months, lived in Noblesville for around six years until recently. "We had a change in our family plans, which oddly resulted in finding a property that fit our unique needs in the Geist area."
A Joliet, Ill., native, Morris, who calls himself a youngster by Legion standards, served in the U.S. Navy from 1987 to 1993. His daughter is a vet, and so is his son-in-law.
"I saw this gap and decided to try and steer into a better direction for the future."
He said, "I see the potential in what we can do for today's vets, but it requires a dramatic shift in our current approach."
Morris' first step for the American Legion Post 45 was to go "nonsmoking."
Then the Legion Post had a veterans women's event to spotlight their specific challenges.
"I then brought in a partner to offer better lunch and dinner options besides chips and cheese sticks," he said. "I then brought live bands back due to member feedback."
He said, "These are all investments in our future. I truly believe that every small step today chips away at the negative perception of the Legion by our younger vets. Rome wasn't built in a day, and it will take time for this process to bear fruit, as well, but it is a start."
Most recently, I watched Noblesville native country music singer Steve Wariner's younger brother, Terry Wariner, and his band perform at the Legion on New Year's Eve. Morris was there with his wife and stepped over to welcome this journalist.
Even before that night, I had heard the rumor that the Legion was considering selling the property.
He said the conversation started with developers asking about the property. "We were hearing that inquiries were being made through different avenues," Morris said. Also, a Legion member there "is tight within the developer community."
He said, "Then we made the decision to communicate that we were not on the market, but we would be open to dialogue."
"The Legion has a mission to support and aid our veterans," he said. "In many ways, we are failing in that due to the generational disconnect."
He said, "Today's vets aren't nearly as interested in simply sharing drinks. They are looking for help in accessing benefits, family oriented activities, electronic presence and education. Lacking in this area is a major cause of our national declining membership."
He's hoping a new and larger location will allow the Post to offer more to the Legion's membership.
The Frank E. Huntzinger Post. 45 has a rich history in Noblesville, being the first American Legion post in Hamilton County, established on Sept. 2, 1919.
The post's 100th anniversary was observed Jan. 17, 2019, with a public program, a meal and ice-cream social to follow, and a free concert.
While the Legion was originally restricted to U.S. soldiers, sailors and marines who served honorably between April 6, 1917 and Nov. 11, 1918, today it's open to anyone who has served at least one day of federal active duty and any active duty military. The Legion's national headquarters is in Indianapolis.
The first regular meeting of the post was at 8 p.m. Monday evening, Sept. 22, 1919, in the Hamilton County Courthouse in Noblesville.
Several years later, they moved to the Wild Opera House on South Ninth Street. Unable to afford the space, they returned to the Courthouse.
The Legion later met at an old log cabin at Forest Park until June 7, 1944, when the Legion bought a small house at 1094 Conner St., where the current building sits. "They each threw in a hundred bucks," James Martin, 77, Noblesville, the post's finance officer who served in the U.S. Army during the Vietnam War, has said.
Next door was an Eagles lodge, which the Legion bought and is now a grassy area with a flagpole, cannon, Prisoner of War-Missing in Action monument and Frank Huntzinger memorial wall.
"They started this building with just the basement," Martin said of the lower level that opened in the mid 1950s. "There was a huge walk-in cooler, a full bar with about 15 bar stools and bathrooms."
Back then, Noblesville's Firestone Industrial Products had 1,700 employees, Martin said. On a Friday morning, after the night shift got all work, at 8 a.m., "it would be three deep at the bar," Martin said. "This would have been a raucous place. At one time, they had three slot machines in here. It was probably a different environment than today." It would have also been a "Friday night bar" because everybody got their paycheck on Friday.
Today, Legion members and guests can eat, play bingo and gamble. The Legion moved into the main level at Christmas 1958. The building hasn't changed much over the years. Although there are more recent attractive blue awnings installed.
The women's auxiliary started June 18, 1921, with the chairman of the committee as Mrs. John Ale.
The VFW and American Legion in Noblesville have a joint meeting every two months and join together to put 1,000 flags at the cemeteries. They take care of a set number of needy families, who take them shopping, do a children's giving tree at Christmas. They have built ramps for people.
Martin, who emcees the Veterans Day and Memorial Day ceremonies at the Courthouse Square, has said, "We try to make the world a better place to live and try to make people's lives a little bit better. If we can give a little bit of happiness."
He gets satisfaction from helping others. Martin has said, "It is an incredible sense that we've done what we're supposed to do." -Contact Betsy Reason at [email protected]