Jan. 11, 1925 – Feb. 25, 2022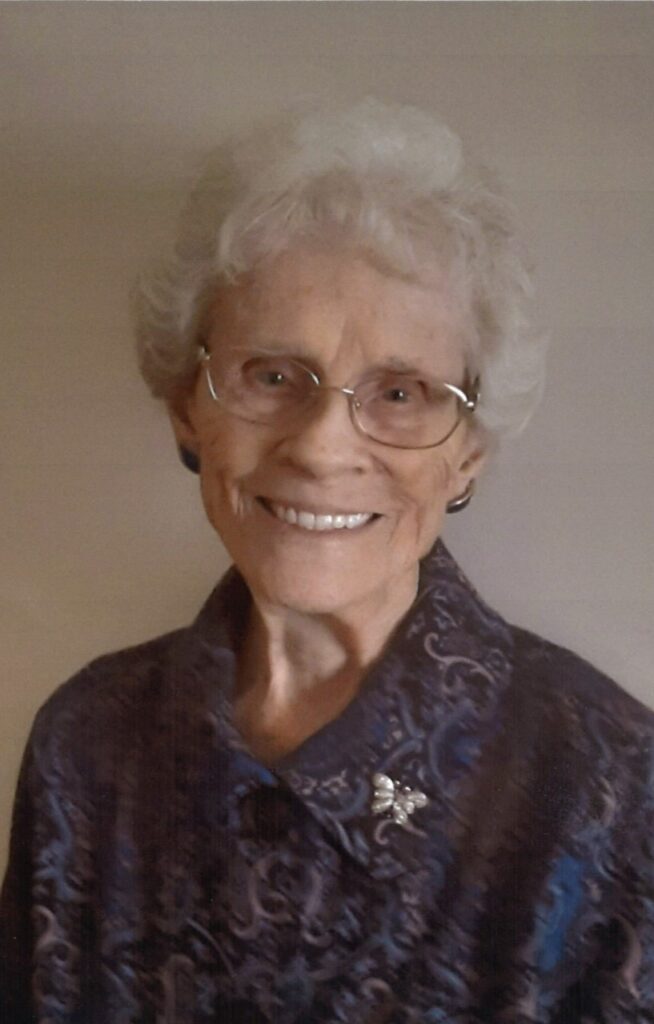 Doris L. Rogers, 97, of Noblesville, went home to heaven on Friday, Feb. 25, 2022, at Five Star Residences in Noblesville, Indiana.
She was born on Jan. 11, 1925, in Paragould, Arkansas to Clarence and Maude Burton.
In 1943, she graduated valedictorian from Oak Grove High School in Paragould, Arkansas. On August 21, 1943, she married the love of her life, Harvey Rogers. They were married for 78 years.
The Rogers moved to Indiana in 1952 and were faithful members of Prairie Baptist Church in Noblesville for 69 years, where Mrs. Rogers served as a Sunday School teacher for many years and was involved with many ministries including the mission circle and church choir. She loved her family, her church and her Lord and Savior Jesus Christ.
Mrs. Rogers loved to garden. She loved all the work involved, taking great pleasure in planting, cultivating, harvesting, and even pulling weeds. She worked tirelessly to preserve the food she grew and hated for anything to go to waste. She loved watching the birds, especially her hummingbirds. Mrs. Rogers loved making quilts, and spent her winters with her quilting frame, creating masterpieces one tiny stitch at a time.
She was a great planner and organizer. She wrote and produced many skits for church programs and helped to organize many church activities. Mrs. Rogers loved planning and preparing meals for family gatherings and did not want any help preparing food for those huge meals.
She was a willing worker, and a caring friend to everyone she met. Her greatest desire was that others and especially her family would know Jesus as their Lord and Savior. She is greatly loved and will be greatly missed.
Survivors include her daughter, Jane Shively of Noblesville; son-in-law Robert Blevins of Huntsville, Ind.; grandchildren Cari (Robert) Carter, Paul Rogers, Jennifer Moyes, Daniel (Starla) Shively, Ben (Leah) Rogers, Michael (Amanda) Rogers and Matthew (Bobbi) Shively; 13 great-grandchildren; three great-great-grandchildren; and many nieces and nephews.
She was preceded in death by her dear husband in October of 2021; her parents; three children, Sherry Moyes-MacDonald, Tom Rogers and Martha Blevins; daughter-in-law, Sandy Rogers; sons-in-law David Moyes, Jim McDonald and Steve Shively; great-grandson Desmond Rogers; brothers Hayes and C.H. Burton; and sisters Sherrill Cooper, Mildred Copeland and Mary Carolyn Jernigan.
A funeral service is scheduled to be conducted at 10 a.m. on Thursday, March 3, 2022 at Prairie Baptist Church, 14790 East 206th Street, Noblesville, Ind., 46060, with Pastor Alan Muxlow officiating.
Visitation for family and friends is scheduled to be from 4 p.m. – 7 p.m. at Hersberger-Bozell Funeral Home, 1010 North Main Street, Lapel, Ind., 46051.
Memorial contributions may be made to Prairie Baptist Church through the funeral home.
Online condolences may be shared at www.hersbergerbozell.com.