January 24, 1971 – May 10, 2022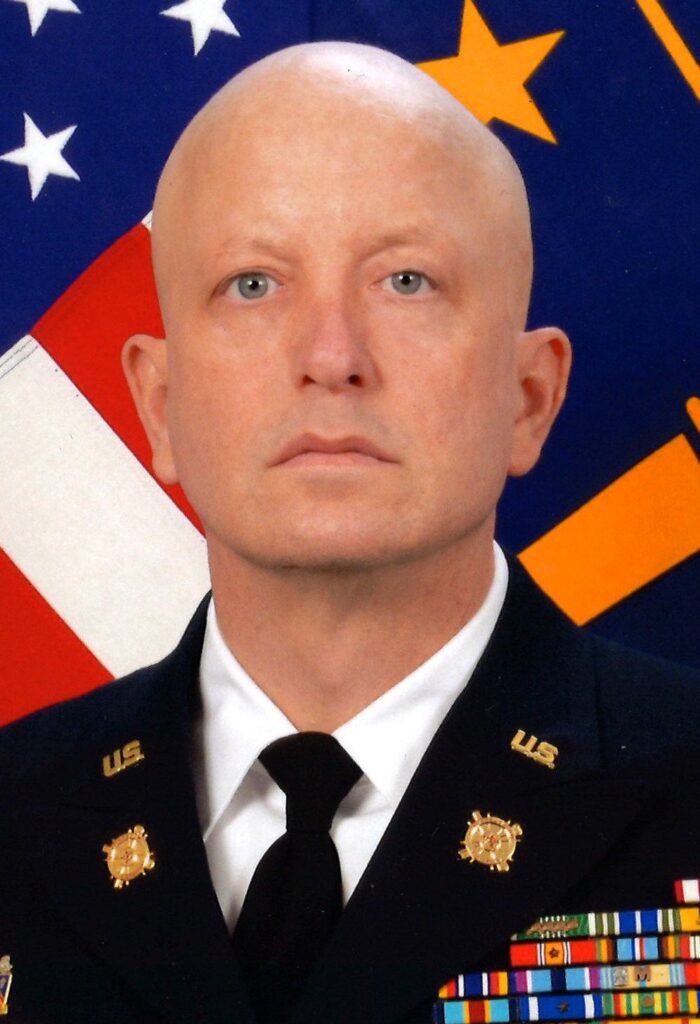 James Claghorn, 51, of Noblesville, passed away on Tuesday, May 10, 2022 after fighting leukemia for over 13 years.
He was born in Madison, IN on January 24, 1971 to the late Larry and Annamary (Dryden) Claghorn.
Mr. Claghorn graduated from Madison Consolidated High School in 1989 and joined the Indiana Army National Guard the summer before his senior year to take advantage of the college benefits. He earned a Bachelor's Degree from Indiana University in 1996 and his Master's Degree from Oakland City University in 2005.
Mr. Claghorn married Dawn (Brown) Claghorn on December 9, 1995 while both were seniors at Indiana University. After several years and several moves with their civilian employment, he went on active duty with the Indiana Army National Guard and retired at the rank of Lieutenant Colonel after serving over 30 years with two deployments to Bosnia and one deployment to Iraq during his time in service.
He enjoyed traveling the world, going to concerts, and spending time with his wife and daughters. Mr. Claghorn cherished his daughters and among many of his memories with them were the Mickey Mouse "Dad You Are My Star" coffee mugs he received from them on the same day during their elementary school fair and the "father-daughter trip" he took with both girls before each left for college (and he cried the day both left for college).
Mr. Claghorn and his wife were able to travel to many states and countries with their daughters during their marriage. One of their favorite memories was when Dawn, the girls and he were able to see Bruce Springsteen in concert in Trieste, Italy while on vacation.
Mr. Claghorn wished he could have survived at least another 30 years and will miss his family more than they will ever know. He will miss spending time with his friends from his hometown (Brian, Eddie, Troy and others), college (Pete, Wease, Billy, Mark, Greg and Brian) and the military (Bob, Bill, Jim, Danny, Greg, Gary, Matt and others) and thanks them for their friendship over the years.
Survivors include the love of his life, and best thing that ever happened to him, Dawn (Brown) Claghorn; the best two daughters a dad could ever ask for, Mary Claghorn and Madison Claghorn; step-mother Annabelle Claghorn of Madison, IN; step-sister Tina (Jason) Linker of Fort Wayne, IN; and step-sister Anita Bunch of Madison, IN.
He was preceded in death by his parents; his Nana Martha Carlock; his step-brother Tim Bunch; and his brother Joey Claghorn.
Visitation is scheduled to be held from 5 p.m. to 7 p.m. on Thursday, May 19, 2022 at Randall & Roberts Funeral Center, 1685 Westfield Road, in Noblesville. Services and burial are scheduled to be held at 11 a.m. on Friday, May 20, 2022 at the Indiana Veterans Memorial Cemetery, 1415 Madison State Hospital Lane, Madison, IN 47250.
Mr. Claghorn requested donations be made to the USO in support of our service members and their families. United Service Organizations, Inc., 2111 Wilson Boulevard, Suite 1200, Arlington, VA 22201 (www.uso.org).
Online condolences may be made at www.randallroberts.com