NCAC Presents'Hamlet' at 30th Shakespeare in Park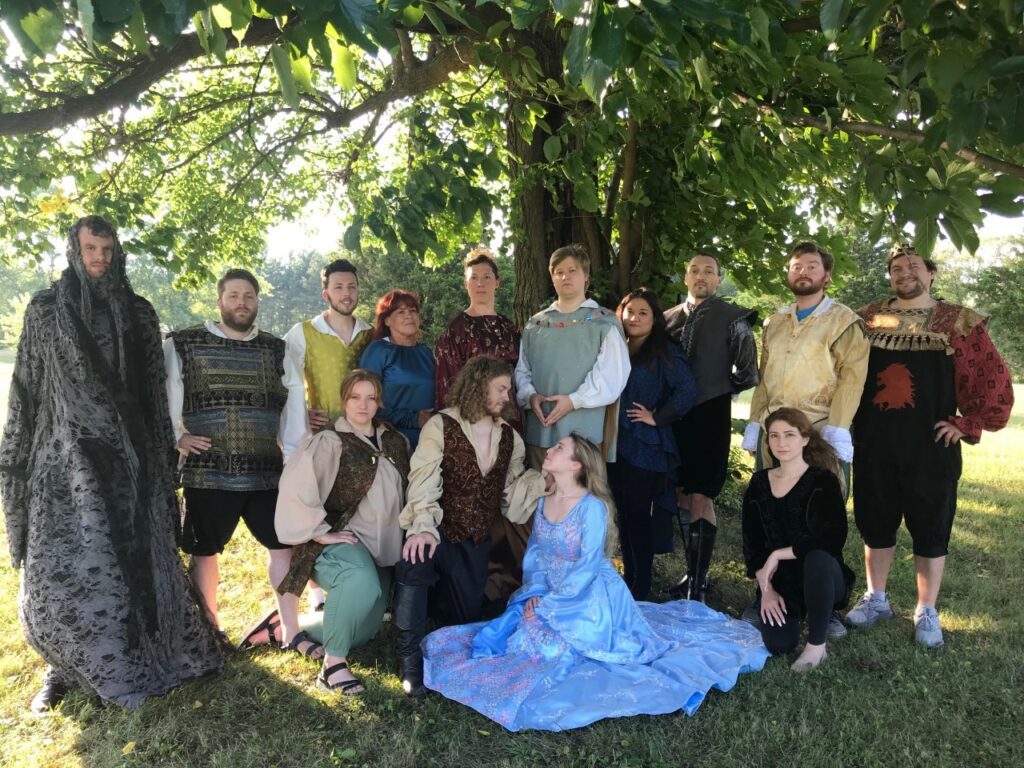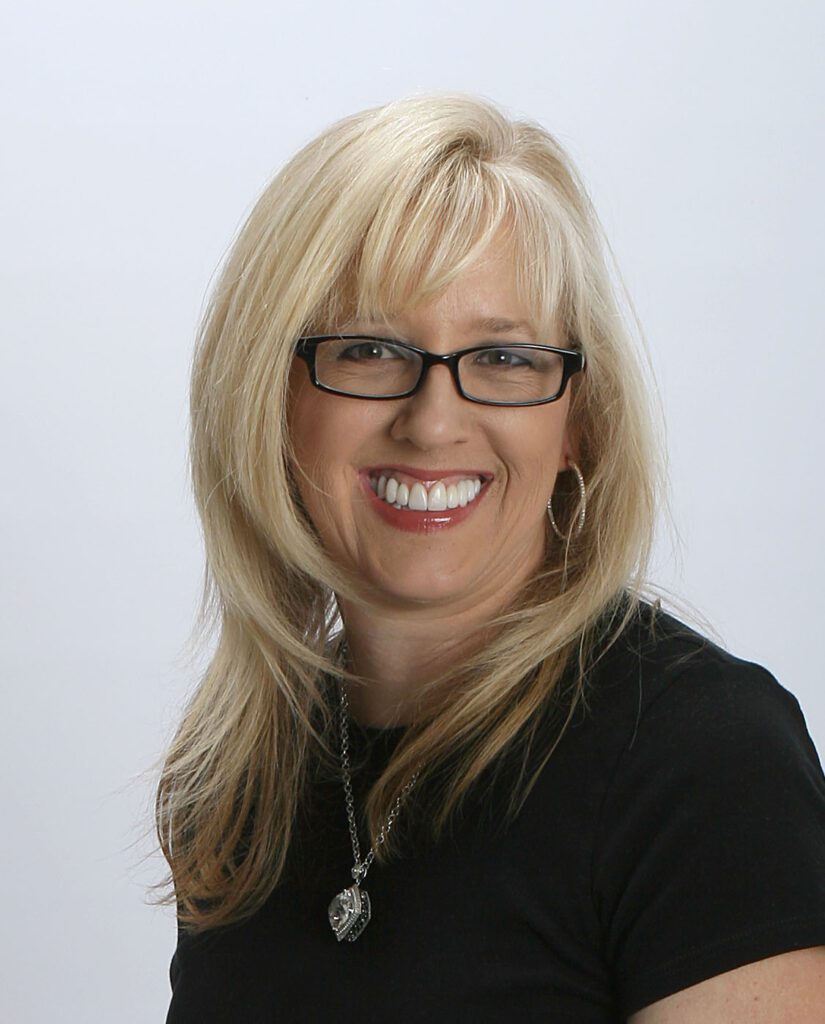 Strolling downtown Noblesville in the area of Federal Hill Commons the past few evenings, you might have heard actors rehearsing for Shakespeare in the Park.
Noblesville's Jennie Otterman sits in her lawn chair on the lawn in front of the First Merchants Pavilion stage, listening closely to every line and watching her actors become their characters, readying for opening night on Wednesday.
Noblesville Cultural Arts Commission presents the 30th annual Shakespeare in the Park production, "Hamlet." Performances are at 8:30 p.m. Wednesday, Thursday, Friday and Saturday. Admission is free. Lawn chairs, blankets and picnicking are invited.
This year's show, "Hamlet," a tragedy, was written around 1600 and is one of William Shakespeare's 38 plays, his longest and arguably one of his most famously recognized titles. (The play is in five acts and a total of 17 scenes.)
"Rob Heighway (assistant director) did an excellent job of paring down this play from three to four hours to about an hour and 45 minutes," Otterman said.
"We might dismiss it as archaic and no longer relevant in our oh-so-advanced-technological age. But, we would be mistaken. Its boldly present themes are more applicable today than ever. Revenge, corruption, religion, politics and the treatment of women are a few of the most prominent," Otterman wrote in her Director's Notes in the program, which will be handed out to guests at this week's outdoor Shakespeare play.
"Hamlet's messages are very timely, indeed. I could discuss, at length, any one of these themes, but then you would be reading pages and pages of analysis rather than watching this play unfold on stage," she said. "Instead, let's take this play to heart and learn its lessons. It is time we identified corruption for what it is and denounced it. It is time we set aside our petty disagreements and cultivated some respect for our fellow humans; after all, we share this earth together. It is time women were finally treated with dignity and considered equals. Although Hamlet struggles over whether to commit murder to avenge his father or kill himself to avoid the choice, the pain, he might have had a third consideration…forgiveness."
Otterman directs Noblesville Shakespeare in the Park for the third consecutive time.
She said the decision to choose "Hamlet" was "a mutual decision between (the play's producer) Joni (Corbett), (assistant director) Rob Heighway, David Heighway (props) and myself," she said. "We thought it was a good choice …."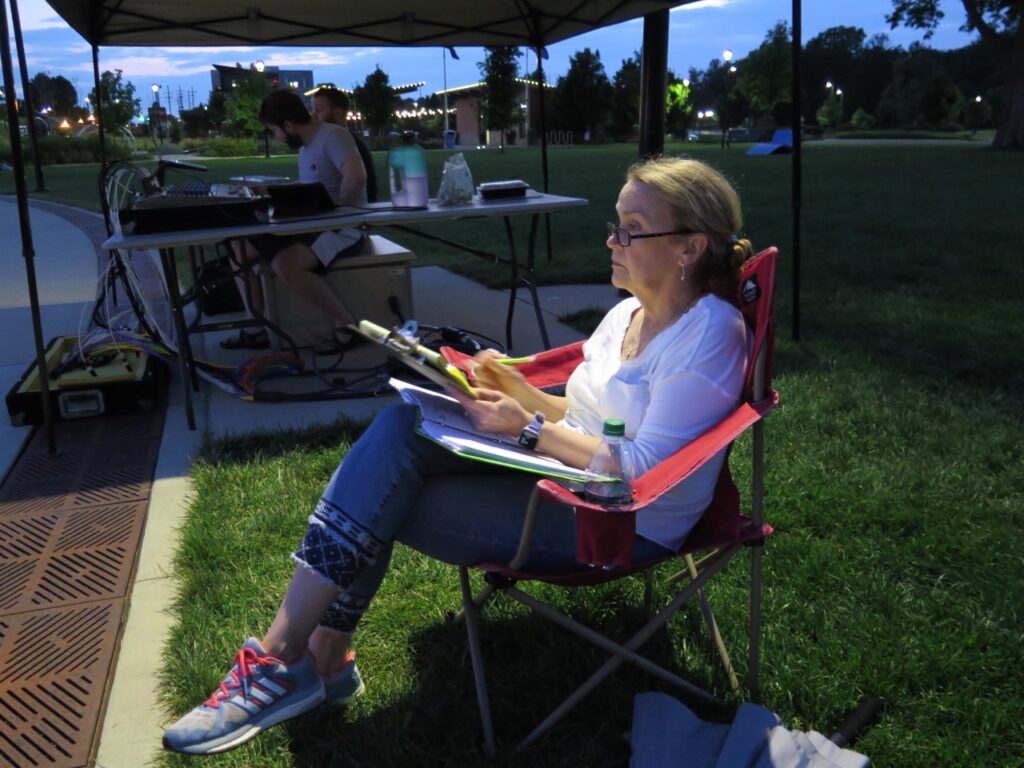 "This show is well-recognized by the public, so they will especially like some of the monologues that are familiar to them … like the 'to be or not to be' one," she said.
Rehearsals this year were more back to normal, Otterman said. "Covid is never going away, so we must adapt. We have been fortunate so far that everyone has remained healthy."
While heat has been an issue — "Elizabethan costumes can be hot" — during some years of Shakespeare in the Park, whether for rehearsals in Seminary Park or Federal Hill, this year the weather looks promising.
"It looks like my prayers have been answered and the heat is going to break for the performance week. Now, we just have to worry about rain." (I think they are lucky again; the forecast calls for only 40 percent rain on Thursday night.)
Otterman said, also, they were "very fortunate to be able to rehearse in a facility that is air conditioned." For the past six weeks, four nights a week, they've been rehearsing at Emmanuel Methodist Church on the east side of Noblesville.
"Rehearsals have gone extremely well. I have been privileged to work with actors who take their craft very seriously. They were memorized early on and have worked hard in crafting their characters, all while enjoying each other's company. They have just been an absolute delight to work with, talented and capable."
The cast features 15 actors hailing from as nearby as downtown Noblesville and as far as Yorktown and Indianapolis.
Being that the set has to be built someplace else and then disassembled and reassembled at Federal Hill, every night, many of the set pieces and "basic" walls are the stock that NCAC has used for years. "They have a storage facility where they keep the set," she said.
"We must keep set pieces to a minimum because we have to strike the entire set after every performance and store everything in a U-Haul and then set it all up again for the next performance. That kind of load-in and load-out schedule prohibits any elaborate set construction.
Linda Findley Grow is the show's costumer and uses some of the stock costumes, reworks others and hand sews others. "She is a superb costumer," Otterman said.
Grow always tries to make sure that costumes that she makes are cotton and lightweight to keep the actors cool on stage. "They're actually really lightweight, and they look good," Grow has said of her many costumes in years past.
This is her fourth Noblesville Shakespeare production, including "Midsummer Night's Dream" and "Macbeth" and "Taming of the Shrew." She has been making costumes since she was 14 and will turn 70 in August.
David Heighway, county historian, either has or makes all of the show's props, Otterman said.
Other crew involved include Geoff Lynch, sound engineer; Michael Totty, lighting designer and operator; Monya Wolf, hair and makeup; Eric Dixon and Laiken Charpie, stage crew; and Gwendolyn Lynch, production crew.
Otterman has been in theater for more than 55 years and has worked more than 100 shows. She also taught an acting class in Shakespeare for several years at Hamilton Southeastern High School, where she directed more than 50 plays.
She encourages the community to come out and support the local Noblesville arts.
She said, "Bring a lawn chair, a bite to nibble and a beverage and enjoy Shakespeare under the summer stars."
Contact Betsy Reason at [email protected]
Meet the CAST

Here's the cast of Noblesville Cultural Arts Commission's Shakespeare in the Park's "Hamlet:" Ian Hauer, King Claudius; Molly Bellner, Queen Gertrude; Logan Laflin, Hamlet; Matt Hartzburg, Polonius; Steven Moore, Laertes; Ka'Lena Cuevas, Horatio; Rachel Kelso, Marcellus; Aaron Ploof, Ghost; Anna Himes, Ophelia; Nathaniel Taff, Player King and Priest; Gideon Roark, First Player and Lucianus; Madalyn Cottrell, Player Queen; Rachel Kelso, Servant; Kelli Conkin, Gravedigger; Eric Dixon and Monya Wolf, Commedia dell'Arte Players.
Want TO GO?

What: Noblesville Cultural Arts Commission's 30th annual Shakespeare in the Park production, "Hamlet."

When: 8:30 p.m. Wednesday through Saturday.

Where: Lawn at Federal Hill Commons in downtown Noblesville.

Cost: Free, but donations are welcome. Info: http://www.noblesvillearts.org/.