Rosalba (Rosie) Mariacher
July 13, 1936 – September 25, 2022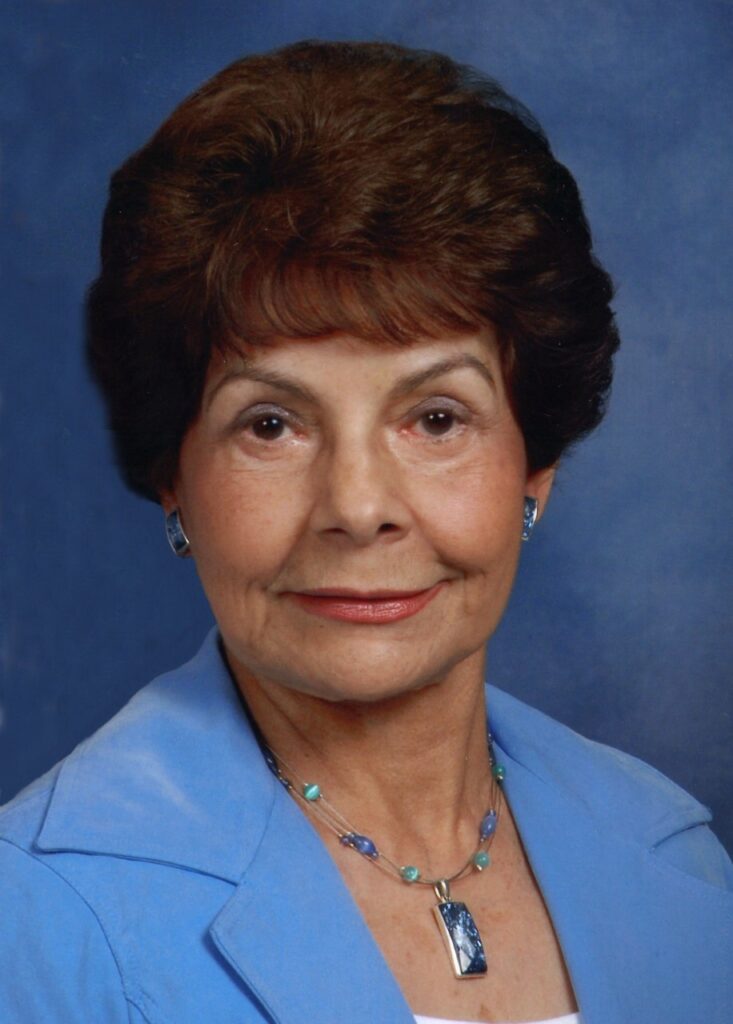 Rosalba (Rosie) Mariacher, a loving wife, mother and friend, passed away peacefully on Sunday, Sept. 25, 2022, at Rose Senior Living in Carmel with her husband Bob at her side.
She was born on July 13, 1936, in Ibague, Columbia.
Mrs. Mariacher was the 13th child of the late Alfredo and Matilda (Gutierrez) Arbelaez. She came to the United States in 1957 knowing very little English to help her sister who had given birth to her first child. Her sister was living in Denver, Colorado at that time. Mrs. Mariacher met Bob in 1961 while he was attending the University of Denver. The two of them were married on Dec. 29, 1962 in Denver.
She became a naval wife when Bob was commissioned a U.S. Navy Officer in March of 1963. They spent 6 months in Athens, Georgia while Bob attended Supply Corps School. From Athens they relocated to San Diego, California where their first two daughters were born, compliments of the Navy. Their son was born in La Habra, California and their third daughter was born in Lansing, Michigan. The family of 6 arrived in Carmel, Indiana in 1978 where they settled down and raised their children. Besides helping raise her 4 children, Mrs. Mariacher worked 24 years at Resort Condominiums (RCI) using her bilingual skills in various customer service and support assignments.
Her pride and joy for living was being with her family. Mrs. Mariacher deeply loved her husband, her 4 children and their spouses, her 12 grandchildren, and her 9 great-grandchildren. She was a devout Catholic and active in parish live. She also made time for volunteering at St. Vincent's Women Hospital in the Neonatal unit, the Little Sisters of the Poor, St. Vincent de Paul, and the Women's Care Center.
Mrs. Mariacher will always be remembered for her beautiful smile, tireless work ethic, flair for fashion, special cooking recipes, salsa dancing, and warm hugs and kisses. She leaves a legacy of love, warmth, and kindness to all who knew her whether family, friends, acquaintances, or strangers.
Survivors include her husband Robert (Bob) Mariacher; four children Patricia (Josh) Coughlin, Cynthia (John Richard) Schooler, Gregory (Amy) Mariacher and Lori (Miguel) Antolinez; 12 grandchildren; and nine great-grandchildren.
Visitation is scheduled to be held from 9:30 a.m. to 10:30 a.m. before the Celebration of Life service at 10:30 am, on Thursday, October 13, 2022 at St. Elizabeth Ann Seton Catholic Church, 10655 Haverstick Road, in Carmel. Mrs. Mariacher's cremains will be interred in the Madonna Mausoleum within the Mt. Olivet Catholic Cemetery in Wheatridge, Colorado, a suburb of Denver.
Memorial contributions in Mrs. Mariacher's name can be given to the Women's Care Center, 4901 W 86th St, Indianapolis, Ind. (www.womenscarecenter.org/indianapolis-indiana).
Online condolences may be made at www.randallroberts.com.