Getting into the Spirit(s) of Halloween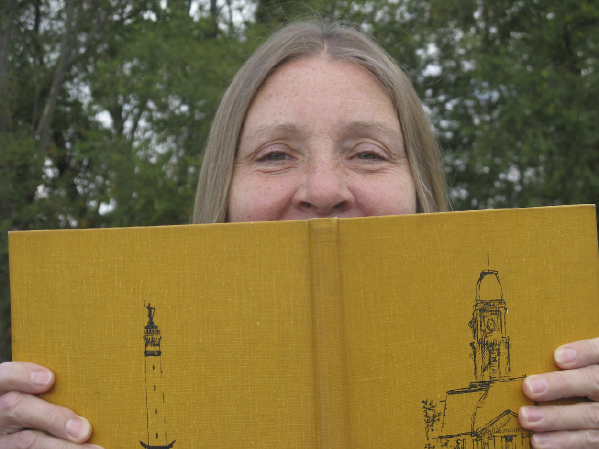 I couldn't let Halloween pass without an appropriately spooky column!
Westfield's Michael and Nicole Kobrowski are probably best known for their books on the paranormal and for their Historic Indiana Ghost Walks & Tours, but did you know they also conduct ghost investigations?
I'm not talking about "giggle-giggle-let's-scare-ourselves-silly" ghost hunting. These are serious inquiries into the paranormal.
I know because I've participated in some of them. If you could see all the equipment the Kobrowskis take to the various locations, you'd know they were serious investigators.
I've watched them lug around things like EMF (electric and magnetic field) meters, deer cams, digital cameras, heat sensitive cameras, digital recorders (to record EVPs — electronic voice phenomena) and laser grids. (Laser grids project a pattern of colored dots that can be interrupted by shadowy figures.)
They've also used smaller, non-"techy" tools to communicate with spirits, such as dowsing rods, flashlights (they can be rigged so that ghosts can respond to questions by turning them on and off,) and various "trigger items" (familiar objects to which a ghost might be drawn, like a toy for a child spirit.)
It never hurts to have a psychic along, either.
The Kobrowski's investigations have taken them out of state to such well known paranormal hotspots as the Lizzie Borden House in Fall River, Massachusetts (it's now a bed & breakfast and museum,) the Waverly Hills Sanatorium in Louisville, Kentucky, and the Villisca Axe Murder House in Villisca, Iowa. (Eight people were murdered there in 1912.)
They've also explored many haunted properties right here in central Indiana. Some of these were private investigations, undertaken with a loose-knit group of like-minded friends, while other investigations were open to the public.
Their public investigations are generally fundraisers for the organization that operates whatever building is being investigated.
Past local investigations include Lebanon's Strange Cragun House (home of the Boone County Historical Society,) the Wayne County Historical Society in Richmond, Noblesville's A. H. Lacy Block, and the Slippery Noodle Inn in downtown Indianapolis — just to name a few.
Currently, there are three upcoming public investigations on the calendar: the Athenaeum in downtown Indianapolis on Nov. 19, the Old Sheriff's Residence and Jail on the Hamilton County courthouse square on Dec. 3 and the Morris-Butler House on Indianapolis's Old Northside on Jan. 28.
If you're interested in signing up for one of those — or any future public investigation — be aware that they all take place at night and usually run past midnight. (The Athenaeum investigations go all night long!)
In addition, space is limited and certain rules must be observed (like always using your "indoor voice" to avoid interfering with someone attempting to record EVPs.) You'll also be asked to sign a liability waiver.
If you have any questions, visit the Historic Indiana Ghost Walks & Tours Facebook page or their website, www.unseenpress.com.
You should check out their web pages anyway, if only to see photos they've posted from past investigations. Ghosts aside, all the buildings are pretty fascinating in their own right.
At this point, you're probably wondering if they've had any success contacting the Other Side.
Oh, yeah.
It's not unusual for them to receive information that's confirmed by later research. Strange odors have popped out of nowhere (like fried chicken in a kitchen where nobody is cooking,) ghostly footsteps have been heard, shadowy figures and orbs have been observed and/or photographed . . . the list goes on.
If you're skeptical, there's one particular photo on the Unseen Press website you really need to see. It was taken at the old Hamilton County jail and shows Michael and Nicole's former daughter-in-law in one of the juvenile cells.
She's NOT alone — if you get my drift.
Happy Halloween!

Paula Dunn's From Time to Thyme column appears on Wednesdays in The Times. Contact her at [email protected]