2023 Jeep Wagoneer is A Big Stylish Box Full of Powerful Luxury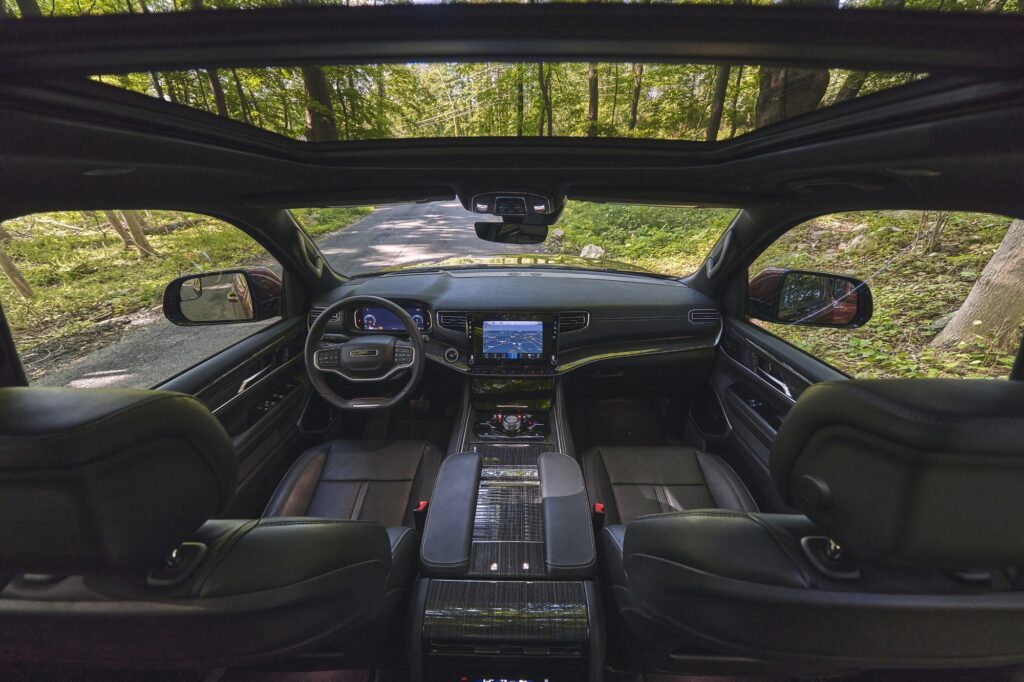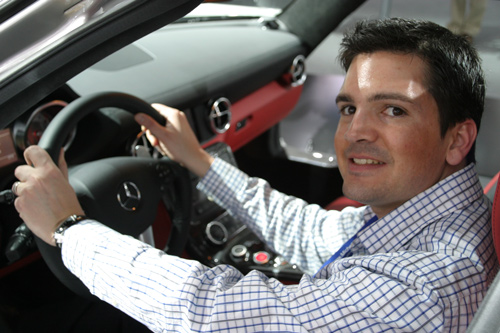 So, let's say for just a moment, that you like the idea of driving a Chevy Suburban, GMC Yukon XL, or Ford Expedition L, but would like another option that's not so common. Maybe you also have an affinity for Jeep heritage including the iconic '90s Grand Wagoneer. I have a suggestion, but it's not going to be cheap. How about the 2023 Jeep Wagoneer?
There are actually two Wagoneers, both sub-brands of Jeep that honor the Grand Wagoneer from the '80s and early '90s. The Wagoneer is a direct competitor for the Chevy Suburban, GMC Yukon and Ford Expedition. Grand Wagoneer, which crosses $100k, goes after the Cadillac Escalade and Lincoln Navigator. Both short- and long-wheelbase models are available.
In either form, it is a big bus. The front is dominated by Jeep's trademark seven-slot grille and chrome tow hooks, but see it broadside, and it will take little convincing that the Wagoneer shares basic architecture with the Ram pickup. I mean, 22" wheels look like doughnuts beneath all that sheetmetal. WAGONEER lettering with an American flag leaves little doubt of its origins (Detroit). I think the windows are a bit cartoonish, but the rear could have come from the elegant Grand Cherokee.
It may not be a Grand Wagoneer, but the Wagoneer is plenty grand. Acres of gray woodgrain are fake, but the heated/ventilated front seats, heated steering wheel and heated second row seats are not. Add massagers front and rear under a panoramic sunroof. Alpine audio fills the cabin. Nobody has a more intuitive touchscreen than Chrysler, and this one connects easily through Apple CarPlay, Android Auto, wireless charging and a full array of USB formats. Rear passengers can tap into Amazon Fire TV to while away long hours.
Keeping the entire family-tribe safe is an array of tech. A head-up display, flat screen instruments and adaptive cruise accompany automatic emergency braking, lane keep assist and blind spot warning systems. Rear cross path detection and drowsy driver detection help too. Given the Wagoneer L's ample size, semi-automated parallel and perpendicular parking assist plus 360-degree camera are big helps too.
Behind the iconic 7-slot grille is the 3.0-liter "Hurricane" twin-turbo inline-six engine delivering 420 horsepower and 468 lb.-ft. of torque through an 8-speed transmission and four-wheel-drive. That and its truck-based frame allow up to 10,000 lbs. of towing capacity – enough for a sizable RV or powerboat. Fuel economy, as you might expect, is not especially frugal at 16/23-MPG city/highway, but certainly not terrible for a full-size SUV.
Riding beneath the big boxy body is a sophisticated chassis. The rear trades the Ram's solid axle for a five-link independent suspension that greatly enhances handling and ride smoothness. Bumps are less noticeable, especially given the air suspension that can be raised for more severe off-roading. Semi-active damping balances ride comfort and handling, whether chucking city potholes or wafting down the Interstate.
I think some of the exterior styling choices are, um, unique, but the Wagoneer L is certainly memorable. Beyond styling, owners will revel in a comfy interior while throttling a powerful turbocharged engine. It's not a new version of the classic Grand Wagoneer. That glory goes to today's Grand Cherokee, but the Wagoneer has much to offer. Given a base price of $58,995, rising to $82,105 as-tested, it better.
Storm Forward!

Send comments to Casey at [email protected]; follow him on YouTube @AutoCasey.
2023 Jeep Wagoneer L
Seven-passenger, 4WD SUV

Powertrain: 3.0-liter TTI6, 8-spd trans
Output: 420hp/468 lb.-ft. torque
Suspension f/r: Air Ind/Ind
Wheels f/r: 22"/22" alloy
Brakes f/r: disc/disc
Must-have features: Lux, Capability
Towing: 10,000 lbs.
Fuel economy: 16/23 mpg city/hwy
Assembly: Warren, Mic.
Base/As-tested price: $58,995/$82,105