A Life Well Lived: Remembering Larry Wagner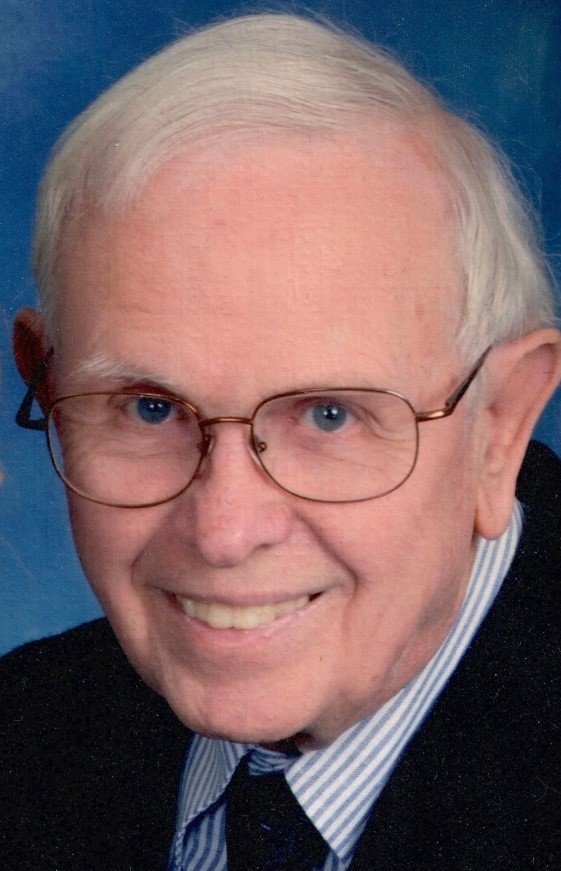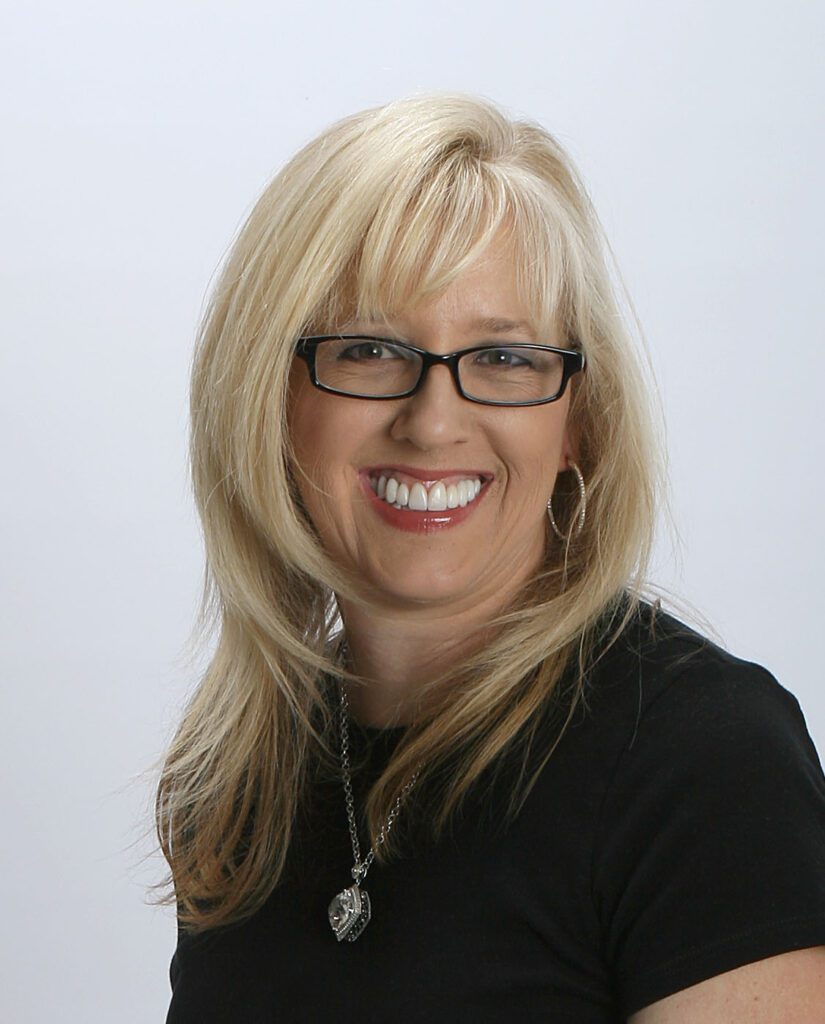 Earlier this year, I was fortunate to sit and visit with Noblesville's Larry Wagner.
I had talked to Larry many times, but on this occasion he was sharing more than I'd ever heard about his life.
Last year at this time, I was attending Larry's 86th birthday with his wife Elaine and their family and many friends.
I got to know the Wagners originally through Hamilton County Theatre Guild and The Belfry Theatre, where Elaine was a director and actress, and Larry 31 years ago started building sets as well as running lights and sound for the little church-turned-community theater, now celebrating its 58th season.
He made a brief but memorable appearance on stage in the 2010 production of "Guys and Dolls" musical, directed by his wife. He was a member of The Belfry's administrative board for many years, serving both as secretary and president. He also created and maintained The Belfry's original website. He brought in Belfry advertisers for the nostalgic Belfry ad curtain. He was a faithful door host for The Belfry shows and would volunteer for every show, greeting guests and taking ticket payments. He kept the historical data on The Belfry, including every show, year and director's name, and I have often pulled info from his data.
He was always one of the first to sign up to volunteer at The Belfry booth in the Commercial Tent at the Hamilton County 4-H Fair. I remember him being at the Fair and talking to passersby at the booth, which he decorated with old photos that he snapped of Belfry shows.
He always walked the Noblesville parades and carried The Belfry banner until his health declined.
After tiring of volunteering, Larry most recently became a Belfry board Member Emeritus, an honorary position.
Last Sunday, Dec. 18, Larry Wagner would have turned 87. He passed away just more than a month ago, on Monday, Nov. 14, 2022. Services were conducted on Friday, Nov. 18, at Noblesville First United Methodist Church.
Earlier this year, the Wagners' sons, Michael and Brian, invited me to sit down with Elaine and Larry in their living room and share about their life.
So I honor Larry Wagner today in my Times newspaper column.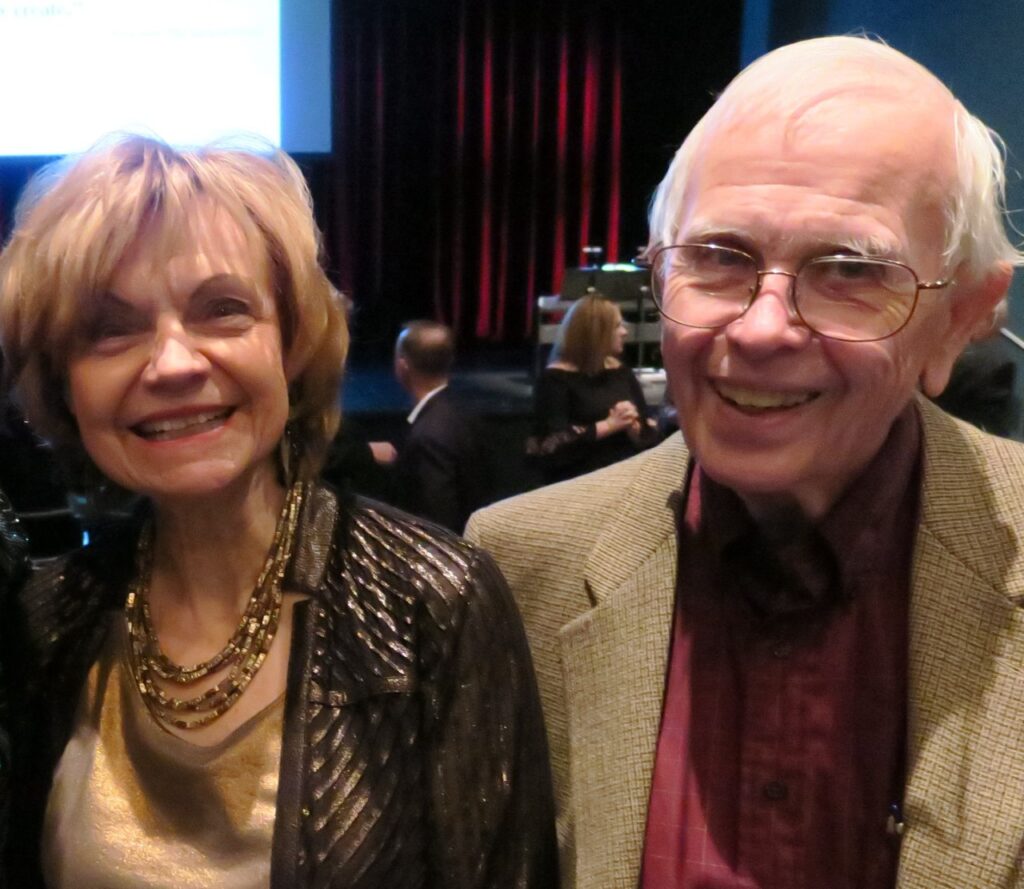 He was born Dec. 18, 1935, in Farmland, Ind., where he remembers growing up on a farm until he went to college. "I had cows," said Larry, who "didn't like milking the cows." He drove farm tractors in the field where the family raised corn and beans.
He worked part time clearing tables while attending Purdue University, earning a bachelor's degree in mechanical engineering and a master's degree in industrial engineering.
Why did he want to be a mechanical engineer? "That was the easiest," he said, smiling.
After college, he went to the National Guard, then was transferred to the National Air Force Brigade. "There, I did maintenance," he said. Larry worked on planes and did some flying in Indianapolis. He was in the U.S. Army National Guard from 1958-61, as a Recon Utility Cargo Helicopter Repairman, ranking as Specialist E-4 and earning a Course A Marksman riflery badge. While he was in the National Guard, he worked as an engineer at Western Electric.
In the 1960s, he owned a Mobile service station in Lawrence, where he worked on cars and pumped gas. A better opportunity came along, and he worked at RCA.
"Then I saw an opportunity to work for the government," said Larry, who went to work in 1967 at the U.S. Army Finance and Accounting Center in Lawrence. He worked there for 20 years.
"That's where I met her," he said, pointing to wife Elaine. "She started two weeks after I did."
She said, "He taught me how to write code for the computers … He helped me after class."
At the time, Elaine lived in Speedway and Larry lived in Lawrence.
He gave her a ring, and they married in 1968, moving to Speedway for a little while. She went back home and returned to teaching private piano and voice lessons, later teaching music at Noblesville Schools, and she still teaches piano and voice (and taught both to my own daughter). When they married, Elaine had two young children, Michael and Brian, whom Larry adopted at age 5 and 8.
To rewind a little, there were six kids in Larry's own family growing up, and he was the youngest. His oldest sister, Cleo, went to Indiana Business College in Muncie and, at that time, before World War II started, she was recruited and went to Washington, D.C., and worked for a Navy admiral, and part of her duties were to compose condolence letters for the families of missing or deceased Navy servicemen during World War II. Cleo Wagner met and married George Peck, an engineer in the Naval Gun Factory who ended up being a commander, and among their three sons was George"Skip" Peck II," born in 1945 and who was sent during high school to live with his grandparents on the farm in Farmland, where the Wagners grew up. Skip attended Ball State University, where he met Sally Shadday, who was in nursing school, and they married in 1965 and lived in Noblesville (because Sally's sister, Janet and husband Don Roberts lived here) and Skip and Sally had three children, Darren Peck, Laura (Peck) Keith and Mitch Peck, who are among Larry's great nephews and nieces in Noblesville.
"You brought me to Noblesville," Elaine said to Larry. "But Skip is the one who got us here." Skip and Sally invited Elaine to sing in the Noblesville First United Methodist Church choir.
When they moved to Noblesville, Elaine's parents thought she was moving to the country. "She didn't want to move," said Larry, pointing out that 146th Street was then "a dirt road."
Larry was promoted to Supervisory Computer Specialist. "I had a window with a view of the lawn," he said. Larry worked at the Finance Center until retiring in 1988, when he was awarded the Commander's Award for Civilian Service, the Army's highest civilian service award. (Now, that award is known as the Department of the Army Civilian Service Commendation Medal.) He then worked as a Y2K coder at Mayflower Moving Co. from 1989 to 1997, and as a call center operator at Charles Schwab from 2000-2001. He also worked for the California Testing Bureau, scoring various state school exams, including the Indiana ISTEP test. Then, from 2004-2013, he handled shipping, receiving and purchasing at Feeding Concepts in Noblesville.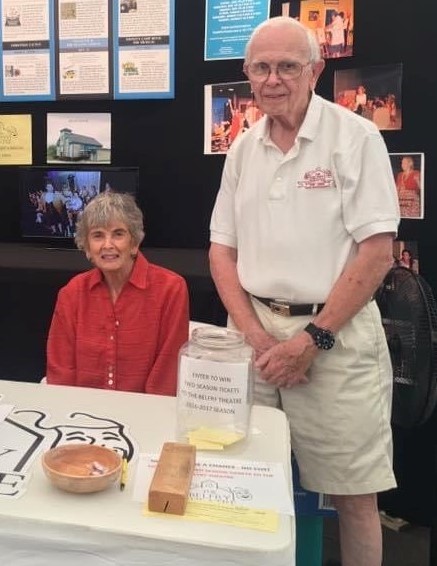 While Elaine was teaching music at Conner Elementary, she was also directing plays at the Hamilton County Theatre Guild's Belfry Theatre in Noblesville, where she had also acted in productions. Years before, the Indianapolis native had sang at the St. Louis Municipal Opera Theatre, before she returned to Indianapolis before meeting Larry. In 1991, Larry started volunteering alongside Elaine. "I did lights for the Belfry," he said. "I learned it on my own. It wasn't difficult." He also did sound and built sets. While Larry acted in a couple of shows at The Belfry, he enjoyed being in the light booth, "watching the show and changing the lights." Elaine said Jane Campbell really liked his way of lighting things. "She always wanted him to do lights for her."
More recently, he had organized The Belfry props. He also took photos at Belfry shows, where the late Ray Townsend for many years had taken promotional photos for the media.
At Noblesville First UMC, Larry was a head usher and scheduled all of the ushers. His job? "Make sure they showed up," he said. Larry never sang in the First UMC choir with Elaine but he did take piano lessons during summers growing up. He also was in the church's Sunshine Friends special needs ministry.
He liked to play Bridge and games of logic. Larry taught Elaine, who played Euchre, to play Bridge, and they played Bridge in several couples' and neighborhood groups.
Larry also liked to do magic tricks, which he learned as a kid. And their kids said Larry, as an engineer, would always try to build a perfect mousetrap. When asked about this, he laughed, covering his face with his hands. "My oldest brother had a shop about a mile from town. I would go out there at night and put together mouse traps," Larry said.
Elaine said Larry, who was in an inventors' club, also created a mailbox flag that would notify you if there was mail in the box. "Right now, there's something in the (mail) box," he said, pointing out the window at his mailbox in front of their house. "If you open the mailbox, then the (yellow) flag pops up."
When he was at Mayflower, Larry also got involved in an investment club and became good at managing his investments.
Larry and Elaine enjoyed travels to Italy and Germany and England, as well as traveled the Lewis and Clark National Historic Trail, which he wanted to travel, and visited Glacier National Park in Montana, which Elaine wanted to visit. "That was a dream I had since I was a child," she said, telling the story with Larry listening and smiling. "That was a lot of fun. It was beautiful. That was quite a trip," she said. They also went to Walt Disney World with their kids in an Airstream camper that belonged to Larry's father-in-law.
Besides being involved in theater, Larry and Elaine loved to watch theater and to follow Elaine's students. In more recent years, they traveled to see Elaine's former voice student, Jordan Donica, in his first performance in New York City, where he was making his Broadway debut in June 2016 in the cast of Andrew Lloyd Webber's "The Phantom of the Opera."
When I attended Larry's 86th birthday party a year ago, last December, Larry and Elaine enjoyed many smiles and picture taking while reminiscing with family and friends.
During my visit this year at their home, I asked Larry and Elaine how many years they'd been married, to which they both laughed and he replied, "Which time?"
And while they've been together for most of the past 50 years, after marrying in 1968, they divorced in the late 1970s, and remarried in 1998. Even when they weren't married, they were together most of the time, they said.
"We've been married quite a long time if you put it all together," Elaine said, with Larry smiling.
I always liked to see Larry smile.

Contact Betsy Reason at [email protected]