January 3, 1932-December 27, 2022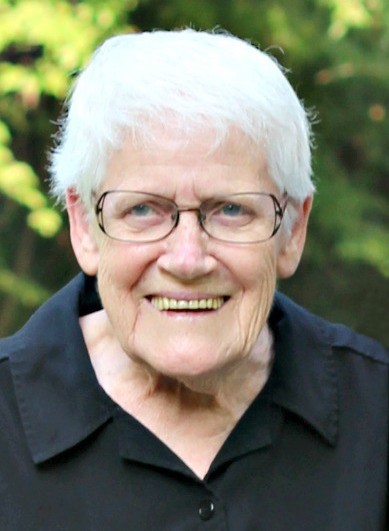 Lora Cathern Cox, 90, of Noblesville, passed away peacefully at her home with her loving family and friends on Tuesday, Dec. 27, 2022.
She was born on Jan. 3, 1932 to Luther and Dollie (Travis) Roberts in Lee County, Virginia.
Mrs. Cox moved to Indiana after marrying John Cox on Dec. 23, 1952. They had two sons, Gary and Mike. She was a faithful Christian and a member of Victory Baptist Church for over 50 years, serving as secretary and treasurer for much of that time.
She loved spending time with her family, traveling with her husband and sisters, the fellowship of her church, and especially all those who called her Grandma or Nana. Mrs. Cox was a wonderful mother, sister, wife, caregiver and friend.
Survivors include her 2 sons Gary (Pam) Cox and Mike (Jane) Cox; 2 sisters Shirley Lawson and Loretta Mercer, both of Noblesville; sister-in-law Gay Roberts; 6 grandchildren Jason (Lisa) Cox, Tasha Ferguson, Lisa Scott, Jeremy Cox, Kelli (Jeremy) Starkey and Amber (Steven) Taylor; 12 great-grandchildren Elizabeth Allan, Maryssa Cox, Jalen Cox, Chase Cox, Zoee Cox, Skyler Cox, Haven Starkey, Athen Starkey, Kyndall Ferguson, Addyson Ferguson, Maddox Isaac and Payton Taylor; 1 great-great-grandson Blayze Skidmore; and numerous nieces and nephews who called her Nana as well.
Preceding her in death were her parents; husband John D. Cox; 3 brothers Curtis Roberts, Clarence Roberts and Henry Roberts; and sister Thelma Davis.
Visitation is scheduled to be held from 4-8 p.m. on Monday, Jan. 2, 2023 at Randall & Roberts Funeral Home, 1150 Logan St. in Noblesville. An additional visitation is scheduled to run from 10 a.m. until service time, which is scheduled for 11 a.m. on Tuesday, Jan. 3, 2023 at the funeral home, with Pastor Darrell Jones and the Rev. James Clark officiating. Burial will be at Crownland Cemetery in Noblesville.
Memorial contributions may be made to Alzheimer's Association, 8430 W Bryn Mawr Ave, Suite 800, Chicago, IL 60631 (alz.org/indiana).
Online condolences may be made at randallroberts.com