December 27, 1924-January 20, 2023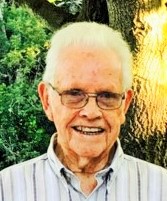 Rex Leon Randall, 98, of Fishers, passed away on Friday, Jan. 20, 2023 at his home with his family by his side.
He was born on Dec. 27, 1924 to Claude and Georgia (Crider) Randall in Fishers.
Mr. Randall married the love of his life, Barbara Passwater, on April 13, 1952.
The City of Fishers considered Mr. Randall to be the "oldest living original Fishers resident." He spent his entire life in the house he was born in on the Randall Family Farm, established in 1919. He worked for over 30 years in the automotive industry, finishing his career at Ford Motor Company in Indianapolis. He was born into a farming family and later in life became an avid gardener. He was a loyal sports fan. Mr. Randall enjoyed golfing, bowling, croquet and playing cards. He was a life-long member of the Fishers United Methodist Church. He enjoyed traveling with family and friends. He and Barbara were part time residents in Haines City, Fla. for 18 years.
Survivors include his 4 children Denise (Myke) Perrey, Dennis (Maureen) Randall, Donna (Eddie) Randall-Jones and Deleasa (Tom) Randall-Griffiths; sister-in-law Donna Anderson; 7 grandchildren; 7 great-grandchildren; 3 great-great-grandchildren; and many nieces and nephews.
In addition to his parents, he was preceded in death by his wife Barbara Randall; 2 brothers Alwyn (Betty) Randall and Max (Pat) Randall; 3 sisters Foneta (Elmer) Brown and Francis (Bob) Kincaid; brother-in-law Bill Anderson; and grandson Jesse Randall.
Visitation is scheduled to be held from 4-8 p.m. on Friday, Jan. 27, 2023 at Randall & Roberts Fishers Mortuary, 12010 Allisonville Rd. in Fishers. An additional visitation is scheduled to run from 11 a.m. to 12 p.m., with services scheduled to begin at 12 p.m. on Saturday, Jan. 28, 2023 at the funeral home, with Pastor Mark Ellcessor officiating. Burial will be at Crownland Cemetery in Noblesville.
Memorial contributions may be made to Fishers United Methodist Church, 9690 East 116th St., Fishers, IN 46037 (fishersumc.org); or Guardian Angel Hospice, 513 West Lincoln Rd., Kokomo, IN 46902, (guardianangelhospice.com).
Online condolences may be made at randallroberts.com