Boilermaker's Earliest Leaders Walked So Future Leaders Could Run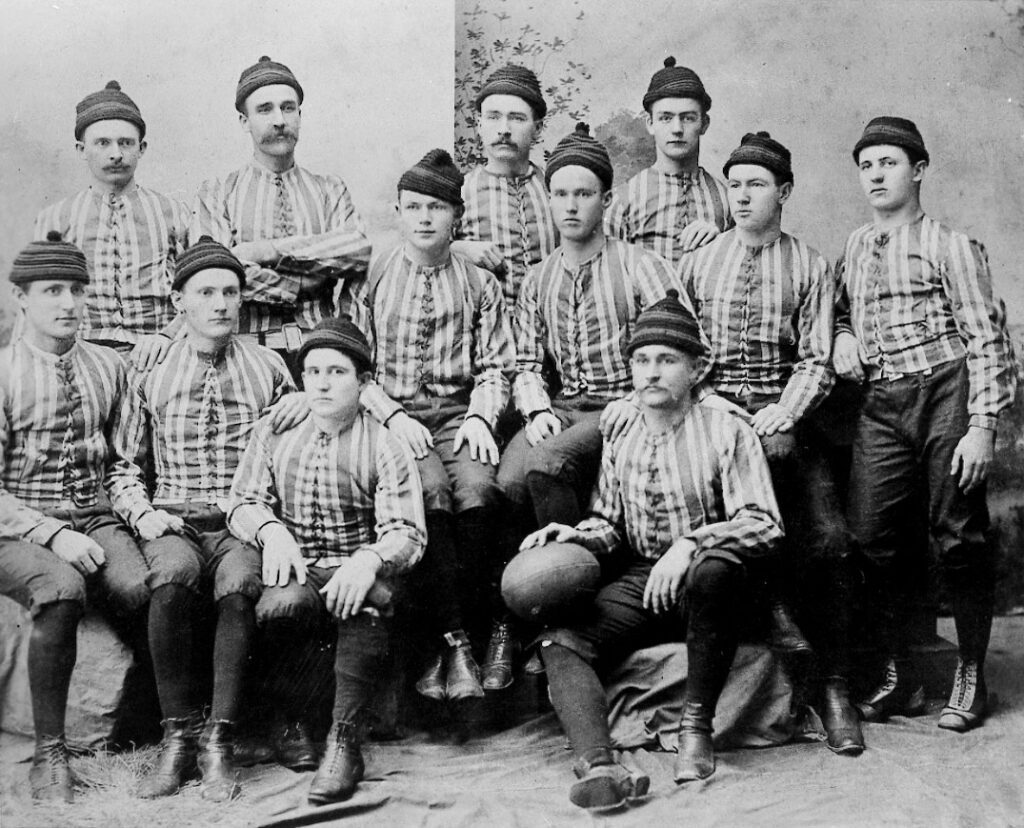 During the early days of college football, most coaches had other occupations.
No, nothing like those cheesy insurance commercials that fatten the bank accounts of Alabama's Nick Saban and new Colorado coach Deion Sanders.
Take Purdue's first coach in 1887. For the princely sum of "$1 per lesson," 23-year-old Albert Berg was charged with preparing a team to play against another Indiana school making its collegiate football debut, Butler.
One more thing to know, Berg was a deaf-mute. The cause: a childhood bout of spinal meningitis.
After attending the Indiana Institution for the Deaf in Indianapolis, Berg went on to play football for what is now Gallaudet College in Washington, D.C.
In 1980, Journal and Courier sports writer Paula Waltz recounted the tale of Berg's task of teaching football at Purdue. Only two of his players had ever seen a football.
That was painfully obvious on Oct. 29, when Purdue traveled to Indianapolis and received a 48-6 thrashing. Jacob Sholl scored the first touchdown in school history. He and his teammates returned home, as an Indianapolis newspaper described it, "in a disturbed state of mind."
Purdue wouldn't play another football game until 1889.
Berg would eventually become a teacher at the Indiana School for the Deaf. He would return to Purdue on Nov. 22, 1924 for the Ross-Ade Stadium dedication ceremony. Berg lived to be 80, dying in Council Bluffs, Iowa in 1945.
George Ade, half of that famous stadium duo, wrote years later that Berg "demonstrated the fact that the right kind of hero can overcome almost any handicap."
The next eight men to lead the Boilermakers on the football field were anything but typical football coaches as well.
Harvard-educated G.A. (George Andrew) Reisner's only connection to Purdue football other than his 2-1 record in 1889 was having a niece married to 1930s Boilermaker standout Cecil Isbell.
Archaeology was Reisner's claim to fame. A front page story in the Journal and Courier declaring his death in 1942 at the age of 74 didn't mention Reisner had coached Purdue football
"World Famous Explorer Dead Near Pyramids, the headline declared. "Dr. G.A. Reisner, Greatest of Egyptologists, Brother of a Business Man Here; World Owes Debt to Him."
Reisner fittingly died at the site of the pyramids of Gizeh. He had been in charge of the Harvard University excavations since 1905. The story also reported that Reisner had been the youngest person ever awarded a degree at Harvard at the time of his graduation in 1889.
Clinton L. Hare was another one and done Purdue football coach, going 3-3 in 1890 after a three-year stint (8-0-1) at Butler. That same year, Hare was admitted to the Indiana bar and worked at a law firm whose partners included Benjamin Harrison, the 23rd President of the United States.
Hare later was president of the Indiana Wholesale Grocer's Association. He died of throat cancer in 1909 at age 44.
The Journal and Courier's tribute to Knowlton "Snake" Ames in 1931 referred to the Princeton great as "the father of football at Purdue." One thing is for sure: Ames will be the only undefeated coach in school history.
Ames went 12-0 over 1891 and 1892. His 1891 squad outscored opponents 192-0 in four games. The 1892 squad was dominating as well, scoring 320 points while allowing 18 over eight games.
The star player on those teams, Alpha Jamison, said Ames "was one of the greatest players and coaches that ever lived." Ames was elected to the College Football Hall of Fame in 1969.
Ames was a success in business too, earning a reputation as a financier, newspaper publisher and social leader in Chicago.
Financial losses suffered at the beginning of the Great Depression and declining health was too much for Ames, who took his own life while sitting inside his car two days before Christmas. He was 63.
Not long after helping Princeton go 11-0 and win a mythical national championship, D.M. (David Milton) Balliet continued the momentum Ames started by leading Purdue to a 5-2-1 record in 1893, 9-1 in 1894 and 4-3 in 1895.
Balliet began practicing law after leaving Purdue but put that career on hold in 1897 to join the Klondike Gold Rush in Alaska. When that didn't pan out, Balliet returned to Purdue in 1901, going 4-4-1. Closing the season with losses to Notre Dame, Illinois and Northwestern, Balliet was fired.
He found his life's work as a coal salesman in Pennsylvania and died at the age of 93 in 1960.
The first to coach Purdue as a member of the Big Ten Conference, Samuel M. Hammond found a more lucrative profession after leaving West Lafayette with a 4-2-1 record in 1896.
Hammond practiced medicine as an ear and eye specialist in Connecticut for over 30 years before passing away at age 64 in 1934.
Not much is known about William Church, who guided the Boilermakers to a 5-3-1 record in 1897. He's regarded as one of Princeton's all-time greats of the 19th century and judging by this quote, a quick-witted person.
"Am neither statesman nor politician," Church said in 1909. "Have not brains enough for the first and am not smart enough for the second."
Church died in 1966 at the age of 91.
Purdue's final coach of the 19th century would be better known as an early mayor of West Lafayette.
Presumably, Alpha Jamison was a better mayor than football coach. Arguably Purdue's greatest football player of the 19th century, Jamison led the Boilermakers to an 11-11-1 mark from 1898 to 1900. He fared better on the basketball court, going 12-1 over two seasons.
Jamison married into a well-to-do family in 1900 and was associated with their bakery business for 42 years. Jamison died in 1962 at the age of 86.
Charles M. Best replaced Balliet in 1902 and was very successful, posting a 7-2-1 record. Best's success translated to the basketball court as the Boilermakers went 10-3 during the 1901-02 season.
The years between 1903 and 1917 are lost to history (and Google) before Best resurfaced at The University of the South, better known as Sewanee. Playing in the Southern Intercollegiate Athletic Association, a predecessor to today's Southeastern Conference, Sewanee went 7-4-1 in two seasons under Best. Best passed away in 1962 at age 87.
Kenny Thompson is the former sports editor for the Lafayette Journal & Courier and an award-winning journalist. He has covered Purdue athletics for many years.