Find 16 Ways To Have Easter Fun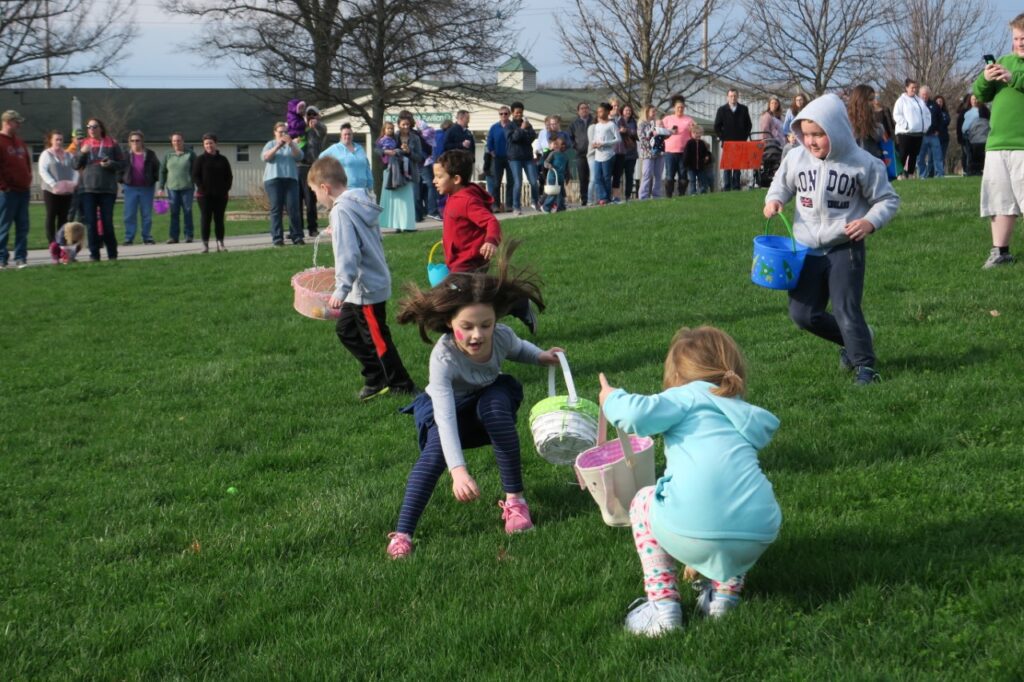 It's time to get out your Easter baskets and get ready for some local Easter Egg hunts and Easter happenings.
Here are 16 Easter happenings to put on your calendar:
1. The first hunt of the season is the annual Community Easter Egg Hunt at 6 p.m. Monday at the Hamilton County 4-H Fairgrounds in Noblesville.
We used to attend the Egg Hunt every year until our daughter aged out of the event. Ages 8 and younger are invited to hunt for eggs filled with candy and prizes each year at this Hunt put on by Hamilton County 4-H Junior Leaders of which our daughter is now a part of.
Participants are asked to bring their own baskets for the egg hunts: ages 0-2 at 6:05 p.m., ages 3-5 at 6:10 p.m. and ages 6-8 at 6:15 p.m. Farm animals will be available for petting and photos.
2. Enjoy brunch and an Easter Egg Hunt with the Easter Bunny beginning at 10 am. March 25 at St. Mark's United Methodist Church in Carmel.
3. Get your tickets for Hamilton County Passion Play "Behold the Lamb" on stage March 29-April 1 at Noblesville High School Auditorium. Tickets are $1 each at https://www.beholdthelamb.com/
4. Put on your running shoes and head for Forest Park for the return of the free Easter Egg Hunt activities that begin at 10 a.m. April 1, with the hunt at 11 a.m., sponsored by Noblesville Parks and Recreation Department and Hare Chevrolet. Activities at Shelter 5 include bounce houses, a DJ, and vehicle tours from the Noblesville Fire Department and Noblesville Police Department. The Easter Bunny also will make a special appearance. The egg hunt includes three age groups for ages 3-10 (3-4, 5-6 and 7-10). Children ages 2 and younger are invited to stop by the Parks and Recreation tent, where toddler-related activity bags will be handed out to the first 50 kids.Noblesville Kiwanis Sunrisers will host a pancake breakfast in conjunction with the egg hunt at Forest Park Inn 8 a.m. to 10:30 a.m., featuring pancakes, sausage, juice, coffee and milk, for $5 with proceeds to go to a local charity.
5. You get to ride a train for this Eastern happening. Board the Nickel Plate Express for an Egg-citing Easter train ride with the Easter bunny on April 1, 2, 8 leaving Hobbs Station at Forest Park Depot in Noblesville.
6. If you're 21 and older, enjoy an Adults Only Easter Egg Hunt from 10 a.m. to noon April 1 at Urban Vines Winery in Westfield. A $40 ticket includes a sandwich, Mimosa samples, live music with The Neighbors Band, find the Golden Eggs, then get your photo taken with the Urban Vines Bunnies.
7. Bring your precious pup to Egg-Paw-Looza!, 11 a.m. to 2 p.m. April 1 at Asa Bales Park in Westfield. For three dog egg hunts, professional pet portraits with the Easter Bunny, activities, pet vendors, food and beverage vendors. A portion of ticket sales will benefit the Indiana Canine Assistance Network (ICAN).
8. Enjoy a night of painting and see baby animals 4 p.m. to 8 p.m. April 1 at Kiln Creations in downtown Noblesville. Silly Safari will bring a menagerie of Easter bunnies and chicks to pet, then paint some Easter-themed pottery (which will be ready for pickup in a week after kiln drying) for your $25 ticket. Painters under age 13 require supervision.
9. Partake in the Wayne-Fall Lions Club's annual Palm Sunday Breakfast from 7 a.m. to 1 p.m. April 2 at the Club on East 191st Street at DeShane Avenue and Victory Chapel Road, in Noblesville, with a menu featuring pancakes, eggs, bacon and sausage for a freewill donation.
10. Noblesville Jim Dandy's annual Easter Kids' Night is 5 p.m. to 8 p.m. April 5, with face painting, egg coloring and a coloring contest and more.
11. Enjoy an Easter breakfast buffet and visit with the Easter Bunny for a photo opportunity from 8:30 a.m. to 12:30 p.m. April 8 at Conner Prairie in Fishers. Remember to bring your own camera to capture the memory. Assigned seating will be arranged in advance for registered guests.
12. The community is invited to an annual Easter Egg Hunt 9 a.m. to noon April 8 at the First Christian Church in Noblesville. Ages 5 and younger with parent at 9 a.m., ages 6-9 at 10 a.m. and ages 10-12 at 11 a.m.
13. Owners can bring their dogs and sniff out thousands of treat-filled Easter "Beggs" with treats, at 11 a.m. April 8 at Hamilton Town Center's Dog Park behind Express.
14. Families can celebrate Spring at the Hide and Peep Egg Hunt and more 11 a.m. to 1 p.m. April 8 at Village Green in front of Dick's Sporting Goods.
15. Join the 11th annual Adult Easter Egg Hunt at noon April 8 at Blackhawk Winery & Vineyard in Sheridan, where the eggs you find will earn special prizes, and where your ticket includes a glass of wine and wine tumbler. For ages 21 and older. Grounds are open until 7 p.m. with music and food, with $25 tickets at eventbrite.com.
16. Add a touch of jazz to your Easter Sunday from 11 a.m. to 1 p.m. April 9 at Feinstein's at Hotel Carmichael in Carmel with special guest Tom Clark and sounds of Blair Clark, who has captivated audiences through Europe, Canada and all over the U.S.
-Betsy Reason writes about people, places and things in Hamilton County. Contact Betsy Reason at [email protected]