New Play Director Brings Out Best in 'Great Gatsby' Actors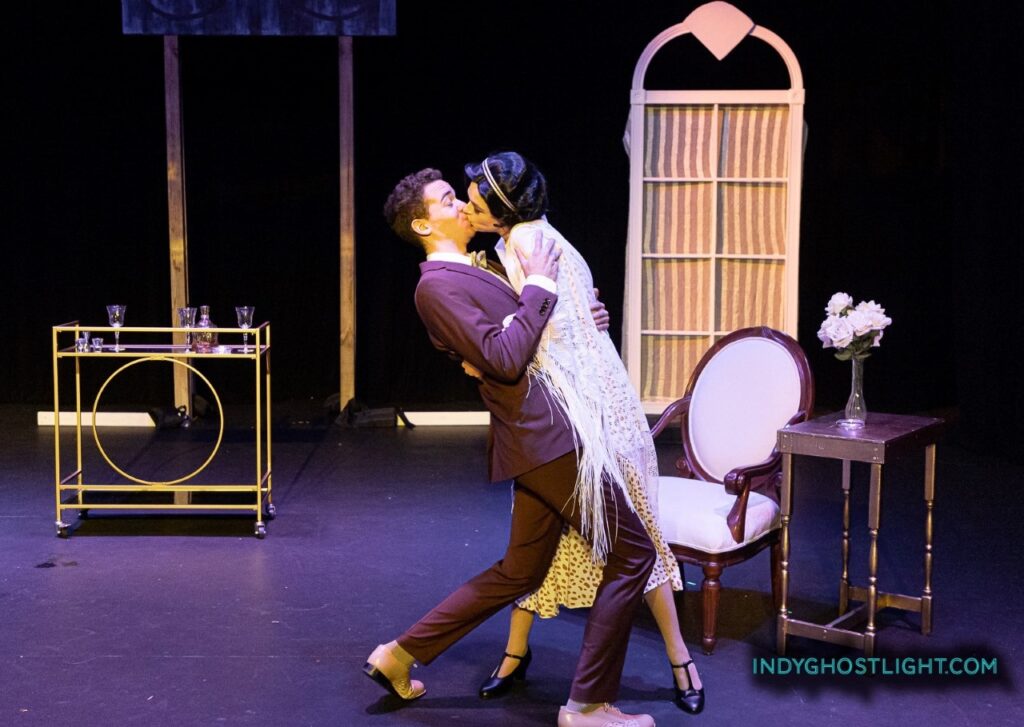 Saturday Show
Will Feature
ASL Interpreters
Any community theater would be lucky to have play director, Noblesville's Andrea Odle.
She's very organized.
"Being organized is a must," she said.
She is all about teamwork.
"Surrounding yourself with people smarter than you are is the best way to ensure we all succeed," she said.
She is learning how to delegate.
"Delegation is a must but not my strong point," she said.
Odle is The Belfry Theatre's newest play director.
"I had no idea what play would be my directorial debut, but I am thrilled that it is 'The Great Gatsby,'" said the Noblesville woman whose show opens Friday and continues for a total of eight performances through March 26 at Art for Lawrence's Theater at the Fort in Marion County's Lawrence Township.
Why would anyone want to be a play director?
"Being a director is a lot of work, sleepless nights and responsibility to not only the actors but to the board of directors, the patrons and to all those involved in the production."
But Odle thrives in this environment.
"I've always loved being at the helm, and I welcome those sleepless nights, and responsibilities," she said. "Theater allows all of this to occur within a creative and artistic space."
Did I already say that Odle is an organizer?
"When I am lucky enough to be granted a show to direct, I start about six months prior to auditions," she said. (Her directorial debut at Mud Creek Players was for "Almost Maine" in 2019 and and two years later got her dream to direct "White Christmas" musical in December 2021 at Basile Westfield Playhouse. In summer 2022, she assistant directed with play director Nancy Lafferty for The Belfry's "Drinking Habits.")
What else?
"I create a team that I can trust to not only bring my vision to life, but a team in which I can trust to not only bring my vision to life, but a team in which I can depend on to keep me on track and make us all look good," she said.
Her key to success?
"After I have my team on board, I create a timeline for myself, working backwards from opening night and holding myself and my team accountable for the timeline," Odle said.
How dedicated is she?
"I am going back to school for theater," said Odle, who is studying theater and arts administration at Butler University in Indianapolis. " I did this because I want to learn as much as I can about creating the perfect atmosphere during a production."
She said, "I need to be the best at what I do to bring out the best in my actors and my team. Never stop learning ….."
So, how is "The Great Gatsby" coming together for opening night?
For Odle, the play has been a "dream process," ever since she arrived to rehearse four weeks ago, at The Fort.
"During this time, I couldn't ask for a better collaboration," she said. "Anything that we have needed or wanted has been granted. I appreciate the team at Arts for Lawrence and could not have done this without them."
What about the cast and crew?
Many of the cast are new to The Belfry and new to Odle. "I have enjoyed getting to know them and cannot wait to see their hard work pay off," she said.
Being the play is "The Great Gatsby," the costumes and set are "no small feat," she said. "Any time you do a period piece (Gatsby is set in 1922), you expect costumes to be difficult." But enter in costumers Addie Taylor and Judy McGroarty. "I cannot wait for patrons to enjoy their handiwork," said Donna Park.
The set, created by her husband, Mason Odle, was a challenge from the beginning. There are 14 scene changes in the story, Odle said. "How do we accomplish this with limited space and without boring our audience with long, dragged-out interludes? The answer is a black box set concept with integral set pieces. This gives the audience a glimpse of the surroundings without the elaborate pomp and circumstance of a full set. To pull off a set like this, you must have a strong crew of quick thinking and attentive individuals, which I am lucky to have."
Odle hopes that the community will come out to see her show.
She is all about inclusion, and that's just one reason that she has scheduled two American Sign Language (ASL) interpreters and a Talk Back for a performance this weekend, at 7:30 p.m. March 18.
"I have friends within the deaf and hard-of-hearing community, and there has always been this piece of my life that I have not been able to fully share with them. I am passionate about theater and want to share it with the entire world, not just those that are in the hearing world," Odle said. "We preach inclusivity and acceptance for all, and the deaf community has been excluded for far too long."
Odle didn't know her first show would be "The Great Gatsby" when she applied to be a new director at The Belfry.
But she loves the show. "I have been in love with the novel ever since we read it in high school," Odle said. "It is a love story like no other, and a glamorous time in history. Most love stories have beautiful, happy endings. The hero gets the girl, and they ride off into the sunset. With 'The Great Gatsby,' both heroes lose their girls, and we face a sad tragic ending for everyone involved in the story. Although this seems to be a bit morose, we learn that we should 'show our friendship for a man when he is alive and not after he is dead.'"
The play revolves around Jay Gatsby, a self-made millionaire, passionately pursuing the elusive Daisy Buchanan. Nick Carraway, a young newcomer to Long Island, is drawn into the world of obsession, greed and danger. The breathtaking glamour and decadent excess of the Jazz Age come to the stage in F. Scott Fitzgerald's classic novel, and in Simon Levy's adaptation.
Odle said, "Audiences will fall in love with the story of a man who has built an entire empire fighting for the love of his life. They will be entranced by the true friendship and bond created by two friends from different worlds. They will also be broken by the cruelty that comes with trying to obtain the unobtainable, the idealistic American Dream."
The play's program includes this wording: "This play contains mature content, including self-harm, murder, abuse, smoking and excessive partying." There is also a trigger warning.
"The warnings that have been mentioned for 'The Great Gatsby' are set in place to ensure our audience knows they are in for an emotional ride," Odle said.
"With any show, you hope your audience sees themselves in the story that is playing out in front of them. You dream that your audience feels uncomfortable watching someone else's pain, love, hope, tragedy and self-realization. If our audience puts themselves in this particular story, they need to be prepared."
MEET THE CAST
Nick Carraway –Troy Bridges
Jay Gatsby — Sam Smith
Daisy Buchanan — Rachel Bush
Tom Buchanan — Mike Lipphardt
Jordan Baker — Tessa Gibbons
Myrtle Wilson — Jessica Hawkins
Tom Wilson — Jackson Stollings
Meyer Wolfsheim/Policeman — Nicholas Maudlin
Chester McKee — Zach Thompson
Lucille McKee — Erin Chandler
Mrs. Michaels — Shannon Clancy
-Betsy Reason writes about people, places and things in Hamilton County. Contact Betsy Reason at [email protected]
Want TO GO?
What: Hamilton County Theatre Guild's Belfry Theatre production of "The Great Gatsby" play.
When: March 17-26, 7:30 p.m. Fridays and Saturdays and 2 p.m. Saturdays and Sundays. Note the earlier evening time from The Belfry's traditional start time.
Where: Art for Lawrence's Theater at the Fort, 8920 Otis Ave., Indianapolis.
How much: $20 for adults, $15 for ages 62 and older, students and military.
Special to this show: American Sign Language (ASL) Interpreters and Talk Back at 7:30 p.m. March 18.
Tickets: artsforlawrence.org/tickets or 317-773-1085.
WHERE TO SEE BELFRY THEATRE PLAYS
While The Belfry Theatre in Noblesville, in its 58th season, staged the first two productions of the 2022-23 season, "Rehearsal for Murder" and "The Sound of Music," at The Ivy Tech Auditorium in Noblesville, The Belfry was unable to secure dates for the next three spring productions this season, February through May, at Ivy Tech. So The Belfry went out of the county, into northeastern Marion County, to secure production space at Arts for Lawrence's Theater at the Fort for the recent "Around the World in 80 Days," directed by Eric Matters; "The Great Gatsby," opening Friday, directed by Andrea Odle; and "Crimes of the Heart," opening April 28, directed by Jen Otterman. The Belfry has become a traveling theater, staging productions at rented venues, and always on the lookout for nearby rehearsal and audition space.