NHS Theater Students Apply Classroom Learning On Stage While Sharing 1861 History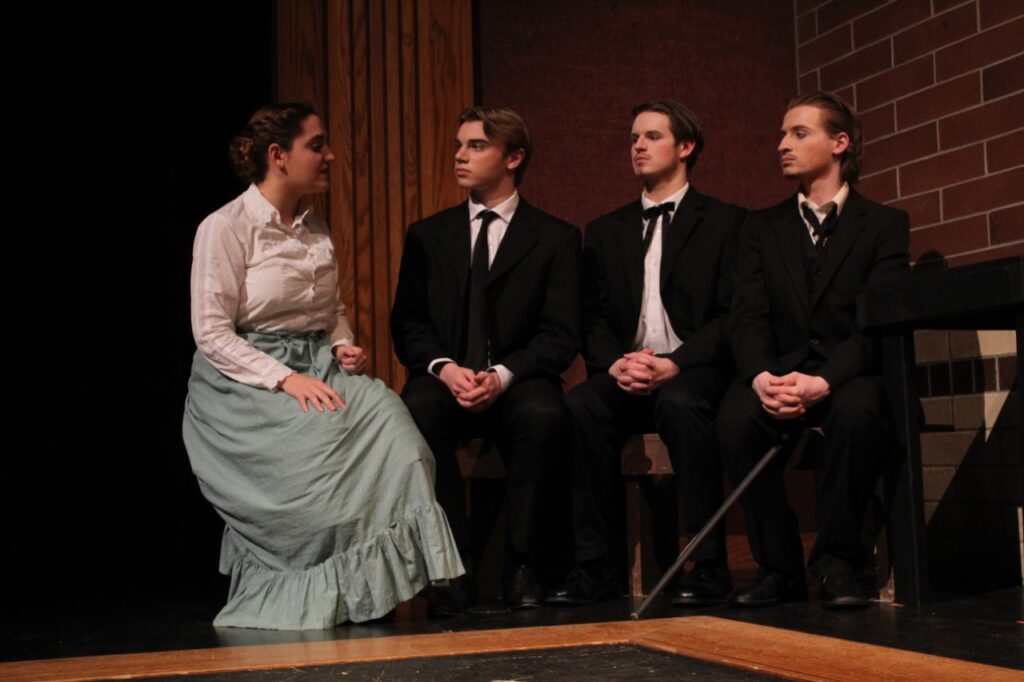 Not only do Noblesville High School students involved in the spring play learn about acting, building sets, costuming, stage lighting and sound, the students are also learning about history this semester.
"Mrs. Packard" — onstage at 7 p.m. Thursday, Friday and Saturday in the NHS Auditorium — is a play based on historical events, set in Illinois in 1861, and tells the fascinating story of Elizabeth Packard (1816-1897) and her struggle to right a system gone wrong after her minister husband had her removed from their home against her will, due to her liberal beliefs, and committed to a state-run insane asylum.
At the time, a husband could have his wife committed without either a public hearing or her consent.
"Mrs. Packard," a play written by Emily Mann in 2007, was winner of the Kennedy Center Fund for New American Plays.
Susan Nieten, the NHS Theatre teacher and spring play director, said a student who was exposed to this play in a summer theater program, suggested Nieten read the play. "While reading it, I fell in love with the story," she said. "Elizabeth's journey towards freedom and advocacy is very inspiring."
Nieten said "Mrs. Packard" is a good teaching play. Students today have seen adults on two sides of an issue tear each other down and try to censor or bury the thoughts and speech of the opposition. "Adults who behave that way in society ignore and threaten the First Amendment," she said. "I wanted students to see what can happen when people go too far to try to silence the voices of opposition. To quote Elizabeth (Packard) in Act II: 'In America, we do not lock up those with whom we disagree. And whosoever seeks to do so is a traitor to our flag and the cause which it represents.'"
The community will find this historical drama "inspiring" when they "learn of what Elizabeth had to endure on her journey to freedom and advocacy," Nieten said. "Because she is a real person, it's a great way to learn a little history while spending a night at the theater."
Elizabeth Packard went on to advocate for women in similar situations as well as advocate for cleaner and safer conditions for asylums and became a national celebrity and published author of many books. Laws to protect people in asylums, and to protect people from asylums, were passed due to her advocacy.
More than 60 NHS students, grades 9-12, are involved in the play, as cast or crew members. Students auditioned for roles and applied to be on crews.
Being that the play is set in 1861, it was important to find or make costumes that suggest the time period. Nieten said the costume crew was selected based on prior experience, interest and/or skills that include sewing. "We have been able to costume the entire show from our stock or from what students can bring in for themselves," said Nieten, who tries not to purchase costumes. "I do this to keep the cost down for the kids involved," she said.
Nieten said the stage serves as a theatrical space that becomes many places: Ward 7, Ward 8, Dr. McFarland's office, a mess hall and the Lunatics Ball, all set in an asylum. There are also courtroom scenes and a scene in the Packard home.
NHS Technical Theatre classes have built the set, and students from those classes have painted the sets and some of the furniture. Students use flats (easy-to-move lightweight timber frames covered with scenic canvas to make backdrops), furniture and lighting to create different locations.
The popularity of NHS theater classes has grown in recent years.
Before the 2015-16 school year, there were Theatre Arts I and II and Theatre Production and Technical Theatre. Now, NHS offers all of those, plus Advanced Theatre Arts I & II and Advanced Acting I & II.
In the acting-based classes, students learn "how to create characters, how to speak and move on the stage and how to put together and build scenes with an audience in mind," Nieten said. Other topics are also included, like auditions, theater advocacy, stage makeup and preparing for competitive acting competitions.
In the Theatre Production class, students learn set construction in a first-semester course with the class building the set for the NHS fall musical. In Technical Theatre, students build the set for the spring play with the instruction focusing on sound and stage lighting.
Students not only do costumes but they also operate the sound board and light board.
"Mr. (Greg) Richards (NHS's technical director) will sit with me and the student running lights while he instructs the student on how to set up and use the board for this show," said Nieten, who is there to explain what she wants from the sound and lights. The student is in the Technical Theatre class and has some experience already with running lights. The same is true with sound, Nieten said, however, the Technical Theatre class has already covered sound this semester so the student is more self-sufficient.
It's been four years since NHS Theatre Department put on a drama, which was "The Crucible," in 2019.
Currently, students are not charged a fee to be involved with the spring play.
NHS Theatre doesn't get a budget from the school for productions but simply operates from ticket sales and from donations, which are accepted during the run of the play and throughout the school year.
-Betsy Reason writes about people, places and things in Hamilton County. Contact Betsy Reason at [email protected]
Want TO GO?
What: Noblesville High School Theatre Department presents "Mrs. Packard," by Emily Mann and directed by NHS theater teacher Susan Nieten.
When: 7 p.m. Thursday, Friday and Saturday.
Where: Noblesville High School Auditorium, 18111 Cumberland Road, Noblesville. Enter Gate 1.
Good to know: Patrons can support cast and crew with Backstage Notes for $2 each, cash only. Concessions, including a bake sale, will be open at intermission, cash only. Thespian officers will accept donations for Broadway Cares/Equity Fights AIDS, after the show, cash and checks payable to NHS. How much: $10 online at nhstheatrearts.weebly.com, $12 at the door, general admission
MEET THE CAST
Elizabeth Packard — Savannah McClure
Theophilus Packard — Colin McCabe
Dr. McFarland — Aidan Johnston
Mrs. Bonner — Emmy Phillips
Mrs. Chapman — Sean Wood
Miss Rumsey — Lauryn Kinzie
Mrs. Blessing — Rylee Odle
Mrs. Tenney — Ebbe Beer
Mrs. Dole — Sarah Rolinson
Mrs. Stockton — Andie Zelaya
Judge — Luke Long
Mr. Smith — Ehren Knerr
Mr. Haslet — Braedon Lechien
Dr. Knott — Jaxon Luna
Mr. La Brie — Josiah Smith
Mr. Blackman — Maddux Morrison
Clerk — Vincent Lomellin
Stephen R. Moore — Blake Valentine
Dr. Brown — Grey Black
Mr. Abijah — Nolan Campbell
Dr. Duncanson — Roux Carney
Mr. Blessing — Andrew Rivera
Foreman of the Jury — Braden Greenlee
Attendant/Trustee — Devin Ruse
Libby — Kate Boice
TBD Patients — Kemah Larson, Lucy Stambaugh, Kate Boice, Khari Davis, Mia Gordon, Nika Spaulding, Hannah Ropte and Bowen Mann
MEET THE CREW
Director — Susan Nieten
Assistant director — Connor Buhl
Technical director — Greg Richards
Production manager — Trevor Greenlee
Deck manager — Max Midkiff
Stage crew — Gray Black, Ehren Knerr, Katy Luna, Nely Luna, Devin Ruse and Blake Valentine
Sound board operator — J Herold
Lightboard operator — Jonah Laiken Charpie
Rehearsal prompter manager — Braden Greenlee
Rehearsal prompters — Emma Cseke, Ellie Seago and Kenzie Wood
Costume managers — Addie McMillan and Rue Tierney
Costume crew — Morrison Eastman, Mia Feigel, Jillian Gale and Amy Lynn Props manager — Rylee Odle
Props crew — Tyler Cowan and Ella Miller
Makeup crew chief — Maddux Morrison
Makeup crew — Nolan Campbell, Carmen Cremer, Kaito Moormann, Hannah Ropte and Nika Spaulding
Hair crew — Addie McMillan and Maddux Morrison
Publicity and concessions manager — Josiah Smith
Publicity crew — Lilah Cross
Concessions crew — Piper Craig, Lilah Cross, Ellie Seago, Else Miller and Charlotte Wiggins
Show artwork — Maddux Morrison
House manager — River Arnold
Ushers — Lilah Cross, Dakota Ewan, Ella Miller, Ellie Seago, Kenzie Wood and Christopher Young