2023 Bmw 760i Gets A Radical Makeover That Nods To The Past And Future
By Casey Williams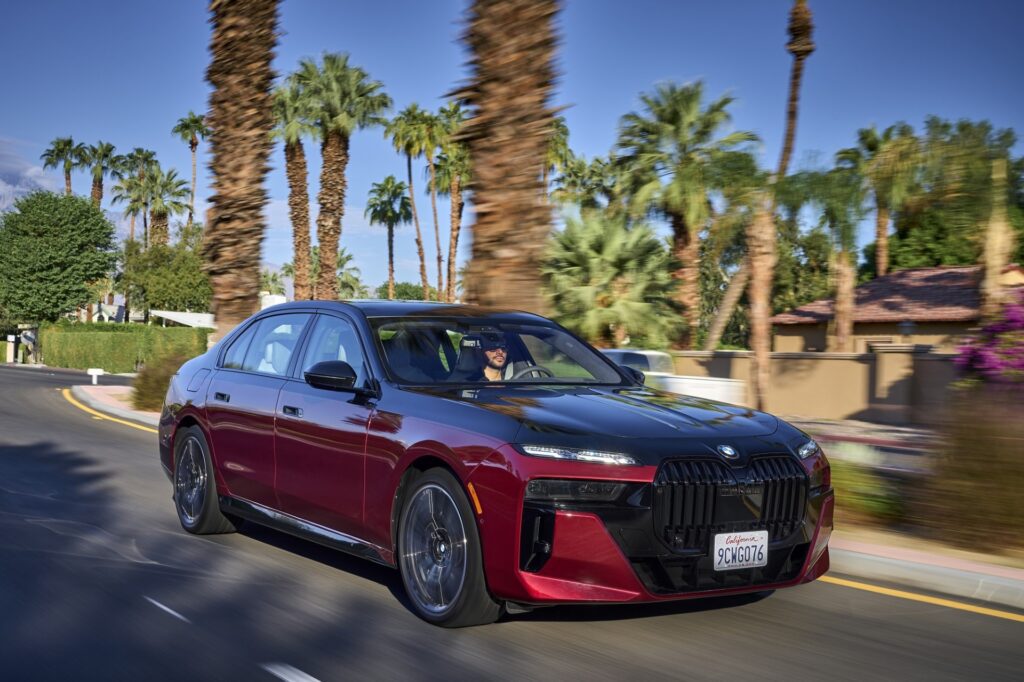 It seems about every twenty years, BMW gets radical with the 7-Series. Remember back a couple of decades to the 2003 model that debuted the iDrive infotainment system and "Bangle butt" raised trunklid, named for former BMW design chief, Chris Bangle. Eventually, though, BMW's competitors copied the car's controls and rump. As BMW configures the 7-Series for an electric future, it gives a radical makeover that nods to the past and future in the 2023 760i xDrive.
I suspect it won't be this car's butt, but rather its face, that causes consternation. I'm actually starting to like the large twin kidney grille that's been ridiculed, but looks better proportionally on this large car. It's especially menacing as part of the Shadowline package with dark trim. Squinty driving lamps over LED headlamps give the car a sinister vibe, something appropriate for Bruce Wayne's chauffeur. I also like our car's two-one black over burgundy paint – a nod to the classic era that breaks up the car's large flanks. Little 20" wheels cower beneath the fenders.
The melding of past and future begins when you press a button near the door handle and the door opens itself. Press a separate button to close it. Cloth seats take us back, but are super comfy in all seasons plus they are heated, ventilated and massage occupants so thoroughly they should ask permission. Carbon fiber, stitched dash coverings, and intricate metallic grilles for the Bowers & Wilkins audio system add visual candy.
Good luck finding buttons or knobs beyond the iDrive joywheel. It's virtually a glass cockpit with twin screens for gauges and infotainment plus a strip of touchpads for climate and even the glove compartment latch below. I still think iDrive is confusing, but at least I can now use the swipescreen instead. There's also a large head-up display for speed, navigation, and safety systems that include dynamic cruise, automatic emergency braking, lane-centering steering, and blind spot warning.
Nice, but wait until you see the back seats where smartphone-sized touchscreens in the doors control climate, sunshades, and infotainment. The right seat reclines, but both outboard passengers get pillows, massagers, heat, and ventilation. Press either door pad to conjure a full-width theater screen that drops from the ceiling as sunshades close for "movie night", fueled by streaming Netflix and Youtube. Charge phones wirelessly in the armrest too.
I could snooze for hours in the back, but I'd rather throttle the 4.4-liter twin-turbo V8 delivering a spiteful 536 horsepower and 553 lb.-ft. of torque – all routed to the all-wheel-drive system through a paddle-shifted 8-speed transmission. It's easy to usher the car through busy city traffic, but it comes alive as it surges towards triple digits. Look for 0-60 mph in just 4.1 seconds. This is a car engineered to cross continents toot sweet. And it can efficiently with its light hybrid system that enables 18/26-MPG city/highway.
The 760i is a big car that behaves more like a compact. Sure, the adaptive suspension provides a wafting ride, but it firms up when you greet corners. Four-wheel steering aids maneuvering in tight parking garages and through narrow streets, but also sharpens handling. You never quite forget it's a big car, but driving it is no chore whether taking a client to her jet or enjoying a solo fun run.
While this car is gas-powered, you're really looking at BMW's electric future where brash style, serene interiors, and seamless performance form one of the world's great automobiles. Check the new all-electric i7, with which the 760i shares virtually everything but its powertrain, for confirmation. If you want the gas-powered version, it's going to cost at least $113,600 or $162,045 as-tested.
Storm Forward!
-Send comments to Casey at [email protected]; follow him on YouTube @AutoCasey.
Likes
· Artful design
· Cosseting cabin
· Surging power
Dislikes
· Complicated infotainment
· No hands-off cruising
· Stately price
2023 BMW 760i xDrive
Five-passenger, AWD Sedan
Powertrain: 4.4-liter TTV84, 8-spd trans
Output: 536hp/553 lb.-ft. torque
Suspension f/r: Elect Ind/Ind
Wheels f/r: 20"/20" alloy
Brakes f/r: disc/disc
0-60 mph: 4.1s
Fuel economy: 18/26 mpg city/hwy
Assembly: Dingolfing, Germany
Base/As-tested price: $113,600/$162,045