2023 Ram 2500 Pickup Is A Heavy-Duty Rebel
By Casey Williams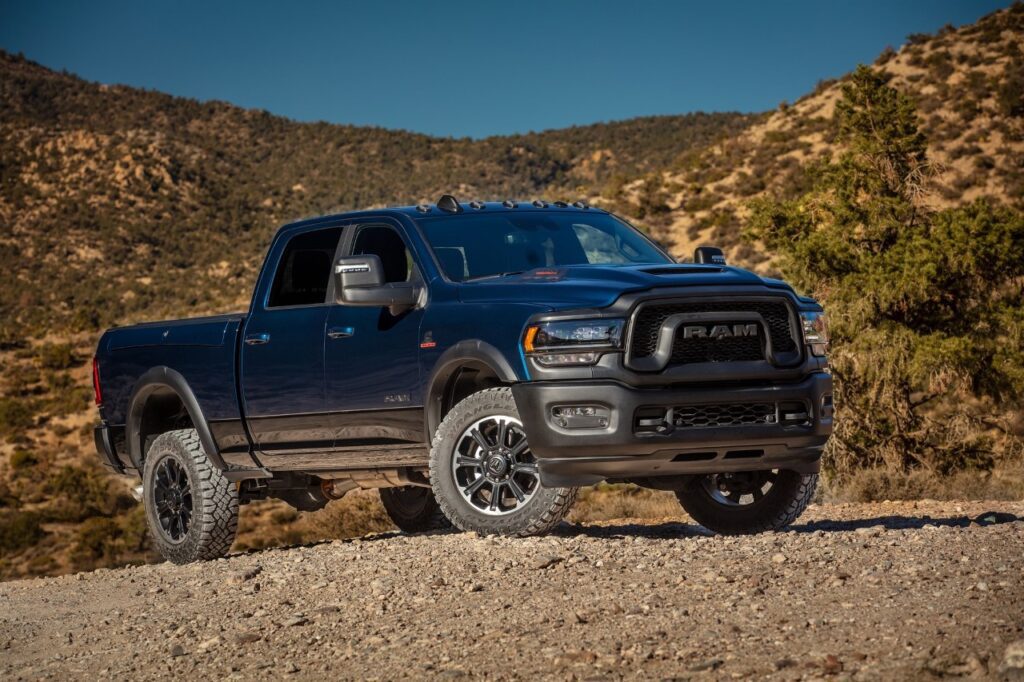 I have long been a fan of the Ram Rebel, a truck that looks the part of an off-road commander and has the underpinnings to back them up. Head for a trail and enjoy fortified capability while riding in surprising comfort. But, for those with more heavy duty aspirations, you were out of luck in the light-duty Rebel. That changes with the 2023 Ram 2500 Heavy Duty Rebel…with the Cummins diesel. It's a hard-working truck that enjoys getting dirty.
The Rebel definitely has a sinister no-nonsense look that causes other drivers to move out of your way. The hood stands about neck high and is fronted by a full face of gray plastic, gleaming LED headlamps, and RAM lettering across the grille. Looking at the side, 20" wheels with off-road tires look like doughnuts beneath the raised crew cab body. All badging, including the Cummins name, are dark gray. At the business end, trailer pre-wiring and fifth-wheel plugs in the bed allow for quick attachments. Slide under to see skid plates protecting the sensitive bits.
It took arm stretching and leg straining to heave myself inside, but once planted, was quite comfortable. As with other Ram trims, the large tablet-style touchscreen with proper volume/tuning knobs and intuitive icons for audio, climate, phone, and navigation couldn't be easier to use. I also like the new flatscreen instruments. Heated and ventilated front seats, heated steering wheel, dual-zone automatic climate control, and drenching 17-speaker Harman Kardon audio add comforts. A dash-mounted trailer brake controller and push-button 4×4 help busy pilots.
Keep this rig on-course is a full course of safety tech that starts with adaptive cruise control and extends to automatic emergency braking, lane keep assist, blind spot warning, and rear cross path detection. Rain-sensing wipers and a 360-degree camera keep vision clear.
Beneath it all beats the heart of a Hoosier. The Ram's 6.7-liter turbocharged inline-six Cummins diesel generates just 370 horsepower, but a ground-stomping 850 lb.-ft. of torque. Routed through a six speed automatic transmission, because you don't need more than six cogs with all of that torque, the truck can pull 16,870 lbs. Put it into four-wheel-drive and owners can bang skid plates going almost anywhere.
Before thinking this is a luxury truck with a big engine, keep in mind Ram 2500s ride on sold axles front and rear. Even the off-road shocks can't quell all of the bumping and banging that comes from such a suspension system, but the long wheelbase does even out most of the harshness on the highway. Step into the engine and you won't care about the suspension as you pull away on a deep magic carpet of all that turbocharged torque. It feels like it could pull a bulldozer – or a load of classic cars – through mountains and never slow its pace.
Ram had the 2500 Power Wagon for those wanting something special, but I like the dark trim and off-road capability of the Rebel – especially with the Cummins diesel underhood. I'd just make sure you actually need a heavy duty truck before purchasing one because those solid axles, ride height, and massive size are not for everyday use. But, out on the road working away, the truck is dreamy.
Ram 2500 starts at $44,205, but our Rebel came to – clutch your pearls – $91,730. Competitors include the GMC Sierra HD AT4 and Chevrolet Silverado HD Z71 Sport.
Storm Forward!
-Send comments to Casey at [email protected]; follow him on YouTube @AutoCasey.
Likes
· Sinister style
· Off-road capability
· Interior comfort
Dislikes
· High step-in
· Rough ride
· Beefy price
2023 Ram 2500 Rebel Five-passenger, 4×4 Pickup
Powertrain: 6.7-liter I6 TD, 6-spd trans
Output: 370hp/850 lb.-ft. torque
Suspension f/r: Solid axles
Wheels f/r: 20"/20" alloy
Brakes f/r: disc/disc
Towing: 16,870 lbs.
Fuel economy: N/A
Assembly: Saltillo, Mexico Base/As-tested
Price: $44,205/$91,730