Carmel Teen Passionate About Free Speech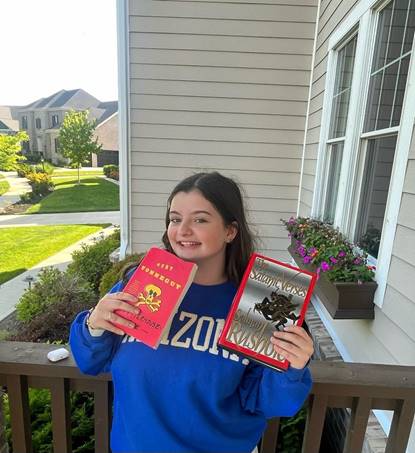 Carmel resident Sophie Maurer may be only 15 years old, but she's already a passionate free speech advocate. It's not a passing fad for her or even a new interest. She's been involved in free speech efforts since 2019 when she was in the fifth grade.
That was the year that author Salman Rushdie came to the Kurt Vonnegut Museum and Library in Indianapolis where she volunteers. Sophie had already read some of his work and knew of the censorship challenges he had faced that even included attempts on his life. She was so excited about his being in town that she was asked by the museum's founder and CEO, Julia Whitehead, if she would like to introduce him during the program that featured him. Sophie was thrilled.
"I was so starstruck that I just stood there on the stage after speaking about him," Sophie said. "I was super happy," She said he tapped her on the shoulder and finally she left.
"I wanted Sophie to introduce Rushdie because I thought she had something meaningful to share with our audience," Whitehead said. "Her speech delighted everyone – especially Rushdie."
Whitehead said that after the event, a member of the museum's board suggested assigning Sophie the title of Free Speech Ambassador.
Sophie has been the museum's Free Speech Ambassador ever since. Now as a ninth grader at University High School, her most recent initiative for the museum is Sophie's Banned Book Club, which meets four times a year in Carmel. The next meeting will be at 4 p.m., Sunday, June 11.
The book that will be discussed at the June meeting will be "Maus," written by Art Spiegelman. It's a graphic novel that tells the story of Spiegelman's father, who survived the Holocaust during World War II. In the book's drawings, Jews are portrayed as mice while the Nazis are cats.
"Her banned book club is particularly relevant here in Indiana where our state government has just made it easier for books to be banned," Whitehead said. "I don't know any other book club that has members ranging from ages 15-80. Sophie commands the respect of people of all ages because she takes free speech seriously and cares about others' opinions. She's so Vonnegut!"
There is still plenty of time to read the book if you want to participate in the banned book club. Most of the libraries in Hamilton County have the book in their collections, or you may be able to borrow it through an Interlibrary Loan program. You can also buy the book to add it to your own collection.
Registration to participate in the book club is required, and both registration and attendance are free. Go to this link:
https://www.eventbrite.com/e/sophies-banned-books-club-maus-tickets-603765156837?utm_source=eventbrite&utm_medium=email&utm_campaign=post_publish&utm_content=shortLinkNewEmail
Sophie's Banned Books Club: Maus
Join us for the next meeting of Sophie's Banned Book Club to discuss Maus by Art Spiegelman
www.eventbrite.com
Sophie said she is open to suggestions from members on books they would like to see discussed and how the club can be improved.
Vonnegut himself was against banning books and a great supporter of the First Amendment, which is why First Amendment Advocacy is one of the Vonnegut Museum's key initiatives.
Vonnegut's book, Slaughterhouse Five, has been banned numerous times, according to the American Library Association, and was even burned in 1973 in the high school furnace by a school board in Drake, North Dakota.
Vonnegut sent a letter to the chairman of that school board that said, in part, "…if you were to bother to read my books, to behave as educated persons would, you would learn that they are not sexy, and do not argue in favor of wildness of any kind. They beg that people be kinder and more responsible than they often are. It is true that some of the characters speak coarsely. This is because people speak coarsely in real life. Especially soldiers and hard-working men speak coarsely; and even our most sheltered children know that. And, we all know, too, that those words really don't damage children much. They didn't damage us when we were young. It was evil deeds and lying that hurt us."
-Susan Miller is a long-time Hamilton County journalist, poet and author. She works in the library at the University of Indianapolis and is involved in various literary organizations in Indiana, including the Kurt Vonnegut Museum and Library.