Percussion Ensemble Accomplishes Much in Director's First Year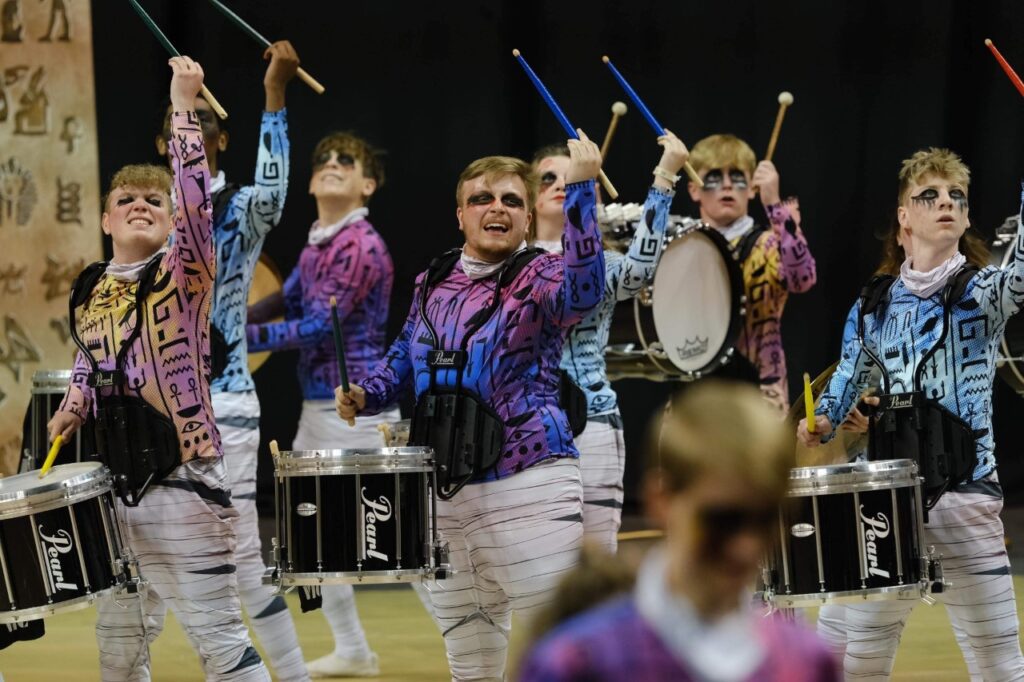 Noblesville Indoor Percussion Ensemble has had an amazing season.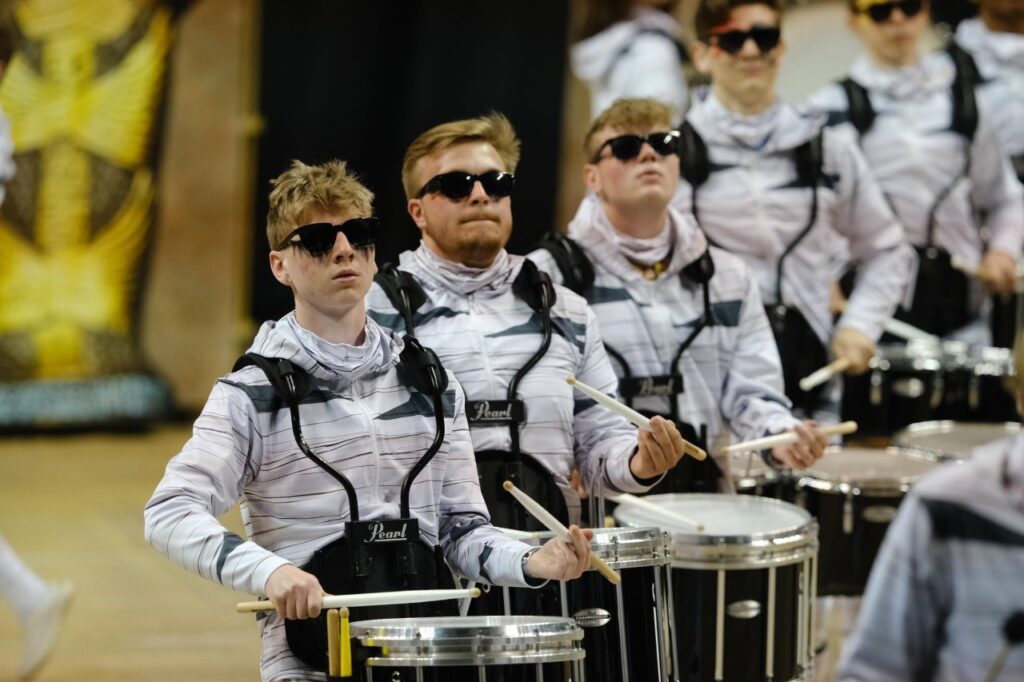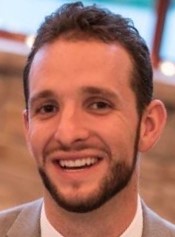 These Noblesville students placed second at State and fourth in the Winter Guard International World Championships.
The community can experience the Ensemble's final public performance of the school year this Thursday, during a band concert, at 6:30 p.m. at NHS. Donations will be accepted for admittance: $5 per person or $20 per family.
Noblesville Indoor Percussion Ensemble (NIPE) is made up mostly of marching band drumline and front-ensemble performers with some additional students who join to play cymbals.
"It's open to anyone really, but they do have to try out if they aren't already a part of the drumline or front ensemble," said Michele Neal, whose son, Sam Neal, a junior, plays snare drum in the ensemble.
As she was sending this journalist details about the Ensemble's accomplishment on the day the Ensemble returned from the World Championship in Dayton, she said her drummer came downstairs at home, telling his mom he had to go play with the drumline at the Nickel Plate Arts Campus that very day. "They are out there again doing what they love for the community," she said. "I love it." (And just minutes before her message, I actually saw the drumline performing in the Nickel Plate parking lot.)
Neal contacted me on the day the Ensemble returned home from the World Championships last month with only good things to say about their NHS percussion director, Charles "Cal" Lennon.
"He has been a wonderful, positive influence on the kids along with his staff of techs," Neal said.
"I certainly have always had a deep connection and love for percussion and these types of activities, but I think, more importantly, I was given a great idea of what leadership looks like, that I simply want to continue forward with," Lennon said. "Hearing others think I help their experience be so positive is one of the few reasons as to why I still feel my time is meant to be spent with these ensembles."
One of Lennon's grandfathers was a lifelong percussionist and the other was a lifelong leader and coach at the University of Notre Dame. "Along with my father and my older brother, and a couple other phenomenal directors, I know I am blessed and fortunate to have their presence be a part of me as I journey through teaching and creating relationships," he said.
NHS director of bands Eric Thornbury said Lennon "is knowledgeable and has an outstanding and unique approach to teaching percussion. He is a director immersed in the activity, both musically and visually. He is able to communicate to students in a way that teaches students and inspires them to want to achieve more," Thornbury said.
"Our percussion kids are a great group of kids," said Neal, who went on to share stories. "During football season they go to school at 7 a.m. on Fridays to march through the halls to hype the students for football games. They do send-offs for every team that goes to a State tournament or game as they board their bus. They have even led little kids in neighborhood bike parades on the 4th of July, after already marching the parade with the band. They are always there for their school and for their community because they love what they do."
Sam Neal, whose parents are Michele and Dave Neal, attended Noblesville West Middle School, started playing drums at age 4. He now plays drums for services at Northview Church in Noblesville and Northview students in Carmel. He will be the drumline section leader for next season and hopes to play in a Drum Corps International after high school. He is also in NHS Jazz Band, Wind Ensemble, Pep Band and Marching Band. His mom said, "He absolutely loves playing drums."
In Lennon's first season leading the ensemble this school year, the Percussion Ensemble performed an original production called, "Unraveled," a fresh take on the Egyptian afterlife.
Thornbury said the drumline "is definitely in high demand," noting all of those activities, as well, adding that the drumline recently participated in Noblesville's Fairyville Parade.
Lennon said Thornbury, as well as co-director Jacob Crosley, "play a humongous part in allowing the drumline to be so involved … We share rehearsal space and often rehearsal hours with other sports entities and programs, and with the shared space comes a needed shared respect for one another. The band directors do a phenomenal job of recognizing this and finding windows for our performers to maintain connection to the school as a whole and not just to the music program."
Placing in the WGI World Championship was a huge accomplishment on the national level.
Lennon said Indiana has one of the most competitive and well-rounded state circuits for indoor percussion in the country. That very fact was reflected this year when Indiana had the most representatives of any state in terms of the world championship finals across all of the classes.
"Our wonderful students at Noblesville this year were able to achieve their highest placement at their state championships in their history, as well as travel to the world championships for our first time," Lennon said. "At the world championships, we were fourth place within our class, which is an extremely notable accomplishment and for something I am so proud."
It's Lennon's first year as a full-time director of percussion for NHS. He teaches five block classes, correlated with various concert band classes. Lennon is a graduate of Lawrence Central High School, where he was a percussionist, and a graduate of Indiana University. He has taught and directed both competitive percussion ensembles and marching bands, mostly in Indiana, but across the United States, for the past seven or eight years and has won four championships at three separate high schools in Indiana during this time.
Typically, he would trade his time and efforts across multiple schools during a single season or semester, whereas, at NHS, it's his first time giving almost all of his effort and time to one school. "Due to this, I feel a special connection with the Noblesville students and each and every accomplishment…."
Throughout the school year, Noblesville percussionists end up being a part of many balanced ensembles where percussion is just a cog in the machine, such as marching bands, jazz bands, pep bands, concert bands and more, Lennon said. "But indoor percussion is the ensemble where we are strictly made up of percussionists, and so the content and the camaraderie takes on a whole new level. Think of it as 'the immediate family' for percussion at the school, since this is our opportunity to be isolated and challenge the kids percussively to new heights."
Thornbury described NIPE as "like a small marching band with percussion-only instruments."
He said, this school year, 39 students participated in the Percussion Ensemble: three snare drums, two tenor drums, two impact drums, five bass drums and eight cymbals, who march on the floor, and 19 students in the front ensemble with five marimbas, six vibraphones, xylophone, bells, two auxiliary percussion, two synthesizer, electric bass and electric guitar.
NIPE, which began in spring of 2008, has grown in skillset and volume greatly since its inception, Lennon said.
Ranging from eighth-graders through seniors, the Percussion Ensemble has a wide variety of skill sets, from beginners to advanced high school musicians, but mostly talent in the middle. They are forced to grow very quickly during the season during which the best players may be highlighted.
Students compete in Scholastic A movement against other high schools in Indiana and through the nation and even other countries.
The group rehearses three times per week for three hours plus a few Saturday and camp days. In 2023, the competition season ran Feb. 11-April 1. Groups attend invitational competitions to prepare for Indiana Percussion Association (IPA) State Preliminary competition with the hopes of making IPA State Finals. "Noblesville High School has hosted one of these invitationals the past few years right in our own high school gymnasium," Thornbury said.
"Each year, our students get better and better," he said. In 2021, NHS was the Indiana IPA Bronze Medalist. In 2022, the NHS Percussion Ensemble repeated as the Bronze Medalist for IPA and the WGI Percussion Indianapolis Regional Champion. In 2023, Noblesville placed second at the Plainfield Invitational, first at the Noblesville Invitational, first at the Indianapolis WGI Regional, first in their round at IPA State Preliminary Competition out of 21 competing groups in their class and second at IPA State Finals. At the first-ever World Championships, Noblesville participated in quarter finals, semi finals and finals, against 39 groups competing from all over the nation, including Hawaii. "Noblesville advanced to the finals for the first time in our history and placed in the Top 5," Thornbury said. The Ensemble was the IPA Silver Medalist, WGI Percussion Indy Regional Champion again and a WGI World Finalist, "placing fourth in the world." He said, "We were fourth place and only .25 of a point from the bronze medal."
-Betsy Reason writes about people, places and things in Hamilton County. Contact The Times Editor Betsy Reason at [email protected]