Pool Season to Open With More Seating, More Flicks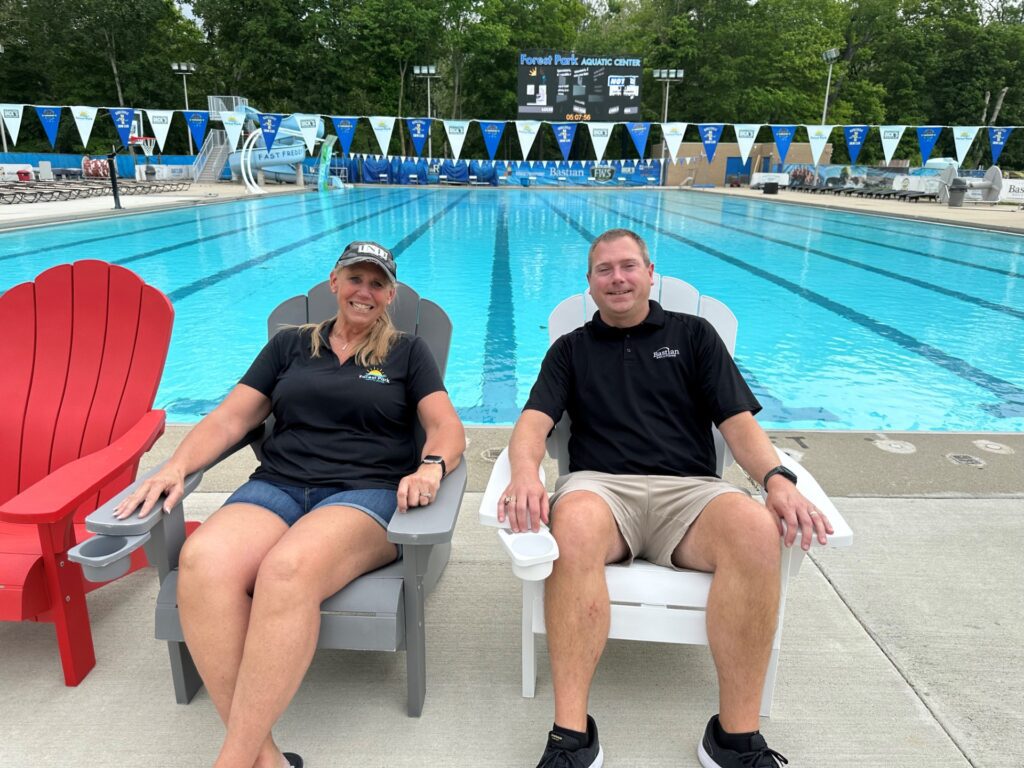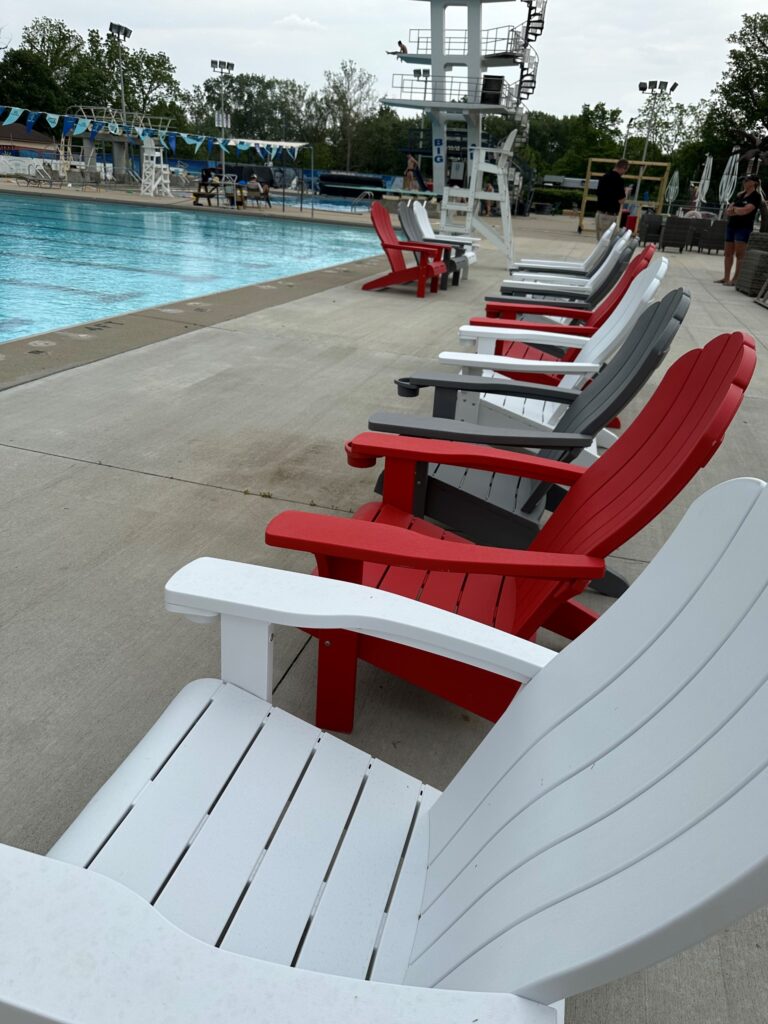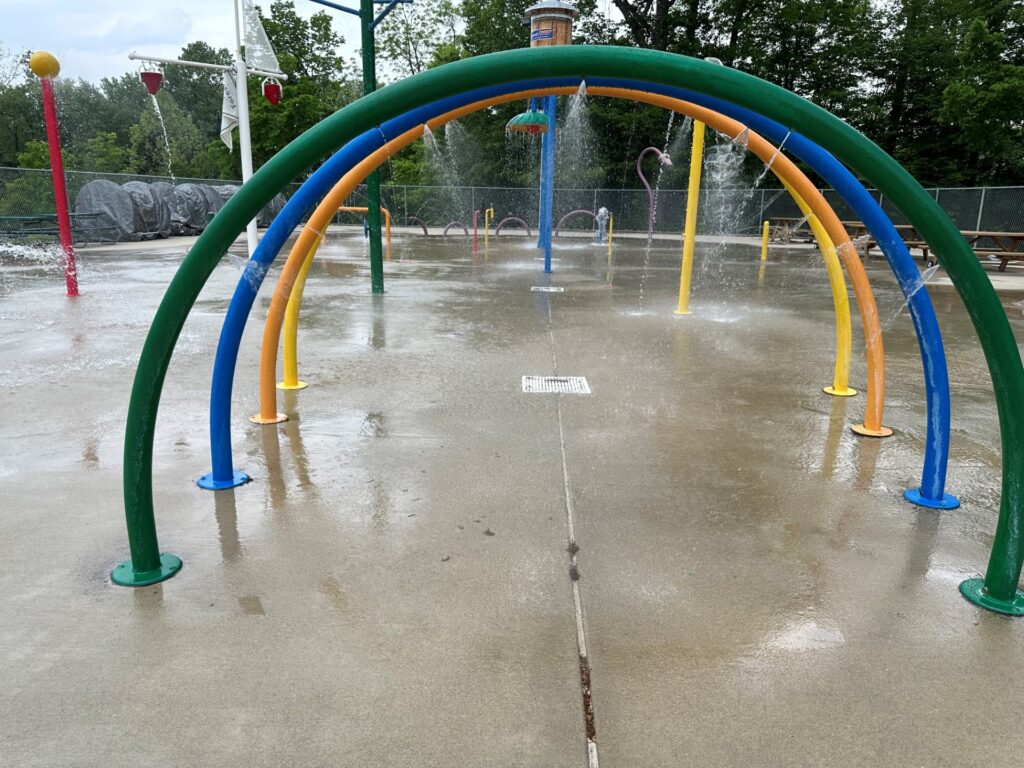 Forest Park Aquatic Center guests asked for more seating around the pools, and they got it.
They asked for private rentable shaded seating, and they got it.
They asked for an adult seating area, and they got it.
What else is new?
New choices at the concession stand.
Smoothies and freshly made popcorn will be offered. Paradise Ice will replace Kona Ice, with a free-standing concession hut being built near the diving pool. Other new foods were being taste-tested on Monday, the first staff day, "and we'll go with what the majority rules," said Kim Bowling, full-time manager of the Forest Park pool, which will open this Saturday for the three-day Memorial Day weekend, then reopen daily for the season after the final day of Noblesville Schools classes, which is June 1.
The pool entrance fee was raised from $6 to $8, the first time for an increase in about 15 years, said Greg Conner of Noblesville, a volunteer and president of The Friends of Central Pool, an organization that operates Forest Park Aquatic Center and which celebrated its 25th anniversary in summer 2022. He sat on new Adirondack chairs in full view of the pool, alongside Bowling, sharing what's new for Saturday's opening of the 2023 pool season.
This year's movie selection will increase to nine offerings during the 2023 Flicks and Floats summer series, during which the pool stays open later for guests to watch movies poolside. Admission is free to members or $5 for nonmembers.
An LED video board, that's visible in the daylight, was installed for the 2022 season and allows movies to begin much earlier than in the past.
Pool memberships are still available, as are donor-level tax-deductible memberships.
The Aquatic Center has a new website this year with a new point-of-sale system. Eventually, users will be able to log in and put money onto their account, "so if you want to send your kids to the pool," they can have money put onto the family account to spend for concessions, Conner said.
There will be a record number of camps that will be using Forest Park Aquatic Center and Morse Beach this season. Plus, every pool membership receives free admission to Morse Beach.
The big project over the winter was adding 150 square feet of space (taken from the men's locker room) to increase the size of the concession stand, to allow for more storage and food-preparation space, said Conner, who led a quick tour of the concession stand, which is manned by mostly 14-year-olds.
From the Aquatic Center's annual survey, one of the most common requests is "more seating." Conner said, "It feels like we add more chairs every single year, but it's never enough. So we went pretty much all-in this year."
There are about 75 new chaise lounges plus 85 new Adirondack chairs. Some of these chaise lounges are heavy-duty chairs dedicated for adults only, which was another request.
The splash pad's water features have all been repaired and all are working this season and are quite inviting for the younger kids. "We've got features back there working that we didn't even know existed," Conner said happily.
The kids camps visiting the pool this year will be stationed in the splash pad area, where all of the wooden picnic tables, made by local Boy Scouts, have been moved. Five new round tables with connecting seats will be located in the concession area for guests.
Due to the requests for rentable shaded seating and an increase in requests for parties, the Friends of Central Pool, as an experiment, will offer two new cabanas with wicker furniture located near the dressing room entrances, thanks to money from the Noblesville Township Trustee. Conner said there is a game plan for more cabanas, possibly in the baby-pool area, if this idea takes off. Shade umbrellas with stands will also be available for rent at $10 per day. Plus, the pool deck near the diving pool will also be offered again this year for rent. The grassy area has been regraded and new grass was added, and that will be a space people can use the second half of the summer.
Costs to operate the pool have gone up. "Our chlorine costs have doubled over the last 12 months," Conner said. This year's operating budget is about $500,000, he said. The overall budget has gone up by almost 40 percent over the past three years.
Membership was at 750 last year and they're hoping to increase that number in 2023.
There are also new games — volleyball and spikeball — for nonswimmers who like to come to the pool. Corn hole was added in 2022.
What else? "We always have ice cream," said Bowling, who also mentioned that Dippin' Dots brand ice cream was offered in 2022 and could return in 2023, depending on availability.
The Aquatic Center staff of 70 — including 50 lifeguards, front desk and concession workers — began work on Monday for the season. There are more lifeguards this year. Most of the staff who worked concessions moved on to lifeguard positions. And while 100 teens applied to work "a fun summer job" at the Aquatic Center concession stand, only four new hires were made, with a total of 20 concession workers, mostly 14-year-olds. Bowling said most of the previous staff returned.
There are donor-level memberships for "those who really care about the pool and have the means to help us," Conner said.
Longtime Friends of Central Pool donors Dale and Marge Ostler of Noblesville were the first private donors to write a check to help pay for the new LED video board in 2022. In 2021, during the 90th anniversary celebration year, the Ostlers were selected as co-chairs of a special endowment fund steering committee to focus on the continued development of the fund, which was established several years ago at the Hamilton County Community Foundation. Marge (Fields) Ostler was a lifeguard at the old pool in Forest Park. She and Dale, who were U.S. Masters swimmers, were early and significant supporters of the efforts to rehabilitate the center.
The Ostlers, fittingly, are the namesake of the highest level of three donor-level memberships that were established in 2022 for The Friends of Central Pool.
At a giving level of $300 (tax deductible) or more, The Ostler Society donor level benefits include: name on board recognizing all donor-level supporters, a 2023 Aquatic Center family membership up to six family members (additional family members can be added for a fee), Aquatic Center day passes, one benefit allowing one additional adult caregiver facility access when accompanying member dependents, 20 percent discount at the Aquatic Center poolside cafe, invitation to special membership events, membership e-newsletter, up to six Forest Park Aquatic Center T-shirts and one Forest Park Aquatic Center car decal.
The video board runs 24 hours a day and is funded completely by donors. The video board provides advertising exposure, at least three times an hour, through digital ads, logos and "about us" videos from the Aquatic Center's multiple sponsors, including The Times newspaper.
Conner, who is senior vice president of corporate development at Bastian Solutions, which is moving to Noblesville, and one of the sponsors of the Aquatic Center, leads the Aquatic Center's board of directors year-round and from March through October is constantly volunteering at the pool. He and Bowling, in her ninth year, also spend their time helping to raise money and fixing things at the pool. Bowling said her children, Macee, 21, will help open the pool, Logan, 18, will manage the beach, and Ty, 14, will work concessions. She coached at the pool for 15 years. She was asked to cover for two weeks, and it ended up being a full-time position. Yes, she always has something to do there. Bowling was so busy that she never got in the pool once last summer.
Also, one more thing. Conner said, "Our parking fee remains the same, at $0."
Want TO GO?
What: Forest Park Aquatic Center opens for the season.
When: Saturday, May 27. Hours are noon to 8 p.m Fridays and Saturdays, noon to 6 p.m. Sundays and noon to 7 p.m. Monday (Memorial Day) and open again the following weekend, June 3 and 4. Starting June 5, weekday hours will also be noon to 7 p.m. Mondays-Thursdays, noon to 8 p.m. Fridays.
Where: Forest Park Aquatic Center, 1077 Cicero Road, Noblesville.
Cost: $8, free to under age 1.
Good to know:
Admission on regular days to the pool will allow guests to use Morse Park & Beach. There are chairs provided at both locations, although guests can bring their own chairs or inflatables for the water.
Toddler Time: 9 a.m. to 11 a.m. Tuesdays and Thursdays, beginning June 6.
Movie Nights: Forest Park Aquatic Center's 2023 Flix and Floats nights offer nine movies on the giant LED video board, 7:15 p.m. June 7, "Minions: The Rise of Gru," Rated PG; 7:15 p.m. June 21, "Bedtime Stories," Rated PG; 8:15 p.m. June 30, "Hook," Rated PG; 7:15 p.m. July 3, "Top Gun: Maverick," Rated PG-13; 8:15 p.m. July 14, "Field of Dreams," Rated PG; 8:15 p.m. Aug. 5, "Madagascar," Rated PG; 8:15 p.m. Aug. 12, "Cars," Rated G; 8:15 p.m. Aug. 19, "Remember the Titans," Rated PG; 7:15 p.m. Sept. 4, "Back to the Future," Rated PG.
What else:
Ripfest Diving usually offers diving lessons Sundays in the diving pool. That's the only time the top of the diving tower is open for public use. Only baby pool will be open July 7-9 during Enchanted Forest Swim Meet. Limited weekday hours begin Aug. 1.
Annual membership: $136 for individuals to $288 for family of 6, additional members are $50 each.
Punch passes: 10-day pool punch pass, $75; Daily Morse Beach admission, $7; 10-day beach punch pass, $65.
Info: https://www.forestparkpool.org/
-Betsy Reason writes about people, places and things in Hamilton County. Contact The Times Editor Betsy Reason at [email protected]