Kids-Turned-Entrepreneurs Pedal Wares At The Market
By: Betsy Reason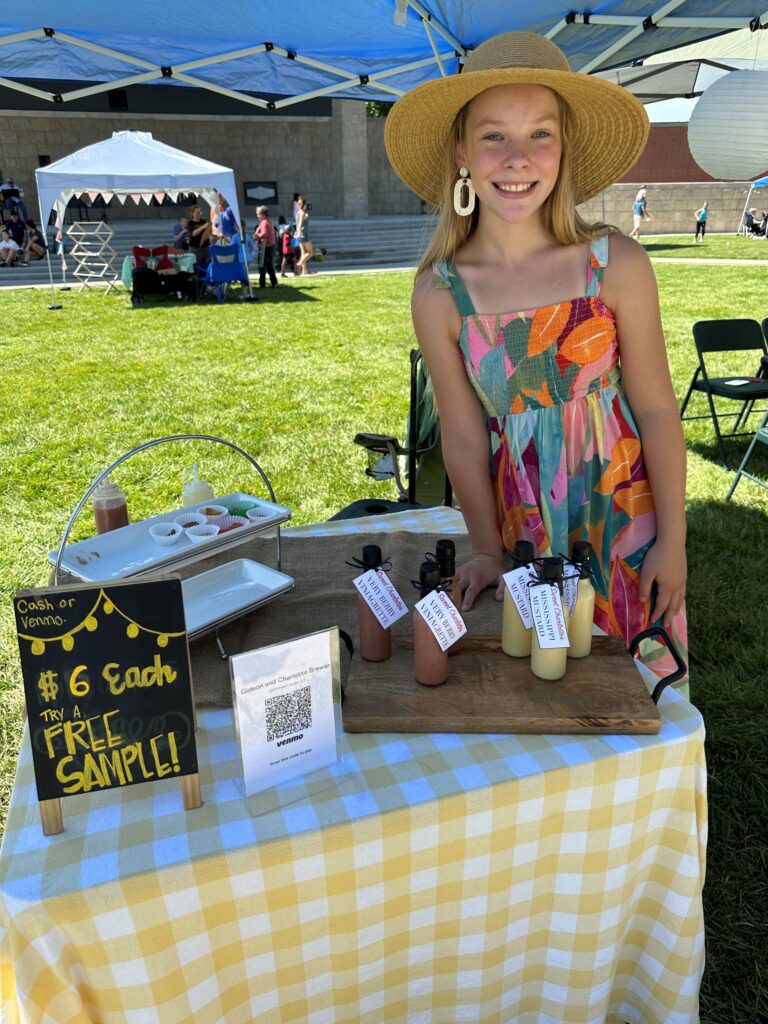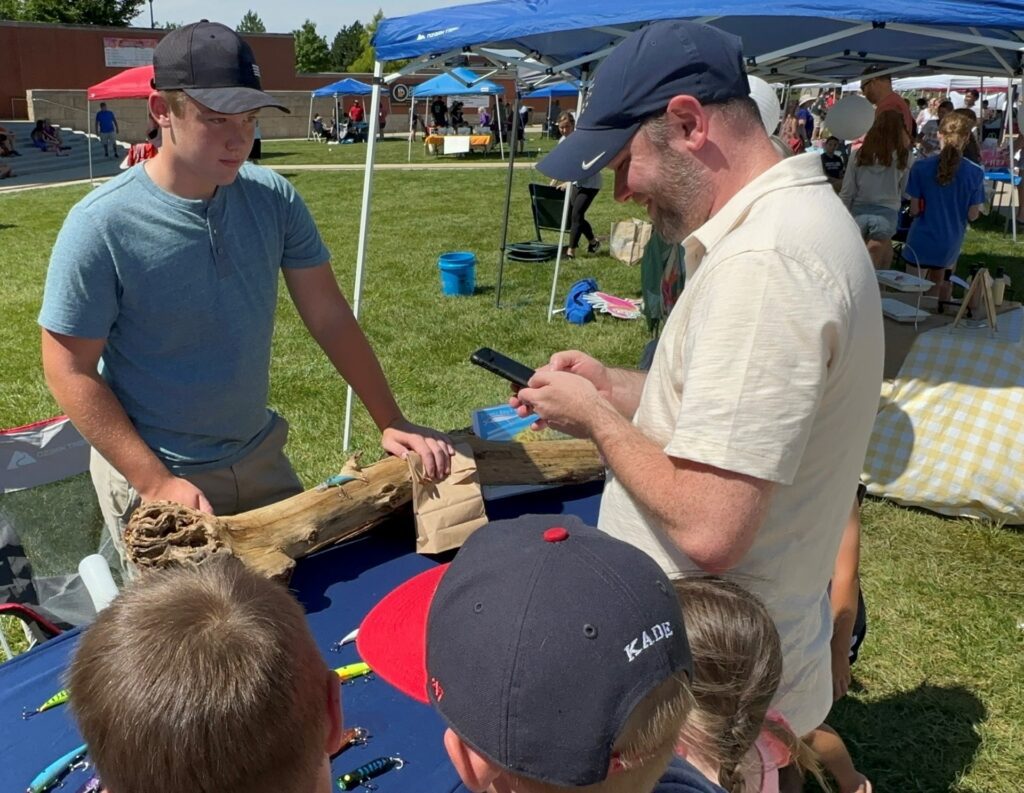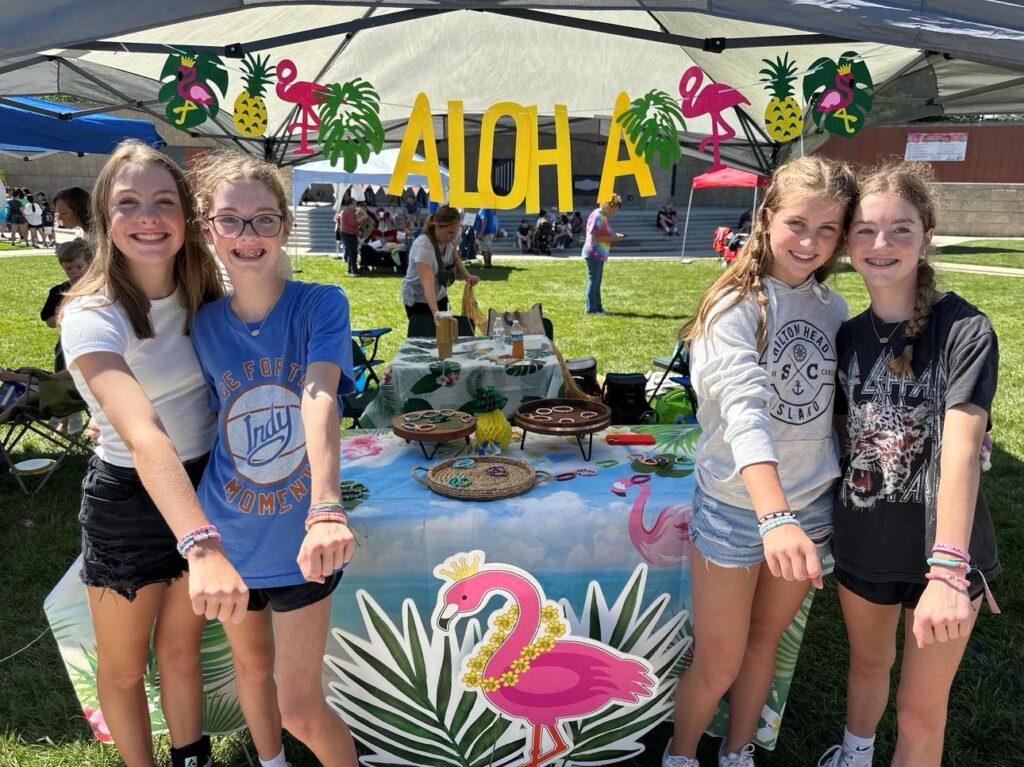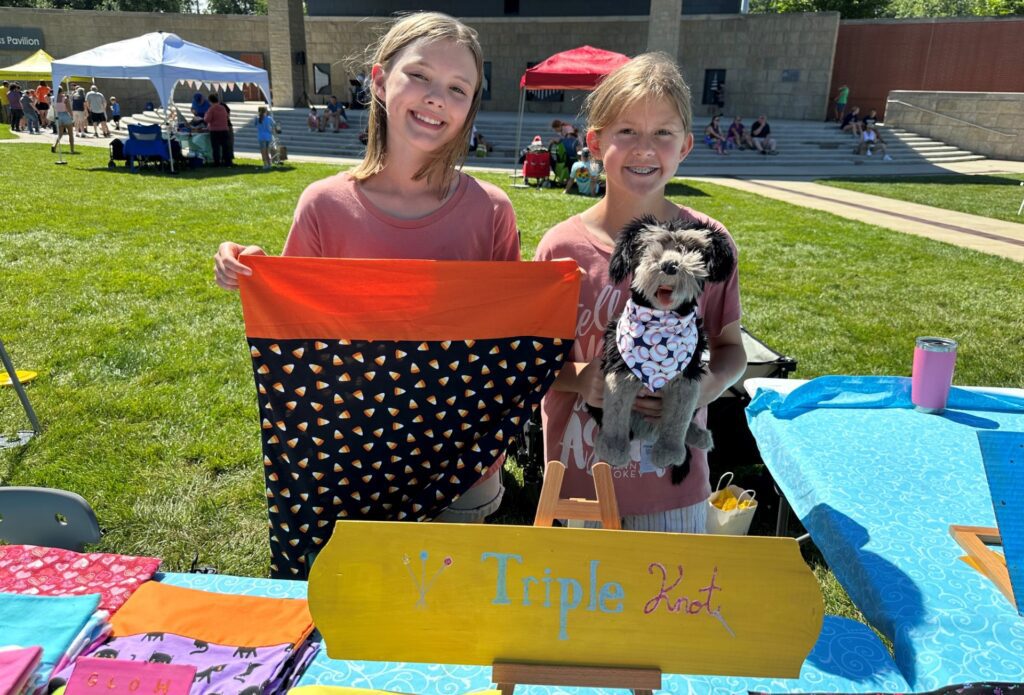 Four 13-year-old Noblesville girls — including a set of triplets — modeled their brightly colored handmade bracelets at their pop-up tent decorated with a tropical theme that included an "Aloha" sign and pink flamingos.
Noblesville East Middle School eighth-graders, sisters Olivia Vetor, Norah Vetor and Allie Vetor, along with their friend, Stella Marucci, turned their talents for making bracelets into a pop-up storefront last Saturday morning during Kids Day at the Noblesville Farmers Market. It was the second of three Kids Days at the market this season; the third and final KIds Day will be Sept. 16.
A stop at the bracelet booth had them all talking about their creations.
"Over the summer, we started selling them in our neighborhood," Allie Vetor said.
They get together to make the bracelets, Stella said.
Allie said they made about 80 bracelets to sell at Saturday's Farmers Market.
"The sets are $5. Those back there are $4. And all of the other ones are $3," Allie Vetor said pointing at the array of bracelets on display for sale.
So what do they do with their profits?
"Making more bracelets" and "splitting" the money, the girls chimed in.
Nora Vetor said it was her idea to make and sell bracelets. "I just thought it was a fun thing we could do together," she said. The triplets are the daughters of Nick and Stacie Vetor, and Stella Marucci is the daughter of Nick and Meredith Marucci.
Each is involved in different activities at school: Allie plays soccer. Stella does cheer. Olivia plays tennis. And Norah plays basketball.
Just a few yards away, Vivian Placek, 12, Noblesville, was pedaling her homemade pillow cases. "I have made a couple of these before for my family," she said of the pillow cases that she made specifically for Kids Day at the Farmers Market.
She is a seventh-grader at Classical Academy in Fishers. What makes Vivian smile? "Horses," she said. "I just love horses, and I love riding them. And we want to get a horse of our own. So we're trying to make a lot of money so that in a couple of years we can have a horse."
Why pillowcases?"I knew how to make them," she said of the pillowcases, which she each took the time to read for the 60-90 minutes. "We're going to do the other Farmers Market (Kids Day on Sept. 16)."
Modeling a sunhat and sundress, 11-year-old Charlotte Brewer offered samples of her Sweet Charlotte's Mississippi Mustard and Very Berry Vinaigrette, served with croutons, and displayed on a yellow-checkered tablecloth.."It was my grandmother's recipe (from Mississippi)," she said. "It doesn't have to be refrigerated," is among the selling points.
The daughter of Megan Brewer and Matt Brewer, Charlotte Brewer aid, "I'm earning money to go to a Lauren Daigo concert with my mom."
What makes Charlotte smile? "When people say mmm. I love that so much."
Her brother, Gideon Brewer, 12, a seventh-grader, just a few yards away, talked about his fishing hobby as he showed off his custom painted fishing lures that he had for sale. "I like catching fish," he said.
He started painting lures about three years ago for himself. "Last year, I sold them," he said. "They all come clear and I airbrush them," said Gideon, who sells the lures for $10 each.
The Brewer siblings both offered customers the choice of cash or electronic option with a Venmo QR code.
These kids were among dozens of young entrepreneurs who set up business between 8 a.m. and noon last Saturday.
-Betsy Reason writes about people, places and things in Hamilton County. Contact The Times Editor Betsy Reason at [email protected]