May 2, 1933, Tuesday, August 23, 2022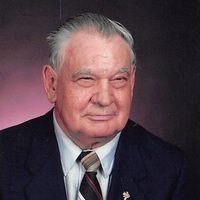 Montie H. Merrill, age 89, passed away at his home in Warsaw, Missouri on Tuesday, August 23, 2022.
He was born on May 2, 1933, in Kirklin, Indiana, the son of Charles Merrill and Louise (Kemmer) Merrill. Montie graduated from Sheridan High School, in Sheridan, Indiana in 1951. After graduation he worked at Delco Remy in Anderson, Indiana. He later joined the United States Army and was stationed at the Chanon Engineering Depot in Chanon, France.
In December of 1954, he was united in marriage to Dorothy Marie Wiles of Sheridan, Indiana, and together they were blessed with four sons. In 1976 the family moved to Missouri. Montie was a fencing contractor prior to working along his two sons, driving milk trucks. He was first a member of First Christian Church in Sheridan Indiana, then later the Warsaw Christian Church.
Montie is survived by his wife, Dorothy Marie (Wiles) Merrill ; their four sons, Michael Eugene Merrill and wife Mary, David Warren Merrill, Gary Joe Merrill and wife Cheryl, and Scott Douglas Merrill and wife Teresa ; sister, Charlene, of San Bernardino, California ; eight grandchildren ; and eleven great-grandchildren.
He was preceded in death by his parents, Charles and Louise (Kemmer) Merrill ; brother, Roland ; nephew, Ron ; and niece, Diana. The family extends a special thanks to Karen Wallace for taking care of Montie in his final days.
Graveside services with Military Honors will be held at 11:00 am on Saturday, August 12, 2023, at Crown View Cemetery in Sheridan, Indiana. Reverend Mike Srbljan will be officiating.
In lieu of flowers, memorial contributions may be presented to the Warsaw Christian Church, 320 State Street, Warsaw, MO 65355, or to the Sheridan First Christian Church, P.O. Box 111, Sheridan, Indiana 46069.