February 27, 2023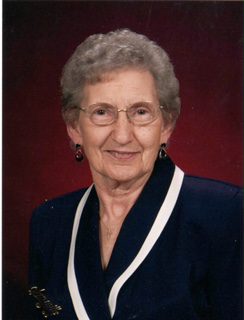 Our beloved mother and grandmother Naoma G. Stiles peacefully passed away on February 27, 2023, at the age of 96. Naoma will be most remembered by her children as a gung-ho Marine's wife who served as a true example of one from America's Greatest Generation.
As a young wife, she took immense pride in keeping a home that was immaculate and inviting. She also took pride in the daily preparation of hearty meals for her food-loving Marine and children. Although the Marine eventually retired, Naoma never really did. She continued to cook feasts and welcome family and friends into her Florida home. Folks who visited her there will remember she had an unusual pet… a large-mouthed bass named Big Boy.
Naoma was never idle. She rode many miles on her no-gear Schwinn bike to keep fit and was still jumping rope in her 80s! She was an amazing gardener and also a quilter. There were quilts that won best in show and today many of her quilts adorn the beds of family and friends. Grandchildren surely remember the home-baked goodies they received in the mail each Christmas. There are also fond memories of times spent at the card table.
Naoma was a kind and giving person- except when it came to playing Queen of Spades. In her later years, her enjoyment of a good card game may only have been exceeded by the enjoyment she got from sitting down each afternoon with a big bowl of ice cream!
Naoma is survived by her children, Jerry Stiles, Cristina Stiles (Allan Mitchell), and Sam Stiles (Nenita) ; grandchildren, Rebecca Stiles (Nick Sophinos), Naomi Magoon (Andy), Krysta Stiles, and Wayne Mitchell (Rebecca Hames) ; and her great-grandchildren, Dimitri, Xavier, Grace, Cora and Arlo.
She is preceded in death by her husband, Neil P. Stiles ; her siblings, Virginia Hollingsworth, Betty Olsen, and Robert Presley ; and two grandsons, Neil V. Stiles and Marshall Stiles.
A celebration of Naoma's life will be held at 11:00 AM on Saturday, August 5, 2023, at Crown View Cemetery in Sheridan, Indiana. Anyone wishing to make donations in her memory should consider a charity that supports the families of those in the armed forces or families of veterans. We know that would delight Naoma immensely.