Celebrating 100 Seasons Of Purdue Football At Ross-Ade Stadium Part 2
By: Kenny Thompson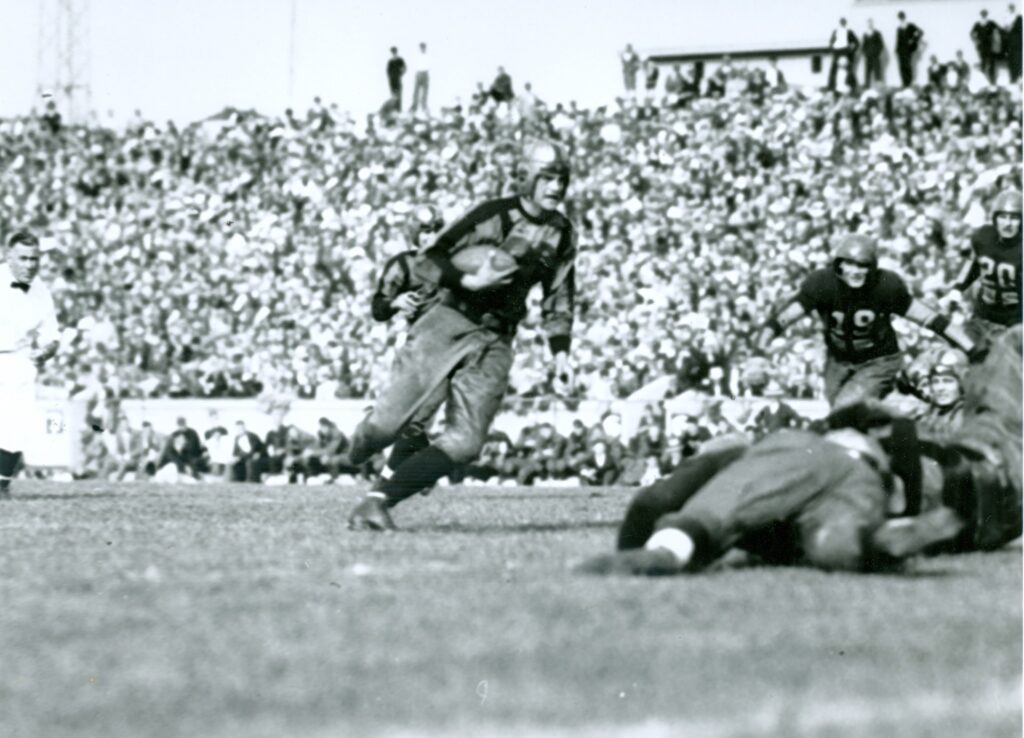 The 1930s were a time of championships and tragedy for the Purdue football team.
The Boilermakers would share the Big Ten championship in 1931 and 1932 under Noble Kizer, who was promoted following James Phelan's departure for the University of Washington following the 1929 season.
Purdue has had more than its share of "what if" stories, none sadder than Kizer's. Before a kidney ailment took him off the sidelines following the 1936 season, Kizer was 42-13-3. That .750 winning percentage remains unapproached in school history. Had Kizer, who died in 1940 at age 40, been able to coach until he was 60, who knows how Purdue football would be regarded in the Big Ten and nationally.
The other tragedy took place Sept. 12, 1936, following a practice session at Ross Camp. A water heater exploded in one of the shower rooms, killing two players and severely burning six.
Small consolation came just over a month later when Purdue is ranked fifth in its inaugural appearance in the newly formed Associated Press poll.
1932 – The Boilermakers share their second consecutive Big Ten title with Michigan, finishing the year 7-0-1 overall and 5-0-1 in league games.
***
Best Ross-Ade games of the 1930s
Nov. 14, 1931: Purdue 22, Iowa 0 – The first of three consecutive shutouts to end the season that paved the way for a three-way share of the Big Ten title with Michigan and Northwestern.
Jim Purvis, Alex Yunevich and Fred Hecker rushed for touchdowns. Two days later, the Big Ten Conference added a game to Purdue's schedule. Instead of ending the season in the Old Oaken Bucket clash at Indiana, the Boilermakers would play a postseason charity game at Soldier Field in Chicago.
The Big Ten ruled the game would count in the standings. The Boilermakers made it count, winning 7-0 over the Wildcats thanks to Jim Purvis' 12-yard run. The Associated Press noted the Boilermakers only used one substitute in 60 minutes. Charles Miller, playing linebacker as well as center, clinched the victory with an interception.
Nov. 19, 1932: Purdue 25, Indiana 7 – Duane Purvis throws two touchdown passes of 63 and 60 yards to Paul Moss. Moss accounted for 175 yards of total offense on five receptions and one rushing attempt. Purvis rushed for 96 yards on 22 carries.
Nov. 21, 1936: Purdue 20, Indiana 20 – The game was a scoreless tie at halftime, and Purdue needed a 77-yard drive to force a tie for the Old Oaken Bucket.
Cecil Isbell threw a 10-yard touchdown pass to Jim Zachary and kicked the tying extra point. Zachary caught two touchdown passes and Fred Stalcup hauled in a third.
Isbell also rushed for 94 yards on 16 carries.
***
Top players of 1930s Ross-Ade
Duane Purvis – If the Heisman Trophy existed in 1933 and/or 1934, Purvis might have been the winner.
An All-American halfback/fullback both seasons, Purvis averaged five yards per carry in 1934 with touchdown runs of 80 and 83 yards. Using a strong right arm that made him a world-class javelin thrower, Purvis was considered without peer as a long passer.
Coincidentally, like first Heisman Trophy winner Jay Berwanger of Chicago, Purvis wanted no part of professional football.
"I should say not," Purvis told the Oakland Tribune. "I've had just about enough football. It's a great game when you're in college and the best game to forget about when you're out. I'm going to get to work as soon as they hand me that old A.B. at Purdue."
Purvis' record of 1,802 rushing yards stood for more than 30 years before Leroy Keyes and Perry Williams both surpassed him.
At the time of Purvis' death in 1989, only he and Jim Thorpe were the only athletes ever named All-Americans in two different sports in the same year. Purvis was the NCAA javelin national champion in 1933 and 1934.
Today's football fans may know Purvis best from his spot on the menu at West Lafayette restaurant institution Triple XXX. The Duane Purvis All-American burger is noted for having peanut butter spread over the bottom bun.
Paul Moss – In 1932, legendary sportswriter Grantland Rice (he of the Four Horsemen of Notre Dame fame) called the Purdue senior "the finest end in football history" as part of his college football All-America story for Collier's magazine.
The 1933 Purdue yearbook, the Debris, wrote: "He could punt with the best in the country and did. He could catch passes which were considered impossible to hold. He protected the left end of Purdue's line as it has never been protected. He was clever on both offense and defense.
"He was a great football player."
Jim Carter – Teaming up in the backfield with Duane Purvis, the other half of Purdue's "Touchdown Twins" rushed for 1,547 yards during his three seasons.
His 5.37 yards per carry still ranks seventh in school history, just a tick behind Purvis (5.43). Carter was the oldest living Boilermaker football player until his death at age 100 on May 9, 2012.
Cecil Isbell – Elected to the College Football Hall of Fame in 1967, Isbell excelled as a runner, passer and punter from 1935-37.
As a junior he was responsible for 15 of the Boilermakers' 23 touchdowns during the 1936 season. That feat earned Isbell second-team All-America honors. Isbell was a consensus All-American in 1937 before launching a successful NFL career as a quarterback for the Green Bay Packers.
Dave Rankin – In addition to winning All-America honors as an end in 1939 and 1940, Rankin was named to the Sports Illustrated Silver Anniversary All-American team in 1965.
***
Former Purdue star dies
Tim Foley, an All-American defensive back at Purdue and a starter on the only undefeated team in NFL history, has died at the age of 75.
A three-year starter for coach Jack Mollenkopf, Foley helped the Boilermakers compile a 24-6 record. Foley then was part of Hall of Fame coach Don Shula's first draft class with the Miami Dolphins in 1970, going in the third round.
During the 1972 season, Foley had four of his 22 career interceptions for the 17-0 Dolphins. He played his entire 11-year career with the Dolphins, starting 100 of 134 games. Foley was selected to the Pro Bowl in 1979.
Foley was inducted into the Purdue Intercollegiate Athletics Hall of Fame in 1998.
Former Dolphins safety Dick Anderson, who started with Foley in the defensive backfield of Miami's undefeated team, told the Miami Herald that Foley was "a great teammate."
"He was a very bright guy and very religious, Anderson said. "He was a straight arrow. I don't ever recall arguing with him. You couldn't find a nicer person than Tim Foley."
***
Top 100 bookends
Led by preseason National Player of the Year Zach Edey, Purdue men's basketball is ranked third in The Almanac's preseason poll.
Sophomore guard Fletcher Loyer is rated No. 100 on The Almanac's top 100 list. As a freshman, Loyer ranked second to Edey in scoring (11.0) and his 59 3-pointers were the third-best total by a freshman in school history.
The Boilermakers are ranked in the top three in almost every early top-25 poll, which mostly features the trio of Purdue, Kansas and Duke in some order. Purdue was ranked No. 1 in the country for a nation's-best seven weeks a year ago
– Kenny Thompson is the former sports editor for the Lafayette Journal & Cou¬rier and an award-winning journalist. He has covered Purdue athletics for many years.