Homeowners Ready For NPA Home Tour
By: Betsy Reason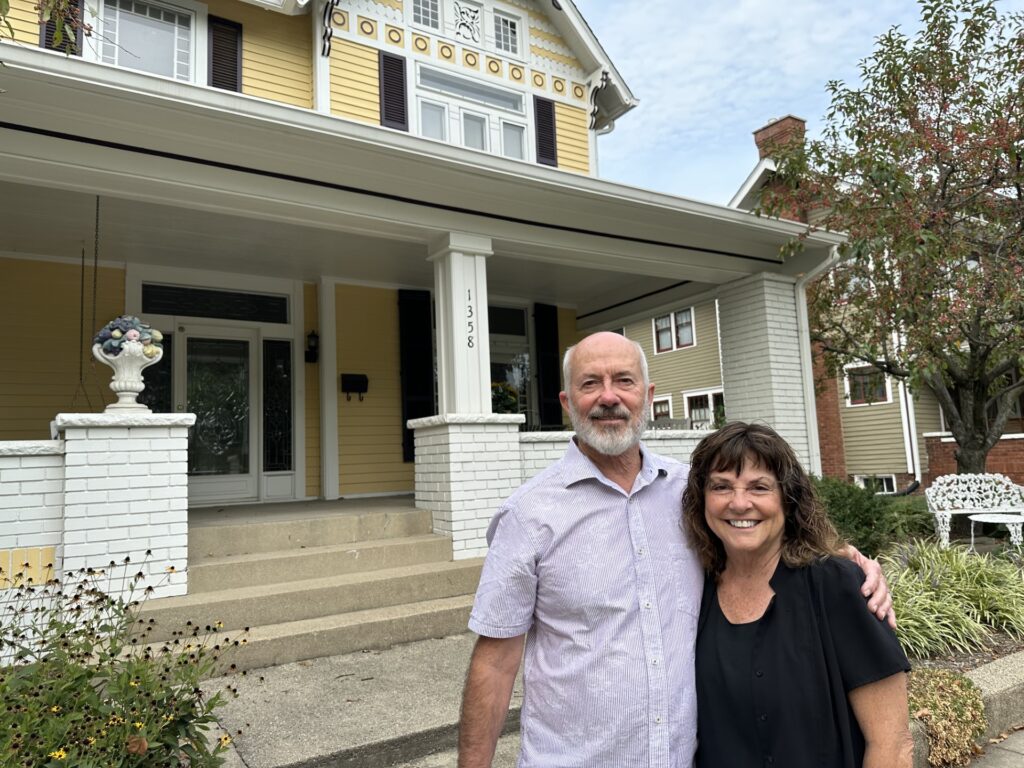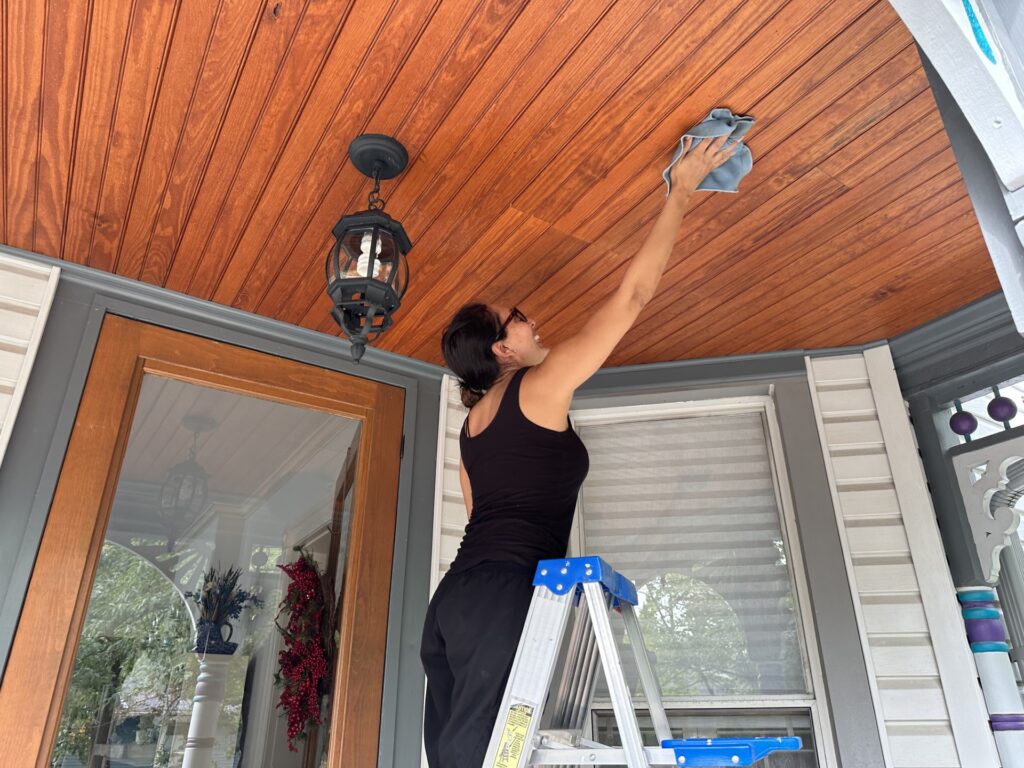 This week, I wandered my way to the charming brick Logan Street, where I found homeowners getting ready for company this weekend.
Eight homes — celebrating Hamilton County and Noblesville's Bicentennial and built during Noblesville's Gas Boom (1887-1907) — will open for Noblesville Preservation Alliance's 36th annual Historic Home Tour from 10 a.m. to 5 p.m. Saturday.
Homeowner Diana Szabo was on a stepladder washing the porch ceiling and the detailed decorative spandrel work around the front porch of her home at 1408 Logan St.
"There's always something to work on," said Szabo, who admitted the house was "a lot more work" than their previous newer homes.
But she wouldn't trade it. Szabo loves her house, where she and husband Charles have lived for the past three years.
What she likes most about her house? "The fact that it's old," she said. "I've always admired old homes, because they're so unique."
Since they moved to the home, they've done "mostly cosmetic things, lots of paint, just little things here and there, redoing cabinets in the kitchen" she said. "As far as a major renovation, we haven't quite gotten to that yet. We do want to do some things, just not sure when and what order."
Favorite space in the house? "My closet. I like my closet. It's a walk-in closet. It's large," she said smiling.
Want TO GO?
Noblesville Preservation Alliance's 36th annual Historic Home Tour.
When: 10 a.m. to 5 p.m. Saturday.
Where: Homes built during Noblesville's Gas Boom (1887-1907) on Logan and Conner streets, just east of 10th Street, and two other structures.
How much: $18 in advance for home tour, $24-$34 combo ticket with Noblesville Main Street's Upstairs Downtown Tour, 5-9 p.m. Friday.
Good to know: Home tour tickets available on Saturday at Hamilton County Historical Society at 810 Conner St., and at a ticket table at NPA's Preservation Hall, 1274 Logan St., Noblesville.
What else: Extra parking will be at the Noblesville Presbyterian Church, 1207 Conner St., which will also be on the tour and will be having an ice cream social from 11 a.m. to 3 p.m. with organ and piano music played throughout the day. Also visit Preservation Hall at 1274 Logan St., for a special booth presented by Hamilton East Public Library about the Bicentennial Celebration and the Indiana Room.
Info: https://preservationhall.org/
Her husband peeked his head out of the front door, then stepped out. The couple, who are both from Texas, have lived mostly in old mid-century houses but came to Noblesville, after moving from Fishers, for only one reason: "This house," said Charles.
The house, built by Charles and Amanda Carlin in 1894, is a two-story wood-framed Victorian with a small balcony overlooking a larger, first-floor porch. Most of the early homeowners were merchants. The Carlins owned Carlin's Logan Street Grocery on the Square for 30 years. Then came a tailor, a meat market butcher and then Edgar Willits who operated E.H. Willits Department Store on the Square for 40 years.
What's his favorite space in the house? "The dining room," he said.
This will be the Szabos' first time on NPA's home tour. "I'm excited," she said.
A block away, Richard and Debbie Wofford live in "the big yellow house" at 1358 Conner St.
Their house was on NPA's Historic Home Tour soon after they bought the house, 12 years ago, and then again for NPA's holiday tour about five years ago. The Woffords' house is among the homes that have been on the tour before.
What inspired them to open their home again?
"They asked us," Deb Wofford said.
"And it's fun," Richard Wofford chimed in.
"It's such a pretty house. We like to let people see it," Deb Wofford said.
Deb and Richard have been married for 24 years, and neither lived in an old house before this one. However, they did live in an old building in downtown Noblesville, above her former shop, Deb's Originals.
"There are pros and cons. There are repairs because it is older," she said.
"But it's got more charm than many of the newer homes."
Richard said when they were looking at the house, before they bought it, they asked next-door neighbor Vernon Young what he knew about the house. "It's a happy house," Young told them.
"And it's true," Deb Wofford said.
"When we retired from the shop, we didn't know whether to continue to live there or somewhere else. I told Richard if he could find a place we love as much as being up there (above and behind her shop in downtown Noblesville, which they renovated into a fabulous apartment), then we could consider it." she said.
The house was not even quite on the market yet. "When we came in and saw it, my heart dropped. It was happy. I walked all the way through it; it just made me happy. We have felt that way in here ever since. So it's a happy house."
The two-story Queen Anne Victorian was built in 1892 by William Louther. The three early families who lived in the home for the first 70 years were all prominent business people. Lowther owned a clothing store and then a shoe store on the Square. Don Jenkins was in the milling business for more than 50 years. Glenn Myers owned Myers Furniture Store on the Square.
She loves the history of the house. "I think the house likes us, too," he said.
They don't mind the traffic just outside their front door on Conner Street.
"It shows us the world's alive," Richard Wofford said.
"When we first wake up in the morning, if we have the windows open, we hear traffic and it's almost like the world is coming alive. It's a wonderful sound to us," Deb Wofford said.
"So we get up, we come down, we have coffee. We barely hear it out there."
Their nine grandkids love the house. Deb Wofford has a large family and they've had huge Christmas parties at the house. "The house is perfect for entertaining. And so is the back yard," she said.
They've played hosts to Sister City meetings, fundraisers and NPA gatherings.
They aren't worried about cleaning the house for the tour because they make a habit of keeping the house clean and picking it up for spur-of-the-moment company. "I'm a minimalist," Deb Wofford said. "I don't like a lot of stuff."
As far as being ready for the home tour on Saturday, she said, "Our yard is the hardest part to keep up for this."
She said, "Our biggest concern right now is that all of our flowers stay alive until Saturday. After that, if they want to wilt and fall down, they can."
Amanda Roush, NPA's vice president, said funds raised from the Historic Home Tour go toward NPA's Preservation Hall. "We are actively paying down our mortgage and finalizing the exterior work on that structure."
She said, "This year the tour is very walkable, though we strongly encourage you to cross State Road 32 at 10th or 16th street intersections."
Also on the tour: Craycraft/Althouse Home and Carriage House, 1095 Conner St.; Lacy/Nurnberger Home, 1359 Logan St.; Maker/Peterson-Roberts Home, 1407 Logan St.; Truitt/Tatom Home, 1107 Logan St.; Heylmann/Theisen Home, 1039 Logan St.; Noblesville Preservation Hall, 1274 Logan St.; First Presbyterian Church, 1207 Conner St.; and the Sheriff's Residence and Old Jail, 810 Conner St.
-Betsy Reason writes about people, places and things. Contact The Times Editor Betsy Reason at [email protected].