December 29, 1933, Thursday, August 24, 2023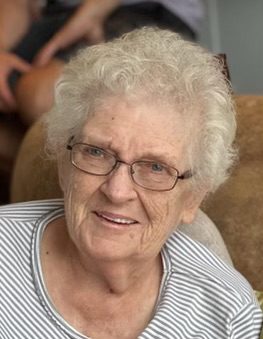 Winnie Lou Michael, age 89, passed away peacefully at her home in Terhune, Indiana, surrounded by her loving family on Thursday afternoon, August 24, 2023. Born December 29, 1933, in Frankfort, Indiana, she was the daughter of the late Russell Leon "Rut" and Avianell K. "Avi" (Harshman) Harris. Out on the family farm, near where Boone and Clinton counties meet, is where Winnie spent her early years, but just a short while after graduating from Kirklin High School (not Clinton Central) with the Class of 1953, the allure of the big city was just too overpowering.
Winnie and her husband, Dale, settled in the "suburbs" of Terhune, Indiana. If you have lived in or around the Terhune area, it is hard to remember a time when you didn't know Winnie. For most of us, it seems that she's always been there. You needed to get a hold of somebody, call Winnie, she would know how to reach them… something needed done around town, she would track down somebody to take care of it… who, what, when and where happened around town years ago, Winnie could probably tell you (or at least point you in the right direction).
Areas like Terhune are wonderful places to find, and when you meet someone like Winnie, you see why people want to call them home. For 25 years Winnie worked at the Johns & Calvert store in Terhune. She was hired to be a clerk, but soon found herself doing a little of everything around the store. Although no official title was ever given to her, Winnie quickly became known as one of the best sandwich makers and free candy distributors in that part of the county.
She was an active member of the Terhune United Methodist Church and was President of the Terhune Ladies Aid for… well… forever. Countless funeral dinners, community dinners, making sure the church was tidy and well kept, checking the heat in the winter and air in the summer, opening up the church when somebody needed in, and checking to make sure it was locked up, plus the multitude of other duties that she welcomed upon her shoulders over the years, was most definitely a labor of love and devotion. She was also a member of the Rebekah's Lodge #631 of Terhune.
For Winnie, family was the single most important thing. She followed every activity that her grandchildren (as well as her many nieces and nephews) were involved in. Being able to hold each of her grand, and great grandchildren was one of the things that made her the happiest. She also liked having her family and friends over to the house for cookouts from time to time — or as she liked to call them — "Winnie Roasts". Sitting around and visiting, no matter the occasion, was where Winnie was in her element. She also enjoyed doing word searches, and watching the hummingbirds that came by the house to say hello. Winnie was an avid Colts fan, and could be known to have a word… or many words, to say during games. She was a Hall of Fame armchair quarterback, coach, and color commentator, all rolled into one.
Winnie is survived by her son, Jay Evan Michael (Leslie) of Frankfort; 2 daughters, Cindy D. Duchemin (Jan) of Sheridan, and Donna D. Cox (Brian) of Sheridan; 8 grandchildren, Daniel Scott Duchemin (Megan), Craig Michael Duchemin (Tara), Kilee Marie Powell (Allen), Brittney Paige Weathers (Chris), Cody Evan Michael, Mackenzie Noelle Michael, Justin Michael Cox (Sarah), and Caitlin Nicole Whisler (Nate); 20 great grandchildren, Jake, Laney, Miles, Finn, Jovie, Kaleb, Blake, Connor, Grayden, Aubrey, Evan, Allison, Rorey, Lylyan, Abel, Easton, Kade, Huxton, Emma, and Ian; sister, Wanda Lee Kercheval of Kirklin; and many, many nieces and nephews. She was preceded in death by her parents, Russell Leon "Rut" and Avianell K. "Avi" (Harshman) Harris; brother, Bud Harris and his wife Kay Harris; brother-in law, David L. Kercheval; brother-in-law, Alan Michael and his wife Patty Michael; and by the love of her live, Dale Evan Michael on March 14, 1988. She and Dale were married on May 28, 1955. Winnie was not much of a risk taker, and never left things entirely to chance. She provided her family semi-detailed instructions as to how things needed to be done, and in what manner, when it came to her funeral… termed by Winnie as "My Day".
Funeral services will be held at 7:00 PM on Thursday, August 31, 2023, at Kercheval Funeral Home, 306 E. 10th Street, Sheridan, Indiana, with visitation from 4:00 PM until the time of service. Reverend Karl Kercheval and Pastor Cheryl Weesner will be officiating. Winnie will be laid to rest at 11 AM on Friday, September 1, 2023, at Crown View Cemetery in Sheridan. In lieu of flowers, memorial contributions may be presented to the Terhune United Methodist Church.