Greed, Expansion and Noteworthy Purdue Basketball Tidbits
By: Kenny Thompson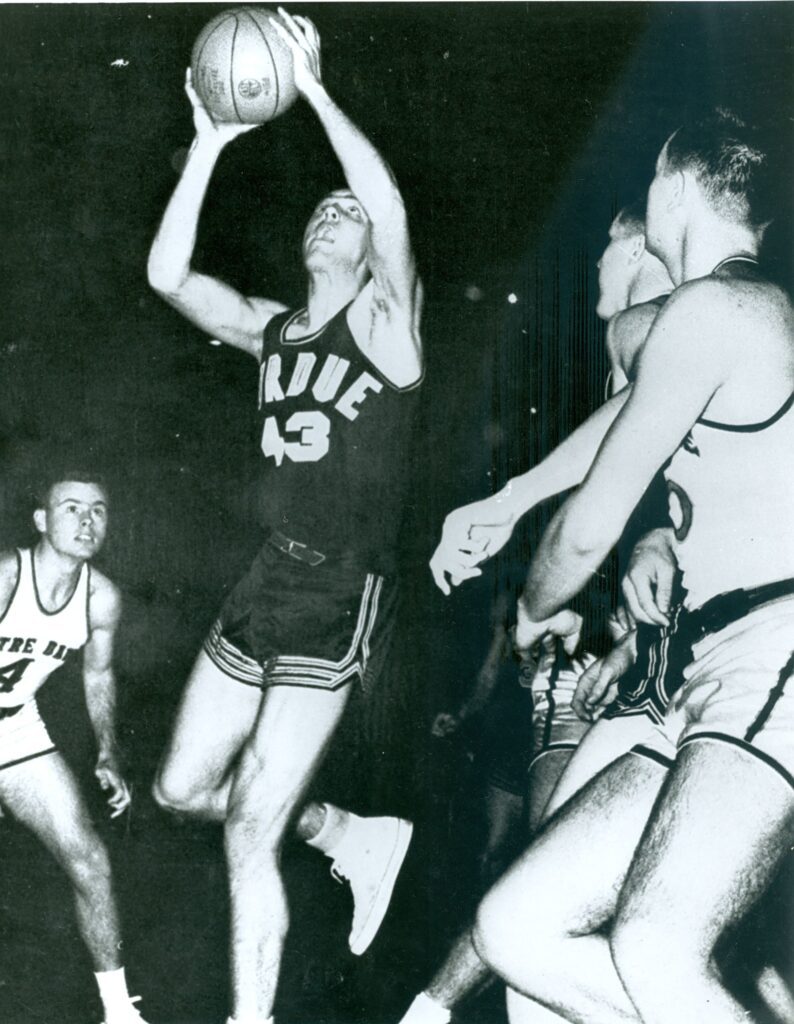 If there were such a thing as a Mount Rushmore of Purdue basketball, Terry Dischinger's place in Boilermaker history was carved decades ago.
Dischinger last wore a Purdue uniform before my first birthday so my memories are from my dad and others telling me what a great player he was.
The fact that Dischinger was among the inaugural class of the Purdue Intercollegiate Athletics Hall of Fame in 1994, alongside legends such as Leroy Keyes, Bob Griese, Rick Mount, John Wooden and a fellow Olympic gold medalist named Ray Ewry indicates what high regard Dischinger holds in Boilermaker lore.
Dischinger died Monday at the age of 82.
At the time of his induction into the Purdue Hall of Fame, Dischinger told the story of another great honor. Before his final game at Purdue in 1962, the 6-7 three-time All-American received a telegram from the Ohio State basketball team.
"I had won the Big Ten scoring championship two years in a row, and I was tied with (Indiana's) Jimmy Rayl going into the last game," Dischinger said. "Indiana was playing Ohio State, and I played against Michigan. Ohio State said, 'don't worry about Rayl. Just take care of yourself. We'll take care of Rayl.' "
The Buckeyes – whose roster included Jerry Lucas, John Havlicek and a reserve forward named Bob Knight – limited Rayl to eight points. Meanwhile, Dischinger scored 30 at Michigan, including the game-winning shot with six seconds remaining.
Dischinger and Lucas had become friends while playing for the 1960 United States Olympic basketball team. That team, led by the dream backcourt of Oscar Robertson and Jerry West, won the gold medal and never let any opponent come within 24 points.
Robertson (1961), Indiana center Walt Bellamy (1962), Dischinger (1963) and Lucas (1964) would go on to win the NBA Rookie of the Year award. The team was inducted into the Naismith Basketball Hall of Fame in 2010.
Dischinger, whose 28.3 Purdue career scoring average ranks third behind Mount (32.3) and Dave Schellhase (28.8), was the Olympic team's No. 3 scorer behind Robertson and West. Ironically, Dischinger said he earned his spot on the roster for his defensive skills.
"They wanted somebody that would play defense and was just happy to be there … not wanting to shoot the ball all the time," Dischinger said.
After the U.S. lost its first exhibition game, Dischinger was inserted into the starting lineup and the Americans never lost again.
"Oscar and Jerry West told the coaches that if they didn't put Jerry Lucas and me in the starting lineup, they were going home," Dischinger said.
Dischinger came to Purdue from Terre Haute Garfield High School. Despite earning Parade All-American honors, Dischinger lost Indiana Mr. Basketball honors in 1958 to Mike McCoy of state champion Fort Wayne South. However, Dischinger was named the Star of Stars after the annual series with Kentucky.
He averaged a school-record 13.7 rebounds a game at Purdue. Dischinger owns the top three single-season rebounding averages in school history. Among the more than a dozen records he still holds are his 14.3 rebounding average in 1960. Dischinger's 54 career double-doubles are also a Purdue record.
"I don't think I could have had a better experience, unless we could have played in the NCAA tournament," Dischinger said in 2000. "When I was in college, only one team from the Big Ten went to the NCAA."
Dischinger went on to play 10 seasons in the NBA and was a three-time All-Star in 1963, 1964 and 1965. His career was interrupted by a two-year hitch in the U.S. Army, and Dischinger was not the same player after his discharge.
After his retirement from the NBA, Dischinger became an orthodontist in Lake Oswego, Ore. In addition to the Purdue Hall of Fame, Dischinger also is enshrined in the Indiana Basketball Hall of Fame and the College Basketball Hall of Fame.
Greed isn't good
That highly touted $1 billion television contract the Big Ten Conference extracted from Fox, CBS and NBC had some fine print that will impact Purdue and Indiana fans.
For the first time in this columnist's memory, a Purdue-Indiana basketball matchup will not be available on cable or free television. Likely because NBC needs to prop up its mediocre streaming service, the Jan. 16 matchup in Bloomington will be exclusively on Peacock at 7 p.m.
On social media, Purdue fans have been grumbling that the football team will have made three appearances on Peacock in the first seven weeks, including Saturday's matchup with No. 3 Ohio State in Ross-Ade Stadium. Expect even more outrage the closer Jan. 16 approaches.
In all, Purdue will appear on Peacock six times. The Dec. 16 game in Indianapolis against a likely Top 25 Arizona team leads off the Peacock coverage. Other games are at Maryland on Jan. 2, at Nebraska on Jan. 9, at home against Michigan on Jan. 23 and at Illinois on March 5.
Indiana's five Peacock appearances include its Big Ten opener against Michigan on Dec. 5. The Hoosiers also are slated for Peacock games on Jan. 9 at Rutgers, at Ohio State on Feb. 6 and Wisconsin coming to Assembly Hall on Feb. 27.
Peacock's 34-game Big Ten schedule includes the opening night of the Big Ten tournament in Minneapolis on March 13.
Purdue's home game against Indiana on Feb. 10 is one of four Fox appearances for the Boilermakers that month. Overall, Big Ten Network gets nine Purdue games, five on Fox, four on FS1 and three on CBS. ESPN will televise the Maui Invitational.
Big Ten Network and its BTN-plus streaming service will have 15 Indiana games. Fox and FS1 combine for seven IU contests, while CBS' three-game slate includes Kansas on Dec. 16 and the season finale against Michigan State on March 10. ESPN will carry both Empire Classic games in New York City against reigning national champion Connecticut and either Louisville or Texas. ESPN2 will be the home for the Dec. 9 matchup with Auburn in Atlanta.
***
Expansion blues for Purdue, IU
The addition of Washington and Oregon in 2024 forced the Big Ten Conference to tweak its Flex Protect Plus scheduling template created by the addition of USC and UCLA.
The good news for Purdue is that it retains Indiana and Illinois as protected rivalries. The bad news is that a trip to Ohio State replaces Maryland in 2024. Instead of the original matchup with USC on Ross-Ade Stadium, Oregon will be coming to West Lafayette.
The 2024 Purdue schedule also includes home games with Notre Dame and Indiana State plus a trip to Oregon State. Nebraska, Northwestern and Penn State complete the Boilermakers' home Big Ten games in 2024. Illinois, Indiana, Michigan State and Wisconsin round out the conference road schedule.
Rutgers and USC replace Iowa and Minnesota on Purdue's 2025 home schedule, which also features Indiana, Illinois and Ohio State. Washington replaces UCLA on the road slate of games that include Michigan, Northwestern and Minnesota. The Boilermakers also will make a trip to Notre Dame in a non-conference schedule that includes home games with Ball State and Connecticut.
The degree of difficulty in the 2024-25 schedules will make it difficult for Ryan Walters and his coaching staff to get the victories needed to sustain the early recruiting momentum.
Indiana no longer has Penn State and UCLA on its 2024 home schedule, having been replaced by Washington and Michigan. Ouch.
Maryland, Nebraska and Purdue complete the home slate. The Hoosiers' road schedule adds Ohio State and UCLA in addition to previously announced Michigan State and Northwestern.
Now it becomes clear why Indiana athletic officials bought out the remaining two games in the Louisville series. Florida International, Charlotte and whichever school replaces Louisville become must wins for the Hoosiers to have any realistic bowl hopes.
Indiana's 2025 Big Ten road schedule is brutal: Iowa, Maryland, Oregon, Penn State and Purdue. The conference basically tossed the Hoosiers' Flex Protect Plus home slate in the trash bin, with Illinois, Michigan State, UCLA and Wisconsin now coming to Bloomington instead of Michigan, Iowa and Rutgers.
Old Dominion and Indiana State will likely be joined by a similarly talented foe for non-conference games at Memorial Stadium.
***
Noteworthy
Westfield graduate Dillon Thieneman earned Big Ten Freshman of the Week honors for the second time this season following his performance for Purdue at Iowa.
In the past six seasons, only Devin Mockobee and future pros David Bell and Rondale Moore earned multiple Freshman of the Week awards representing the Boilermakers.
Thieneman grabbed his team-best third interception and made eight tackles. He is the only freshman in major college football with three interceptions. Thieneman's 6.8 solo tackles per game average ranks second in the nation, and his 8.8 overall tackles per game tops all freshmen. …
Indiana's Tom Allen and Purdue first-year coach Ryan Walters are near the bottom of the Big Ten football coaching salary rankings compiled by USA Today.
Allen is 11th out of 14 with a $4,510,000 paycheck for 2023. Walters ranks 12th, tied with Rutgers' Greg Schiano at $4 million this season.
Ohio State's Ryan Day tops the rankings with a $10,196,250 salary. Former Michigan State coach Mel Tucker was scheduled to receive more than $10 million before being fired for cause by the university.