North Elementary PTO Fun Run Tops $14K Goal, Fundraising Continues Thru Break
By: Betsy Reason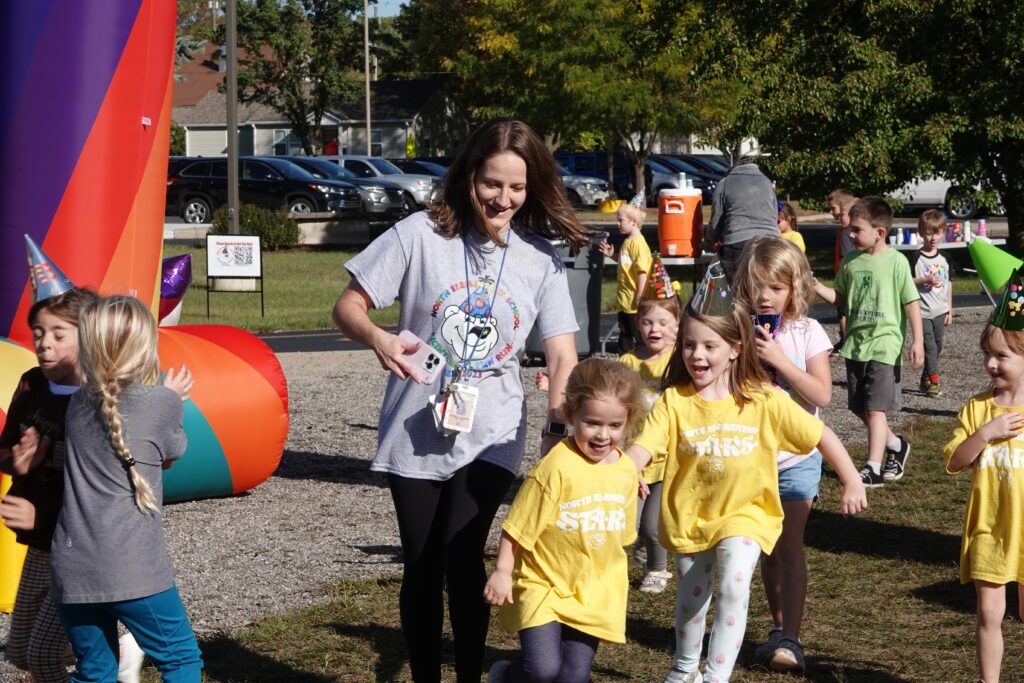 Returning to North Elementary School in Noblesville to watch this month's PTO Fun Run brought back memories of when my own daughter last participated in the fundraiser seven years ago, when she was a fifth-grader at North, where Principal Robert Lugo was in his first year.
This year's PTO Fun Run centered around the 2023 Hamilton County Bicentennial.
"So everything has been birthday themed," said Lisa Fritz, North Elementary art teacher and school teacher representative for the PTO.
The Fun Run had a week of events leading up to the fundraiser, which was on Friday, Oct. 6. On the Monday before the Fun Run, students watched teachers compete in a blindfold cake-decorating contest. "They're quite humorous," Fritz said.
"Each day, we would do an interview with a teacher. We have several teachers who were students here, who are teaching here now. We had on our videos. Teachers told how North was different when they were here, compared to now." Fritz also did video clips with history trivia questions, interviewing Noblesville Mayor Chris Jensen, who was a Noblesville student of Fritz when she taught fourth grade at Hinkle Creek Elementary.
Jensen also helped start the morning of the Fun Run when he came to the school and greeted students as they exited their school buses.
Prizes included "birthday presents" for their fundraising. Everyone got a birthday hat. Top three sellers get the opportunity to wrap up Principal Lugo and Assistant Principal Angie Gingrich like a birthday present after fall break.
The PTO Fun Run met its goal of $14,000, with donations still being taken through fall break. "Raising $14,000 is monumental for us, because we are such a small school," Fritz said. North Elementary has 464 students who participated in the Fun Run. The PTO, for the second year, organized the fundraiser on its own rather than hiring a company to coordinate the fundraiser. As each fundraising goal level was reached, students enjoyed the rewards, from Taco Tuesday to a Neon Glo Party at lunch.
Money goes straight back to the school. "We do Christmas gifts for the teachers, where they can use that to go purchase whatever they need for their classrooms. We did soccer goals here recently. Everything goes back into the school. It's what the teachers need, it's what the kids need. It's our No. 1 priority," said Heather Hauke, PTO president who has two kids, Sammie and Griffin, both at North Elementary.
On the day of the Fun Run, students walked and ran laps through an inflated start-finish line behind the school, as "The Greatest Showman" movie soundtrack and other songs played on loudspeakers during each grade's 50-minute arts classes.
"The coolest thing we did, is Mr. (David) Kimmel's (fifth-grade) class figured out the math to fit all 464 students in a giant '200' that we did out here on the field," Fritz said. Kimmel created a map that was sent to each teacher designating where in the "200," that their students should be positioned for the photo. "They came over with a drone and took a picture of the '200.' It's really cool. It turned out better than our wildest dreams," Fritz said. Her son designed the Bicentennial signage for the Fun Run.
Also, on the Thursday during the Fun Run week, although unrelated to the Fun Run, elementary school families throughout the district were invited to attend a reception at Noblesville City Hall, where student-created artwork celebrating the Bicentennial is on display through October.
The community may still make donations to the school's fundraiser, which has been extended through fall break, through Oct. 22, at https://bit.ly/3RYSwPk or go to North Elementary Facebook page.
-Betsy Reason writes about people, places and things in Hamilton County. Contact The Times Editor Betsy Reason at betsy@thetimes24-7.com.