Patricia Rosalie "Patty" Thomas-McFarland
May 10, 1928, Sunday, October 14, 2023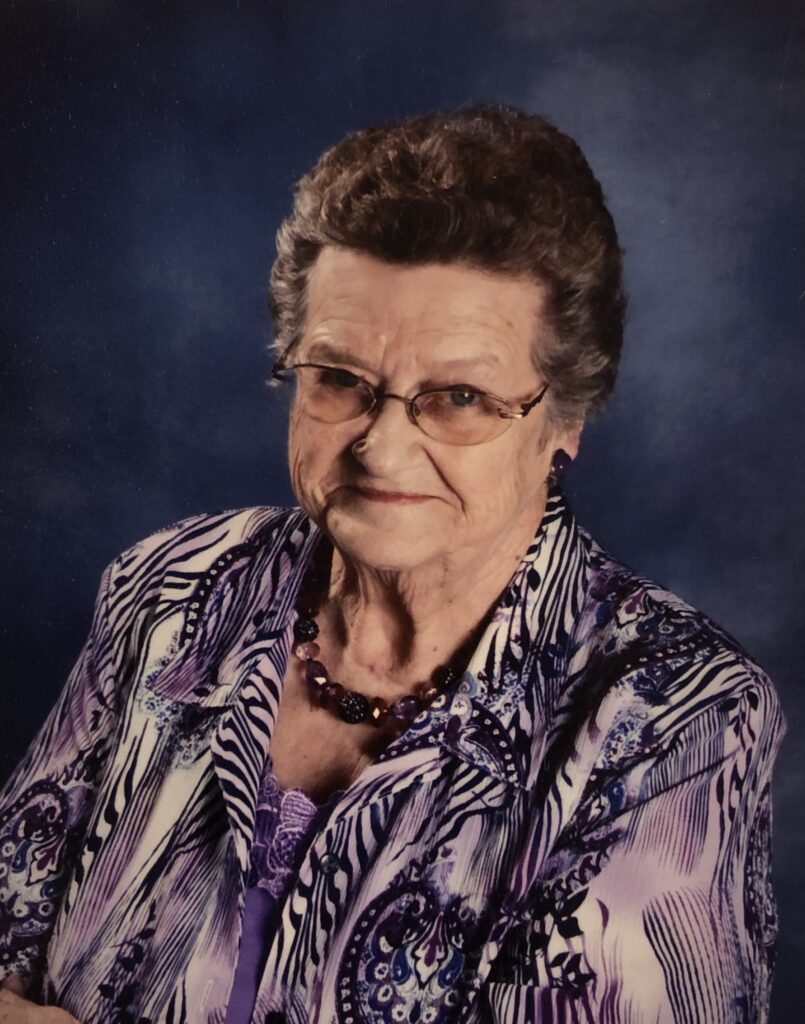 Patricia Rosalie "Patty" Thomas-McFarland, age 95, of Tipton, Indiana, formerly of Kirklin, Indiana and the community of Pickard, Indiana, passed away on Saturday morning, October 14, 2023, at Autumnwood Village in Tipton. Born May 10, 1928, in Hamilton County, Indiana, she was the daughter of the late Russell Warren and Anna Mildred (Goff) Bailey.
She was a 1946 graduate of Sheridan High School. She was also a member of the Clinton County Home Ec Club, where she enjoyed perfecting her crafting skills and fine tuning the recipes for her famous Christmas cookies and candies. On May 12, 1946, Patty married the love of her life, John Vinton Thomas, and from that point forward, it was rare to see one without the other. Family and faith were the cornerstones of their life together.
During her younger years, she and John attended Boxley Church, where they both shared their musical talents with the congregation. Patty played the violin and guitar and sang, while John served as song leader for many years. More recently, Patty was a member of Hills Baptist Church. Patty was a dedicated farm wife and thrived in that role. She enjoyed putting out a large garden, dutifully canning everything that it produced each year. She also knew that her garden couldn't do it all by itself, it needed a little help from time to time; that's where her beautiful flower gardens came into play. She fussed over her flowers as much as her vegetables, knowing one would benefit the other. When the weather would start to turn cold, the crops were in, and the canning was done, John and Patty couldn't get to Florida fast enough. They loved to travel, and Patty never missed an opportunity to take the kids camping. Bass Lake and Mississinewa were a couple of their favorite spots. Back before cell phones were a thing, there was the CB radio. Patty loved her CB with a passion, especially when it came to road trips. She and John belonged to a CB club for many years, meeting countless other enthusiasts during their travels. When the children were grown and started having families of their own Patty relished every single moment of being a grandmother. It was the role she was born to play. Patty always had a crafty side, and the family was as good a group as any to be on the receiving end of her projects. A talented seamstress, Patty made all the kid's clothes, and would later crochet graduation blankets for all her children and grandchildren. She loved following her grandchildren's activities and was their number one supporter in whatever they were involved in. Most people are lucky if they find love once in their life, but Patty found it twice. Several years after John's passing, she became acquainted with Eugene Vallandingham McFarland, a semi-retired Poland China livestock buyer and breeder in Tipton County. She and Eugene shared similar interests and enjoyed each other's company, so they decided to make a go of it. She and Eugene were married on April 24, 1999. They complemented each other perfectly. Eugene still traveled quite a bit, helping with FFA and 4-H projects, as well as attending various livestock sales. Patty wasn't at all unfamiliar with that side of farming and took full advantage of any road trips that came their way. Winter was still unwelcome, but Eugene wasn't as receptive to the snowbird lifestyle as Patty. After enough prodding, she finally got him down to Florida, and there was no looking back. They ended up purchasing a second home; they started making memories and friends the moment they moved in. No matter where their travels took them, there was always a chunk of the day carved out for watching Jeopardy and Wheel of Fortune… as well as keeping tabs on the Indianapolis Colts. Her marriage to Eugene provided her with one of the greatest gifts she could imagine—a larger family to love. She loved following everyone's adventures. From 4-H and livestock, to rodeos and beyond, Patty never grew tired of keeping up with it all, and she made sure Eugene came along for the ride.
Patty is survived by her son, John Lloyd Thomas (Sherry) of Coatesville; 4 daughters, Darlene L. Boyer (Larry) of Kirklin, Marcia L. Freeman (Keith) of Kirklin, Carlita R. Wyrick (David) of Tipton, and Lorinda J. Huffer (Bill) of Windfall; 3 step-daughters; 13 grandchildren; 5 step-grandchildren; 1 step granddaughter-in-law; 19 great grandchildren; 9 step-great grandchildren; brother, Warren David Bailey of Pickard; 3 sisters, Bobbie Sturdevant of Westfield, Carolyn Heffelmire of Bunker Hill, and Sharron Sue Heffelmire of Westfield; and many, many, nieces and nephews.
She was preceded in death by her parents, Russell Warren and Anna Mildred (Goff) Bailey; step-grandson, A.J. Stewart; 2 sisters, Rebecca Mendenhall and her husband Harold "Red", and Kay Harris and her husband Bud; 2 infant daughters, Deborah Joan Thomas, and Tamara Jill Thomas; her first husband, John Vinton Thomas on March 28, 1989; and her second husband, Eugene Vallandingham McFarland on January 29, 2019.
Services will be held at 10:00 am on Saturday, October 21, 2023, at Kercheval Funeral Home, 306 E. 10th Street, Sheridan, Indiana. Burial will follow at Boxley Cemetery. Pastor Charles Cole will be officiating. Visitation will take place from 4:00-8:00 pm on Friday, October 20, 2023, at Kercheval Funeral Home in Sheridan. In lieu of flowers, memorial contributions may be presented to Hills Baptist Church.