Plenty Of Scary Fun For Ghosts, Goblins
By: Betsy Reason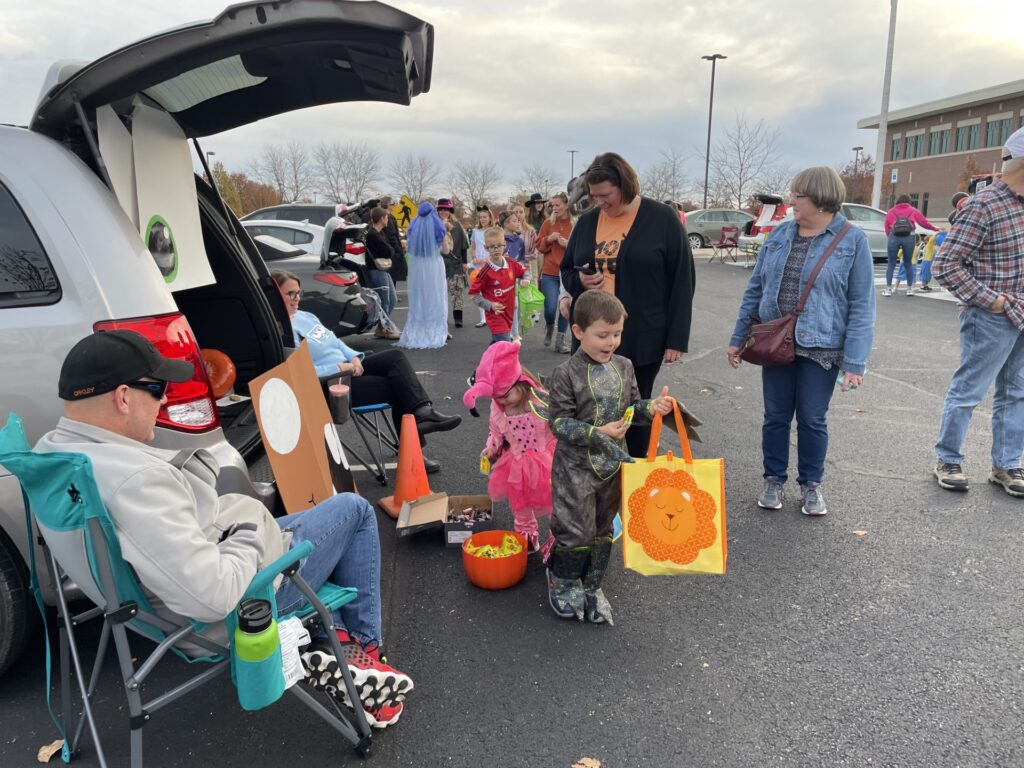 Hey ghosts and goblins, it's only a week until Halloween. And we have lots of fun things to keep you busy, including several trunk-or-treat events.
Here's our list of 20 things to do leading up to Halloween:
Bring canned food donations and enjoy crafts, games, story and treats during a "Trick or Eat" Halloween Food Drive from 6 p.m. to 7:30 p.m. today at Delaware Township Trustee Office in Fishers. Dress in costume. All ages welcome.
Take a hayride to the pumpkin patch at Russell Farms in Noblesville, open daily through Oct. 31 also with corn maze, petting zoo, miniature golf, kids activities, bounce houses, pedal tractors, country store and more. Admission is $12.50-$15. For schedule, visit https://www.russell-farms.com
Join Carmel Runners Club Halloween Run and Walk at 6 p.m. Wednesday at Bier Brewery Carmel, plus vote on various runs or walks.
Come out for annual Trunk-or-Treat event from 6:30 p.m. to 7:30 p.m. Wednesday at Green Valley Church of Christ in Noblesville. Bring a bucket or bag for candy.
Test your Halloween knowledge during Halloween Trivia night at 7 p.m. Wednesday at Pinheads and Alley's Alehouse in Fishers, with prizes to win and free to play.
The Conner Prairie Headless Horseman will ride for only four more nights, Thursday through Sunday in Fishers. Tickets for the 40th annual festival are available online and nightly, however, hayrides to see the Headless Horseman are more difficult to come by. Guests can stroll the Trail of Terror in the cornfield, enjoy the Magnificent Midway, Barrel Train Rides, Sleepy Hollow Marionette Show by Stephens Puppets, hear fortune telling and live music performances, watch a magic show, enjoy food, and more. Reserve hayride times and buy admission tickets in advance at connerprairie.org.
Enjoy Halloween Trunk or Treat at 5 p.m. Friday at Heritage Woods of Noblesville.
Ultimate Halloween Hits aficionados will want to attend Halloween Music Bingo at 7 p.m. Friday at Pinheads and Alley's Alehouse in Fishers. Prizes to win and free to play, with all ages welcome.
Come out to Grand Junction Plaza in Westfield for "Halloweentown" Movies in the Plaza at 7:30 p.m. Friday with free entertainment
Dare to take the fourth annual Cicero Haunted Trail on Friday and Saturday at Red Bridge Park, with kid-friendly hours 4:30-7:15 p.m. and frightening hours 7:30-10 p.m. All proceeds benefit Cicero Parks. Take the trolley, which stops at The Boathouse, corner of Jackson and Washington, corner of Jackson and Pearl, Easy park and walk in downtown Cicero.
Dare to enter Prime Car Wash in Fishers, which has been transformed into a Tunnel of Terror, 8 p.m. to 11 p.m. Friday and Saturday and 7 p.m. to 10 p.m. Sunday for $20 per carload.
Board the Nickel Plate Express for Trick or Treat on the Rails vintage 1956 train at 2 p.m. Saturday. Embark on a 65-minute journey down the historic Nickel Plate Road while dressed in your Halloween costume. Children can collect candy from a few special characters during the ride. Tickets include a pumpkin donut and fresh apple cider. Visit www.nickelplateexpress.com.
Celebrate Halloween 10 a.m. to 2 p.m. Saturday at the Nickel Plate District Amphitheater during a Boo Bash with live music and entertainment, food trucks, games and activities for kids. Costumes encouraged.
Visit Noblesville High School Theatre's Trunk or Treat night 5 p.m. to 7 p.m. Saturday in the parking lot at Noblesville High School, where high school theater students will play host to this evening for all little ghosts and goblins.
Visit First Presbyterian Church of Noblesville's free Trunk-or-Treat event 5 p.m. to 7 p.m. Saturday in the church parking lot. Kids are encouraged to wear costumes and enjoy trunk-or-treating and a make-n-take craft, music, movie and a brown bag hotdog dinner.
Several local musicians will perform their favorite murder ballads for your Halloween enjoyment when Noblesville Preservation Alliance presents "Murder in Noblesville" at 7 p.m. Saturday at NPA's Preservation Hall. Musicians include: John Gilmore, Gary Wasson, Mike Stewart, Molly Milton, Jamie Dumas, Tim Fike, Zoe Majors and Steve VandeWater. Tickets are $10 at the door or online at preservationhall.org
Come for trick-or-treating or decorate your trunk and bring candy to share during Noblesville First United Methodist Church's annual Trunk or Treat event 4 p.m. to 6 p.m. Sunday at the church. Prizes for the most creative trunks. Sign up to decorate your trunk, volunteer or donate candy at NoblesvilleFirst.com/trunk
Enjoy Halloween Bingo and wear your best costume at 8:30 p.m. Oct. 31 at the Noblesville Moose Lodge.
Noblesville American Legion Riders Post 45 invites community to its third annual trunk-or-treat 5:30 p.m. to 8 p.m. Oct. 31 in the parking lot of the new Legion at 273 S. 8th St., Noblesville. Community invited to check out the Legion's new building. The Legion always has plenty of candy leftover that the Legion sends to troops via the Noblesville Police Department. The kids always enjoy trunk or treating with the motorcycles. Public welcome.
Join a Halloween Westfield Ghost Walk 8 p.m. to 9:45 p.m. Oct. 31 in downtown Westfield. Tour filled with stories of ghosts of the Underground Railroad and those who helped them escape mixed with modern day gangsters and mischief. Reservations required at fareharbor.com
-Betsy Reason writes about people, places and things in Hamilton County. Contact The Times Editor Betsy Reason at betsy@thetimes24-7.com. Official Trick-or-Treat hours on Oct. 31: 5:30 p.m. to 8 p.m. Noblesville; 5-8 p.m. Arcadia, Carmel and Westfield; 6-8 p.m. Cicero, Fishers and Sheridan.