Improving Lives Through HOPE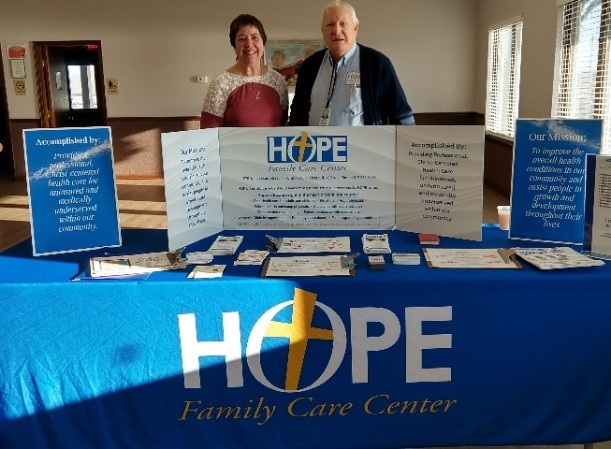 Cicero, Ind. At Saturday's Cicero Kiwanis Club breakfast meeting, Mike Jenkins and Barb Green from the Hope Family Care Center in Cicero, took center stage sharing what they referenced as "the best kept secret in the area." Members learned about the great work Hope Family Care Center is doing in the community to meet health care needs.
According to Jenkins and Green, the secret really shouldn't be one, because it's open to the public. Hope Family Care Center at 270 W. Jackson Street in Cicero is the only free health clinic in the local area, serving people in Arcadia, Noblesville, Atlanta, Cicero, Sheridan, and Tipton, who cannot afford medical and dental care.
Cicero Kiwanis President, Dr. Derek Arrowood, said anything that Mr. Jenkins is involved is something that is beneficial and impactful to others and always good thing. "I had the pleasure of listening to one of my all-time favorite teachers," Dr. Arrowood noted of the former Hamilton Heights educator. "I also learned a lot more about the great work Hope is doing in our community to meet the growing health care needs from the legendary Mr. Jenkins, who continues to pay if forward any way he can."
The 501(c)(3) health ministry organization was founded in 2003 by the Cicero Christian Church, opened in May 2004, and has served more than 8,000 local residents living in poverty since then. Over the years, the center has added valuable services to its offerings, including counseling services in 2019. The timing proved to be wise foresight given the financial and emotional struggles for many children and adults during the pandemic. Currently, Hope's dental service is the most popular, according to speaker CEO and Board President Mike Jenkins.
Barb Green, the center's office manager for the past six years, discussed statistics about the center, emphasized the center's counseling services, and shared their ongoing efforts to expand its offerings and improve awareness of Hope via social media and networking. Additionally, the center is always looking for volunteers and donations. To learn more about or volunteer at the Hope Family Care Center, go to: www.hopefamilycare.org.