Guest Column: Straight from the Desk of Your Congresswoman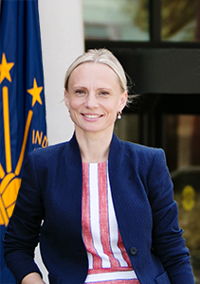 Legislative Update:
1. Healthy Future Task Force Update
As a member of the Affordability Subcommittee of the Health Future Task Force, my colleagues and I recently unveiled solutions to make health care more accessible and affordable. These solutions focused on three main topics:
Improving health care value
Promoting innovation and transparency
Lowering costs and increasing choices through competition
We also hosted a roundtable with small business owners to discuss how the policy solutions would improve small business owners' ability to offer high-quality health benefits at lower costs for employees. This roundtable can be viewed on YouTube at https://www.youtube.com/watch?v=ugLWVo7DBew.
2. House Judiciary Committee Hearing
As a member of the House Judiciary Committee, we had a hearing regarding the Second Amendment. We need to have reasonable solutions that do not infringe upon the Second Amendment Rights of law abiding citizens.
The Second Amendment is also the "ultimate equalizer" for women. As someone who grew up under a dictatorship, I uniquely understand the value of our constitutional rights.
3. Bills Authored and Co-Sponsored:
Oversight: H.R. 7147 – the Cost of War Act, which would require the Department of Defense to post the cost that each taxpayer has paid for all wars and conflicts conducted by our military each year since 2001.
Gas Prices: H.R. 8176, Unleash American Drilling Act, which would require the Bureau of Land Management (BLM) to address over 5,000 unapproved drilling permits. These permits would be essential in increasing our supply of gasoline and improving the energy independence that America is currently lacking.
Criminal Justice Reform: H.R. 2864 – the Clean Slate Act, which would create a framework to seal the records of individuals who were arrested or charged, but not convicted, of federal, nonviolent offenses.
4. Bills Passed:
Safety: I co-sponsored H.R. 6538, the Active Shooter Alert Act of 2022, which creates a communication system to alert communities in case of an active shooter situation.
Pensions: I co-sponsored H.R. 6929 – the Susan Muffley Act of 2022, legislation which would restore fully vested retirement benefits to tens of thousands of salaried Delphi Corporation workers whose pensions were unfairly terminated after General Motors declared bankruptcy in 2009. The 4,000+ Hoosiers who lost their retirement plans at that time, many of which put decades of labor into their pensions, never received the compensation they were promised. While this bill successfully passed the House on a bipartisan basis, this is only the first step in our fight to ensure that this Obama-era injustice is addressed, and Delphi workers' retirement plans are completely restored.
5. Letters:
Job Creation: Letter by the Indiana Delegation to support the new Stellantis/Samsung plant opening in Kokomo; Letter to the Department of the Army in support of choosing a Rolls Royce engine-equipped aircraft for their Future Long-Range Assault Aircraft.
Regulations: Letter to the Department of Transportation in support of the request by Indiana's Republic Airways to be exempted from burdensome federal regulations that are contributing to our pilot shortage in the United States.
6. Oversight:
I sent a letter to President Joe Biden requesting that members of Congress be briefed by the executive branch on oversight procedures for Ukrainian aid.
Considering our material involvement in this conflict, we owe this level of rigor and accountability to the American people as Ukraine urgently needs increased levels and speed of security assistance, which unfortunately have not been prioritized by the Biden Administration.
Proper oversight and streamlined logistical processes will have the following key benefits to Ukraine and the United States:
Provide assurances for American taxpayers, so our electorate will continue to support aid to Ukraine.
Improve efficiency and speed of delivery of aid to the frontline.
Mitigate risks of sabotage by countries like Russia, China, Iran, or others.
Only Russia wins when America doesn't know where its taxpayer-funded support goes.
7. District Update:
Indiana's Fifth Congressional District lost a true hero.
Officer Noah Shahnavaz was born in Indianapolis, Indiana on May 18, 1998. After graduating from Fishers High School in 2016, Officer Shahnavaz enlisted in the United States Army, where he served as a Sergeant in the 591st Military Police Company and was awarded the distinguished Air Assault Badge. He was deployed to the Middle East and served in two border missions.
Following his honorable discharge after five years in the Army, Officer Shahnavaz answered the call to service once again and enrolled in the Indiana Law Enforcement Academy, joining the Elwood Police Department in August 2021. After less than a year in the force, Officer Shahnavaz was killed in the line of duty on July 31, 2022, making the ultimate sacrifice for his community after a career dedicated to serving others.
Officer Shahnavaz bravely served our country and his community. He will be greatly missed.
I recently had the honor of meeting Noah's incredible parents, as well as the brave members of the Elwood Police Department. Please continue to support this family and the Elwood community.
Our law enforcement officers are true heroes, who put their lives on the line every single day. A strong, well-funded police department is the backbone of a safe community and free republic, and I am committed to using my position in the United States Congress to fully support our men and women in blue.
Thank you to the Elwood Police Department and the Hamilton County Sheriff's Department for their extreme professionalism and continuing to protect every single person's constitutional rights even during the most trying of times.
Rep. Victoria Spartz represents the Indiana 5th District, comprised of the north side of Indianapolis, Marion, Carmel, Anderson, Noblesville, Fishers and parts of Kokomo. She is the first Ukrainian-born person ever elected to Congress.