NHS Show Choirs Kick Off Competition Season Today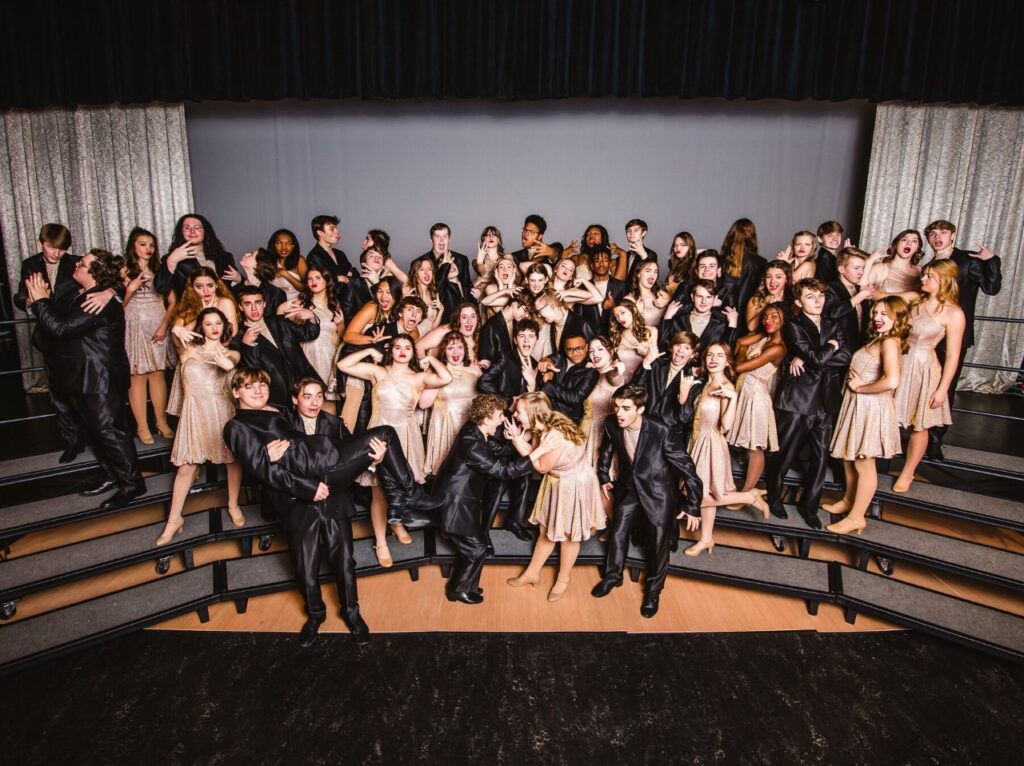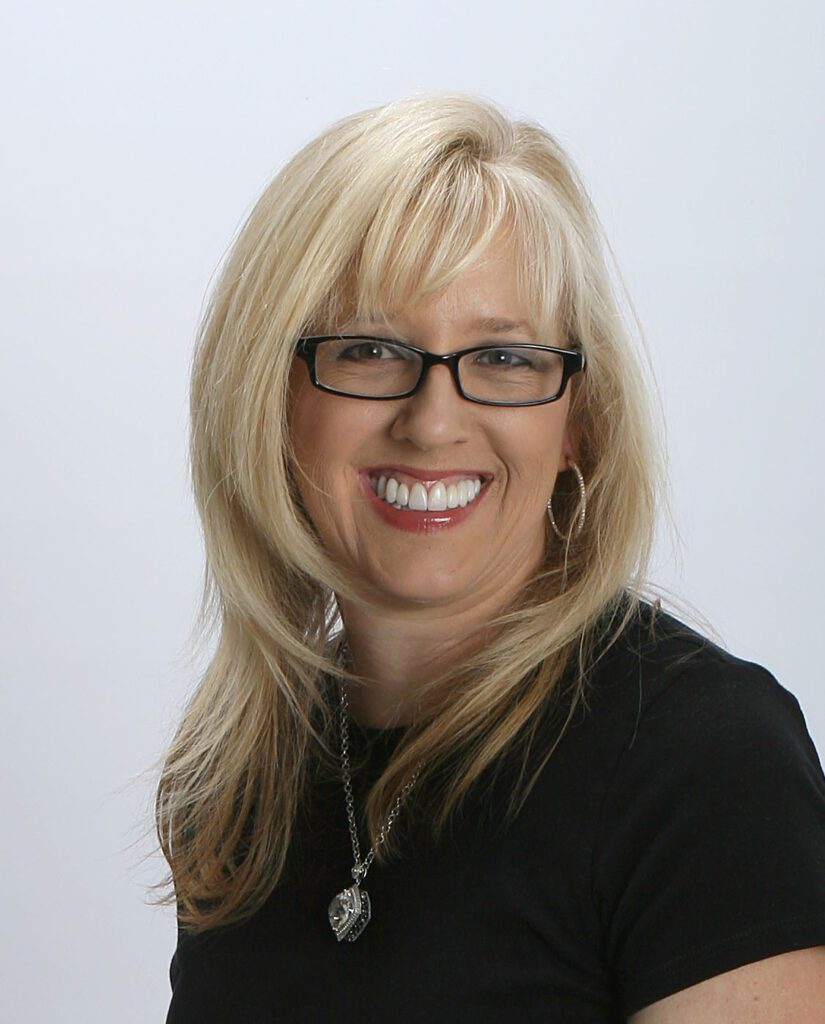 Noblesville High School's show choir competition season begins today.
NHS Singers, the high school's top mixed show choir, and their traveling companion choir, New Dimension, NHS's top all-female show choir, today travels to and competes at Jay County High School in Portland.
I know this because my daughter, a NHS junior, is in NHS Singers this school year, and she was in New Dimension last school year.
Today begins with students, and parents, rising in the wee hours of the morning to board Noblesville school buses to travel to Jay County, nearly 90 minutes northeast of Noblesville.
New Dimension competes at 9:30 a.m. on the auditorium stage, and NHS Singers compete after lunch at 3:45 p.m. Finals begin at 6:30 p.m. with awards later tonight. Yes, the show choir competitions make for long days. But the students love it. And most parents end up enjoying the days just as much, not wanting to miss even one contest.
"I'm very excited about Singers and New Dimension this year. The students have worked very hard to be prepared to compete," NHS choral director John Neubauer told me on Thursday.
"I'm looking forward to seeing these kids shine and enjoy making memories and great music together, sharing it with our community and other communities," he said.
Neubauer also looks forward to his students getting the opportunity to watch competing choirs both near and far. The closest contest this year is Warren Central, and the farthest contests are in Iowa and Ohio.
Without giving too much away about today's competition set themes, Neubauer said, "New Dimension explores the many dimensions of being female. Singers, coming off a very successful story show are trying to tell a new story. The students have embraced it."
Preparation for show choir contests starts at the beginning of the school year. "We learn some of the material in August and spread it out the rest of the semester."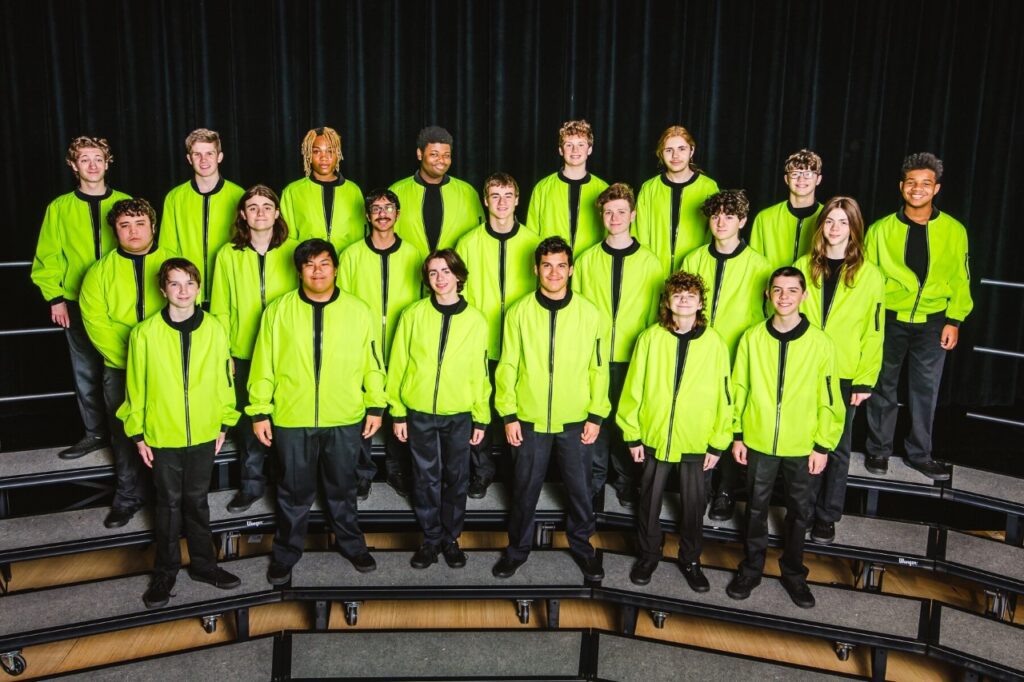 Yes, there are a lot of hours put in. But students have gotten to work with "outstanding choreographers with varying styles," he said. "So each piece works well and the overall look is very cohesive."
Most recently, the choirs rehearsed for the NHS Choir Department's holiday concerts which were on stage Dec. 9-10 and open to the Noblesville community.
But just as soon as those concerts happened, the choirs were back on track and worked very hard the next two weeks rehearsing for contest season, he said. Then there were three weeks of holiday break with no organized rehearsals. Students returned on the Monday after break, a day early, to begin rehearsals and "have really been intensively working so we are ready," Neubauer said.
This past week? He said there were lots of details that needed to be perfected. The choirs had a list of items to hit.
"Singing well is, of course, our top priority," Neubauer said. "And then we work on the choreography and performance presentation. The kids really care, and that makes all the difference."
Show choir competitions, such as the first one today of the season, builds the groups' commitment and comradery. "Working hard to achieve success brings people together. The students have a great time and do enjoy the rigor." he said.
It's exciting not just for the singers in the choirs but also the band that performs with the choirs and the student crew that travels with them.
"I know this is the most exciting time of the year for everyone in the choir, band and crew. They love it," Neubauer said.
There are also parent chaperones who ride the buses and parent "roadies" who travel to each competition to set up and break down lights and sound and stage. This season, there are some extra special effects, I'm told. I haven't yet seen the competition sets but am excited to watch for the first time today.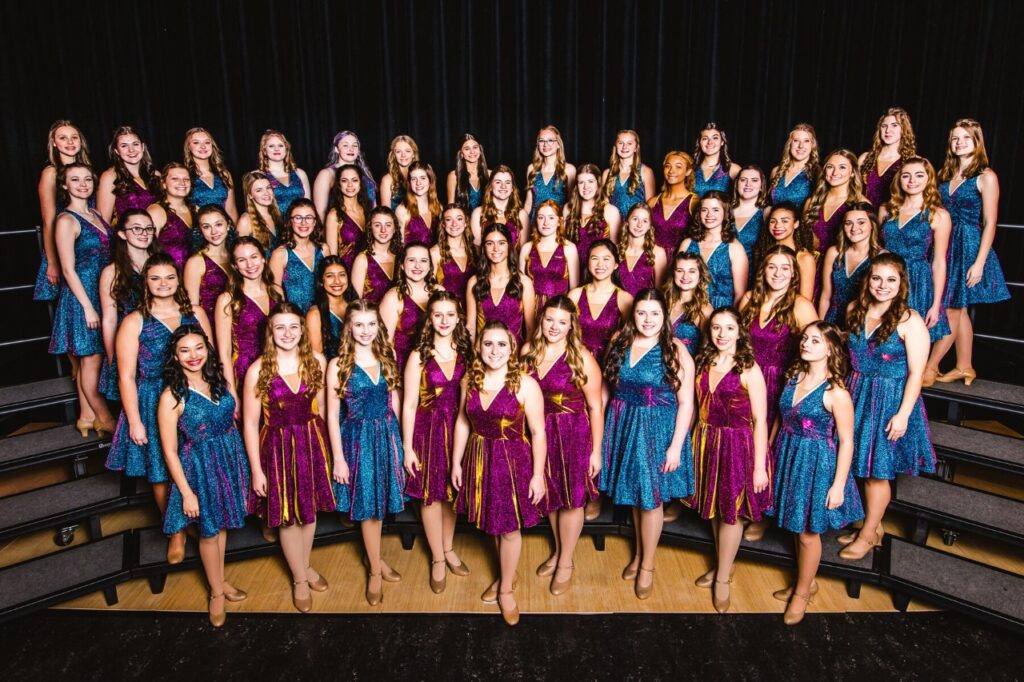 "The parents and community members work tirelessly to make sure that the students have all the support they need to create this experience. It is a lot of work. Parents seem to find their calling and assist with dedication and energy," Neubauer said. "The program would not be workable were it not for the parent support we are so fortunate to have."
The excitement drives students — from eighth-graders to juniors — to audition for the next school year. Auditions will be coming up in February.
There are four show choirs that compete each year. MaleTonez are 20 all-male singers. Sensation features 50, mostly young underclassmen all-female singers. New Dimension is a varsity women's choir of 54 voices, and NHS Singers is a varsity mixed choir of 60 voices. Plus, there is a crew of 10 students and a 20-member band Main Event Band directed by Bethany Robinson.
There are other NHS choirs that don't compete, including Synergy concert choir, new this year. "We took two sections of choir, Cantamos and Milltones and combined them for performances. It is working well to have a few more voices involved to create a great experience for all the students involved." There is also MadJazz, a performance choir made up of 24 students, and Momentum, a group of 20 females. "Everyone is great to work with and have been pursuing their musical development," Neubauer said.
The cost for students to be in choir? It's $30 for a concert choir or jazz choir, $500 for Sensation and Maletonez and $800 for New Dimension and NHS Singers.
I asked this question last season: How are these show-choir competitions good for NHS choirs? "I think competition is great for the students," Neubauer told me. "They definitely want to be recognized for excellence. And, especially, the older students understand what it takes to get to excellence. The younger students largely follow by example, and hopefully excellence is self propelling. The choir also bonds with each other on these trips.  Friendships are built. They also meet students from other schools and get to share ideas and see productions from other schools. It is a great time, and I think the students love these days very much."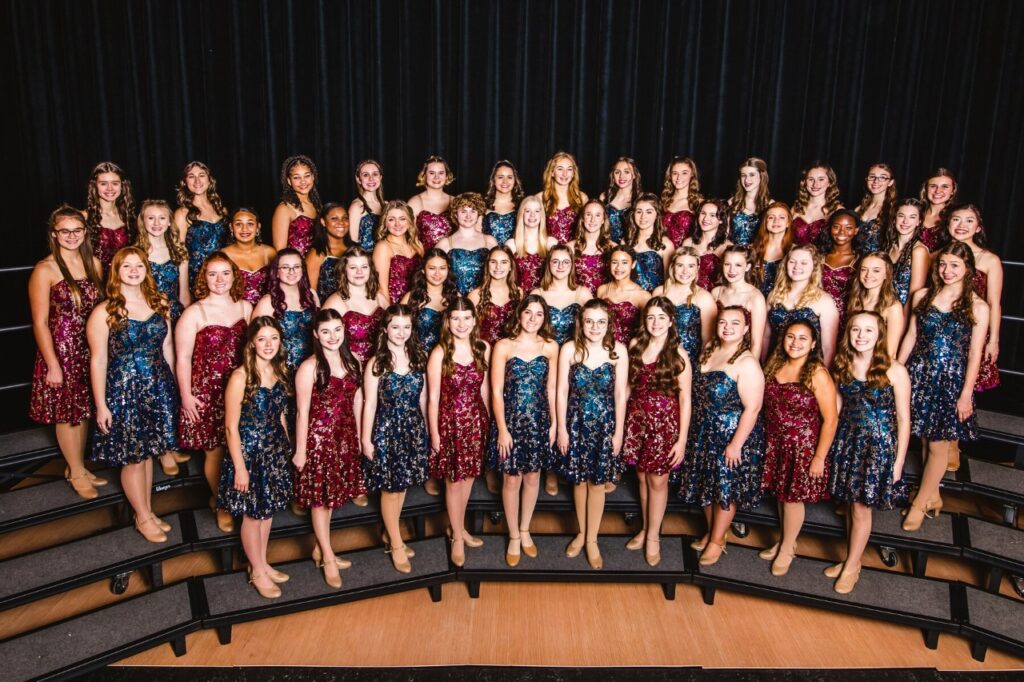 Neubauer is proud to be a part of Noblesville High School's history and "long tradition of having great show choirs."
He said, "I remember seeing Singers back in my youth. It's exciting to lead a program that has a rich history."
This is just the start of show choirs' competition season. On Jan. 28, the two choirs are off to Beech Grove High School, then on Feb. 4 the MaleTonez and Sensation choirs with the KeyTonez band will join New Dimension and NHS Singers and head to Plainfield High School and then on Feb. 25 to Warren Central Invitational. MaleTonez and Sensation will head out without the varsity choirs on Feb. 11 to the Decatur Central Invitational. Also, NHS Singers and New Dimension will head out of state twice, to Fairfield, Ohio, and to Davenport, Iowa.
The 2022 competition season was a stellar one. So anything that the choir director would do differently this season? "Every year is different but the ingredients for success remain basically the same: great singing, entertaining performers who work hard to satisfy the audience and dedication to work very hard to improve. The students are coming through marvelously," Neubauer said.
He and new assistant choir director Julianne Fowler invite the community to watch the show choirs' competition sets later this month during a public concert. "The community should not miss the chance to see the NHS Choirs in performance," Neubauer said. "They are fantastic. And they are very nice kids. Humble and very hard working."
The free public performance of this year's competition sets will be presented at 7 p.m. Jan. 26 at NHS, with tickets on sale soon. Neubauer encouraged the community to "Come out and support your great students, Noblesville."
Contact Betsy Reason at [email protected]