Noblesville's Barb Weaver A Natural in Many Roles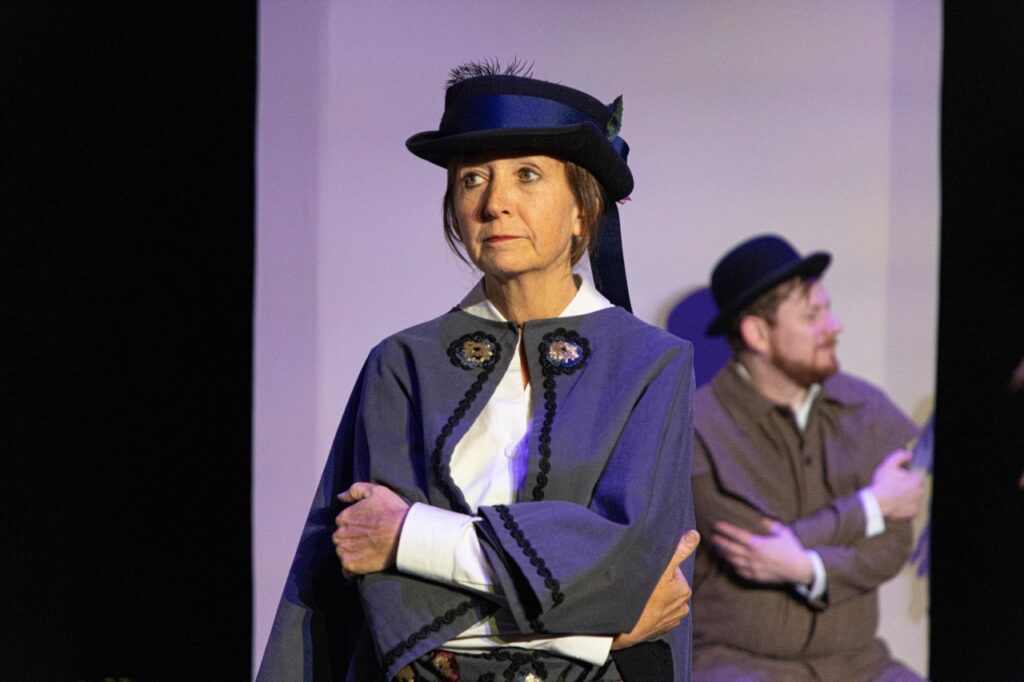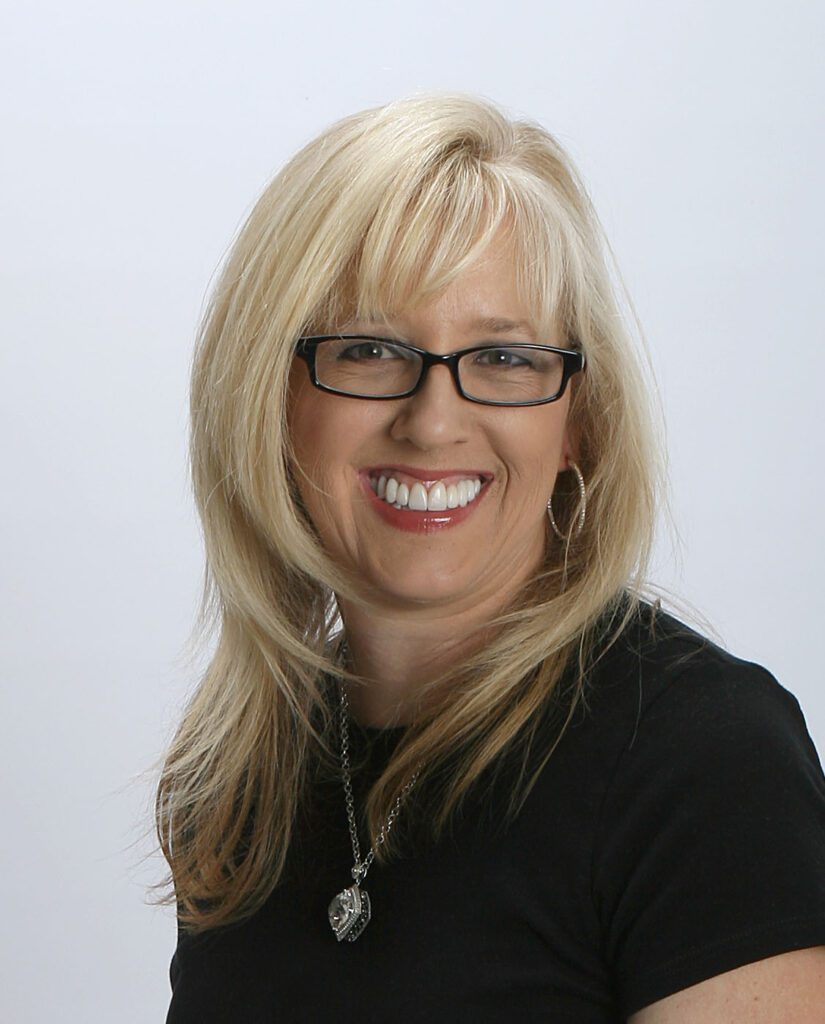 Anybody who's been a patron of local community theater has likely watched Noblesville's Barb Weaver act in a play.
Weaver got involved in theater at age 10, taking acting classes through her park district.
"In grade school, I would gather my friends together to put on shows for the school," Weaver said. She and her sister would also put on little shows for their parents. And she acted in some "more official" school productions.
In high school, acting took a backseat, as she turned her attention toward academics. But the acting bug returned when her daughter showed an interest. They did shows together at church, The Belfry Theatre in Noblesville and at Westfield Playhouse.
When her daughter got busy with other things, the mom kept going on her own. And she's been acting on stage ever since.
Weaver is currently performing in her 48th show since she took up acting as an adult. (She has also worked backstage and in the tech booth for another 10-12 shows.)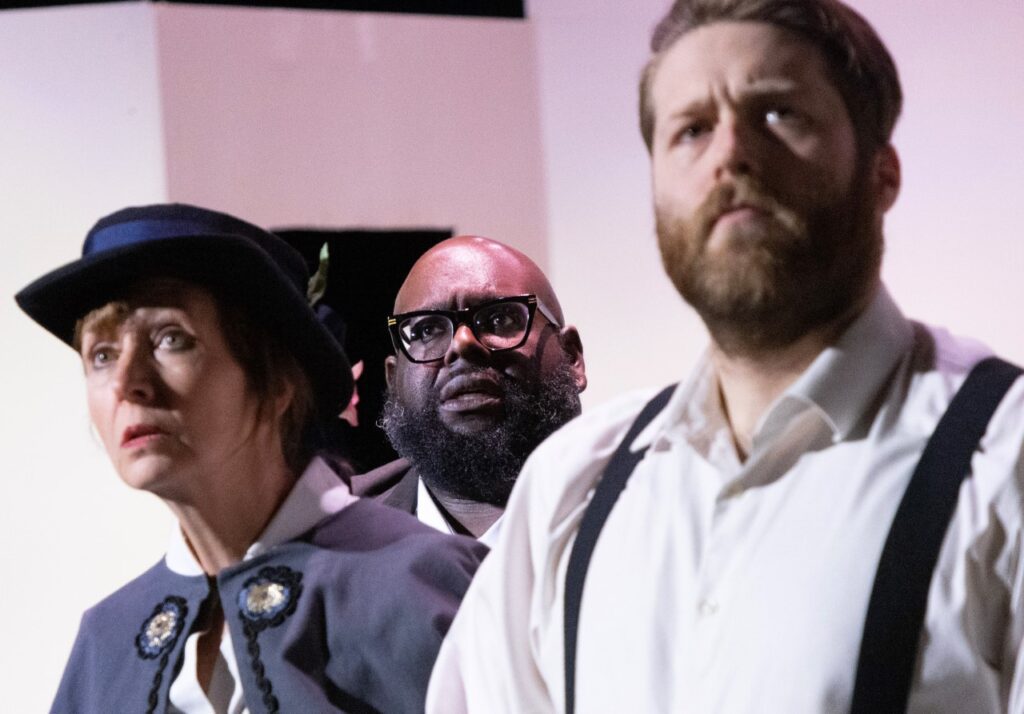 Currently, she plays the role of Aouda, an Indian princess, in The Belfry Theatre's "Around the World in 80 Days," a comedy on stage Friday through Sunday at Arts for Lawrence's Theater at the Fort. The Belfry has also moved its next two productions — "The Great Gatsby" and "Crimes of the Heart," to the Lawrence venue, about 25 minutes south of Noblesville, due to the inability to find available stage space in and around Noblesville.
"There are a couple of things that make this show unique," Weaver said. "There are many different characters (39 actually) that enter the story for a brief time, and these characters are all played by just a few actors (only six)," she said. Actors are changing voices, mannerisms and costumes continually to bring these different characters to life. "For that role (of Aouda), I had to learn to wear a saree (a garment traditionally worn in India), and to put it on very quickly," she said.
The other unique aspect is sound, she said. Eric Dixon, who plays a foley artist, produces all of the sound effects from his spot on the left side of the stage (stage right), using coconut shells, washboards, a pool noodle and trombone. Some sound effects (but not all) were listed in the script but it was Dixon and the show director Eric Matters who decided what sounds would enhance the show. And Dixon is quite interesting to watch as he has to keep up his sound effects with what is going on onstage, including using washboards to make train chugging sounds that slow down and speed up.
She auditioned for the show because she enjoys the opportunity to play multiple roles. Although, as it turned out, the role she was cast in only plays a couple of parts; the second role is of "an old English curmudgeon who bet Phileas Fogg that he could not travel around the world in 80 days," she said.
But she's enjoyed watching the other actors create their different characters. In this show, the characters travel seven continents in Mark Brown's adaptation of one of the greatest adventures of all time, according to the play's synopsis.
She loves playing multiple roles. For instance, in "Red, White and Tuna," directed by Ron Richards at The Belfry, she portrayed seven characters, made 16 costume changes and donned three different wigs. In her last show, "Christmas Spirit" at Mud Creek, she played a character who was 15 years older than her. (She was thrilled when a patron called her "believable" in her role, a great compliment, Weaver said.)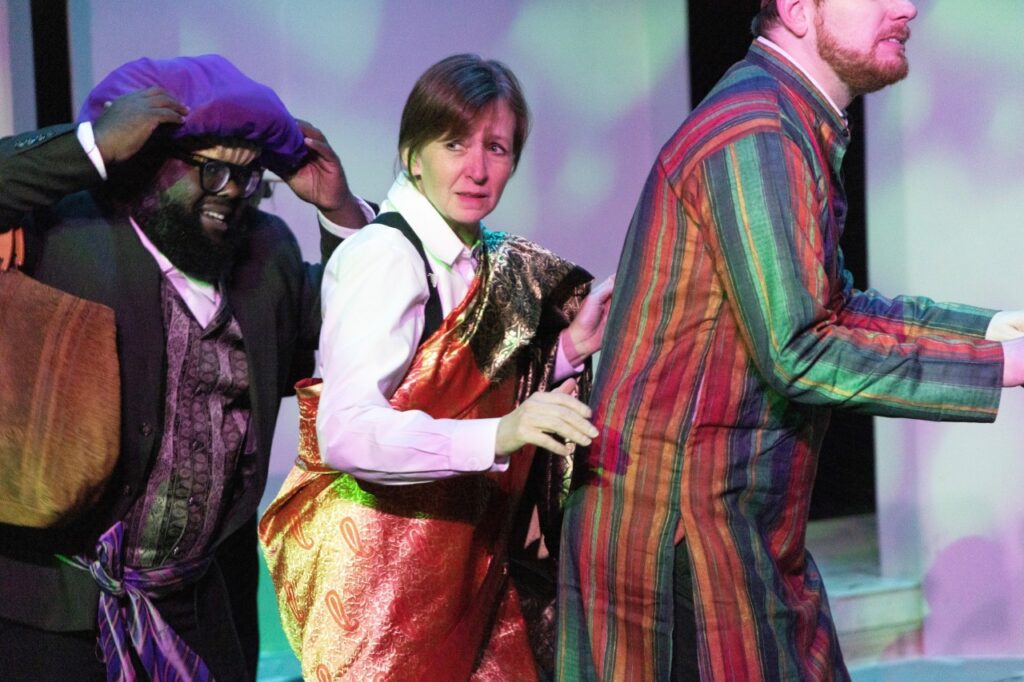 "I enjoy playing all kinds of roles and like to challenge myself," she said.
Besides The Belfry and Westfield Playhouse, she has performed at five other community theaters, Carmel Community Players, Carmel Theatre Co., Epilogue Players, Improbable Fiction and Mud Creek Players.
Being that The Belfry has temporarily become a traveling theater, staging productions at rented venues, and always on the lookout for nearby rehearsal and audition space, she said the cast and crew moved into the space just six days before opening night, adding challenges. And while Theatre at the Fort is spacious, "the downside is that it is not in Hamilton County and is farther for most of our loyal patrons," she said.
Weaver grew up in the northern suburbs of Chicago and graduated from the University of Illinois with a degree in computer science. She is a technical project director at Elevance Health. She and her husband, Mike, who will celebrate their 33rd anniversary this year, have a son in Chicago and a daughter in Cincinnati. The Weavers like to travel and hike and volunteer at Teter Organic Farm in Noblesville, and she also sings in the Noblesville First United Methodist Church choir and likes to read and paint.
Weaver said she doesn't usually have too much difficulty learning lines for shows. She records all of the lines using a Line Learner phone application and works on them while she walks and whenever she's in the car.
And as far as learning comedy, Weaver said there are a "few keys to doing comedy well." She said, "One is to portray real characters who might say or do funny things but that are not trying to be funny. Another is timing. You need to really listen to what everyone else is saying and make your lines sound natural … You also need to listen to the audience and be ready to hold for laughs."

Contact Betsy Reason at [email protected]
Want TO GO?

What: Hamilton County Theatre Guild's Belfry Theatre production of "Around the World in 80 Days" play.
When: 7:30 p.m. Friday and Saturday and 2 p.m. Saturday and Sunday. Note the earlier evening time from The Belfry's traditional start time.
Where: Art for Lawrence's Theater at the Fort, 8920 Otis Ave., Indianapolis, 46216.
How much: $20 for adults, $15 for ages 62 and older, students and military. Season ticket holders, flex pass holders, sponsor gift tickets and donor tickets must be reserved via the reservation number 317-773-1085 and must be made 24 hours in advance.
Tickets: artsforlawrence.org/tickets or (317) 773-1085.