Big 10, Live Music, Theater, Comedy, School Fundraiser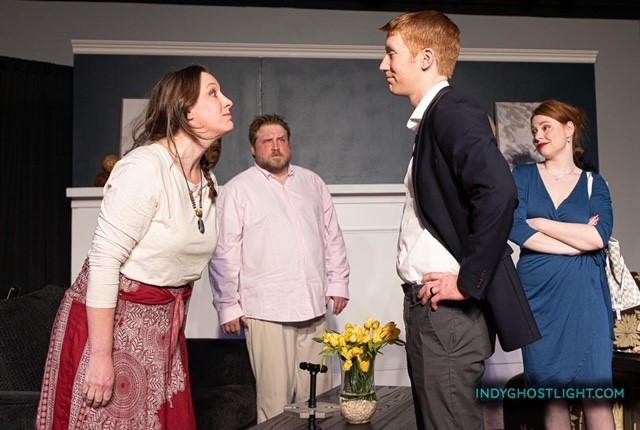 Enjoy watching basketball, community theater, take in live music, support local schools, watch a school play, and more among the 25 things to do this weekend and beyond in this list by The Times:
1. Attend the Purdue Big Ten Tournament Watch Party at noon today and the IU Big Ten Tournament at 9 p.m. today at Grand Junction Brewing Co. in Westfield.
2. Support Noblesville Schools by attending Noblesville Schools Education Foundation's Miller-Palooza 6 p.m. to 11 p.m. today at the Embassy Suites in Noblesville, with $125 tickets, sponsorships available, dress casual Noblesville school spirit, and featuring Dueling Pianos from Felix and Fingers. Tickets are available until noon today at https://www.noblesvilleschoolseducationfoundation.org/. For information, email [email protected]
3. Get your tickets for Noblesville High School Thespians' "Mrs. Packard" play, based on historical events of a wife whose minister husband had her committed to an insane asylum in 1861, onstage at 7 p.m. today and Saturday at NHS Auditorium, with $10 general admission tickets for sale at the door and online at nhstheatrearts.weebly.com/
4. Join the Nefarious Noblesville Ghost Walk 7 p.m. to 8:45 p.m. today by unseenpress.com in downtown Noblesville, with tickets at the website.
5. Watch Agatha Christie's "Murder on the Orient Express" at 7 p.m. today and continuing through March 25 at Booth Tarkington Civic Theatre in Carmel, with reservations at civictheatre.org.
6. Enjoy live music with The Dead Squirrels at 7 p.m. today at Primeval Brewing in downtown Noblesville, Sam King on Saturday and St. Patrick's Day Music with Rusty Musket with Celtic folk songs, old sea shanties and Irish tunes at 7 p.m. March 17, plus Primeval opens early at noon on St. Patrick's Day. Also, Celtic Rain on March 18. Hill and Oaks on March 24, John Beatrice on March 25, Craig Thurston on March 31.
7. Enjoy live music with Living Proof tonight at Britton Tavern in Fishers; Jai Baker at 8 p.m. today and Anneliese & Ali on 8 p.m. Saturday at Parks Place Pub in Fishers. Enjoy live music at Grindstone Public House in Noblesville, featuring John Gilmore on Saturday, Craig Thurston on March 16 (the first and third Thursdays), and Jeff Brown on March 18.
8. Hyperion Players presents "God of Carnage" play, directed by Noblesville's Nicole Amsler, 8 p.m. Friday and Saturday and 2 p.m. Sunday at The Switch Theatre at Ji-Eun Lee Music Academy in Fishers, with tickets at hyperionplayers.com/
9. Westfield Winter Farmers Market is 9 a.m. to noon Saturdays, through April 1 at West Fork Westfield Event Center on East 191st Street.
10. Shop the Winter Market & Craft Show 9 a.m. to 1 p.m. Saturday at Sheridan Elementary School.
11. Stroll the Atlanta Spring Vendor Market 10 a.m. to 3 p.m. Saturday at Earthly Endearments in Atlanta, Ind.
12. See beautiful flowers and landscaping during the annual Indiana Flower & Patio Show which opens at 10 a.m. Saturday and runs through March 19 at the Indiana State Fairgrounds.
13. Join the Willy Wonka FamFest at noon Saturday at Flix Brewhouse in Carmel.
14. Watch the Big 10 Basketball Semi-Finals at noon and 3 p.m. Saturday at Ale Emporium Fishers with live music by The Doo at 9 p.m. Saturday.
15. Meet artist Marc "Mozzy" Love during his free public reception 5 p.m. to 8 p.m. Saturday in the Stephenson House on Nickel Plate Arts Campus. Love's exhibit, "Welcome to the Boomtown," is open noon to 5 p.m. Wednesdays through Fridays in March in the Stephenson House. Bobbi K. Samples's work is currently on display in the Meyer Najem 2nd Floor Gallery.
16. Experience the live music of The Booze Hounds from 7 to 9 p.m. Saturday, The Juan Douglas Trio on March 18 and Mike Archer on March 25 at Spencer Farm Winery in Noblesville; Party Band at 9 p.m. today at Brockway Public House in Carmel.
17. Check out the comedians at The Brick Room Comedy Club, featuring Gabi Ritter and Monarchs at 7:30 p.m. today; and Lauren Rabin, Jetta V and headliner Shanda Sung at 9 p.m. today; Mo Mitchell, Mariah Davison and Emily Davis at 7:30 p.m. Saturday with $10 admission tickets at thebrickroom.cc.
18. Sit in on Noblesville Preservation Alliance's annual meeting from 4 p.m. to 6 p.m. Sunday at Preservation Hall, with refreshments at 4 p.m., followed by awards at 5 p.m.
19. Audition for The Belfry Theatre's "Crimes of the Heart" from 7 to 9 p.m. Monday and Tuesday at Emmanuel United Methodist Church in Noblesville.
20. Attend the next Art of Business workshop, "Copyright and Trademark Issues for Artists," offered by Nickel Plate Arts and Visit Hamilton County, 7 to 8:30 p.m. March 15 in the Community Room behind NobleMade, for $10.
21. Experience the talent at Noblesville High School's 2023 All-District Showcase for Noblesville with show choirs at 7 p.m. March 16 at NHS auditorium, with reserved seating sold out.
22. Enjoy a laugh-filled St. Patrick's Day Eve with Comic Dave Dugan of Carmel at 7:30 p.m. March 16 at The Cat in Carmel, with $15 tickets in advance on eventbrite.com and $20 tickets at the door.
23. Participate in Gardening 101 during a free program from 5:30 to 6:30 p.m. March 23 at Fishers AgriPark.
24. Hamilton County Theatre Guild's The Belfry Theatre presents "The Great Gatsby," directed by Noblesville's Andrea Odle, March 17-March 26 at Arts for Lawrence's Theater at the Fort in northern Marion County, with tickets by calling 317-773-1085. ASL Interpreters and Talk Back at 7:30 p.m. March 18.
25. Ages 2-5 can partake in Stories & Snacks 10 to 11 a.m. March 21 for "How to Catch a Leprechaun," with trail mix for snack; and 2 to 3 p.m. April 27 for "Wiggling Worms at Work, with dirt pudding, with fee and registration at noblesvilleparks.org of by calling 317-776-6350.
*Save the date: Noblesville Chamber of Commerce's "The Taste of Business-Made in Noblesville is 4 to 7:30 p.m. May 10 at Embassy Suites by Hilton in Noblesville
-Betsy Reason writes about people, places and things in Hamilton County. Contact Betsy Reason at [email protected]