Celebrate St. Paddy's with Gatsby, Live Music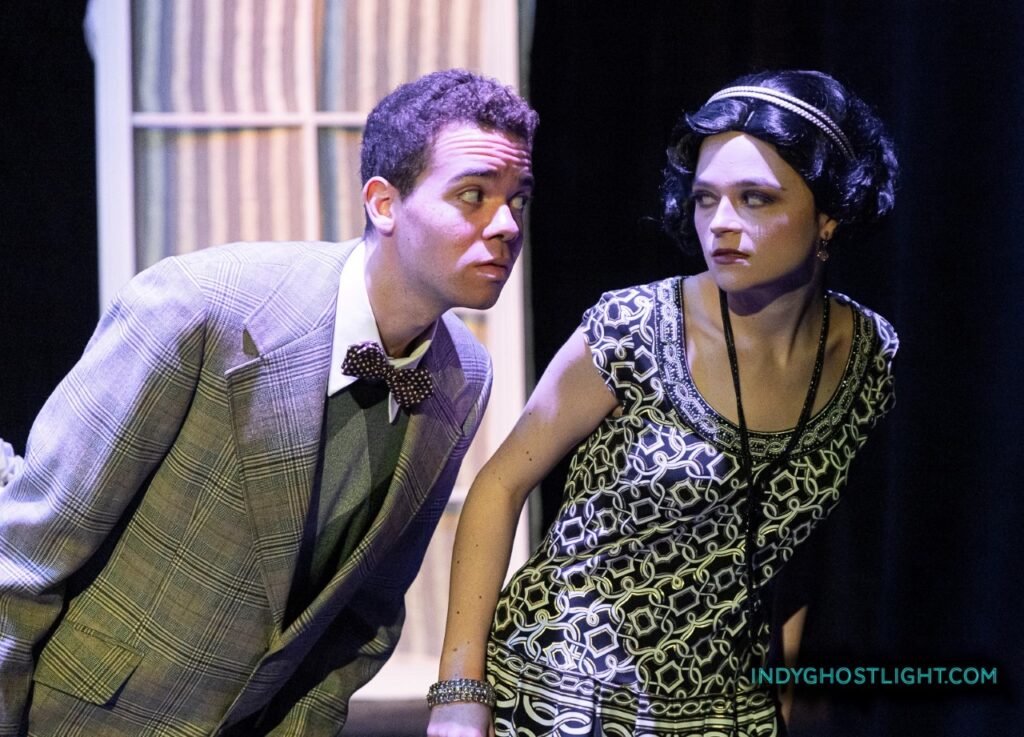 It's St. Patrick's Day with plenty of things to do all weekend and beyond. Here's our Times' list of two dozen things to do.
1. Enjoy St. Patrick's Day Music with Rusty Musket with Celtic folk songs, old sea shanties and Irish tunes at 7 p.m. today at Primeval Brewing, plus Primeval opens early at noon on St. Patrick's Day today in downtown Noblesville. Also, Celtic Rain on Saturday, Hill and Oaks on March 24, John Beatrice on March 25, Craig Thurston on March 31.
2. Join the St. Paddy's Day Party 2 p.m. to 11 p.m. today at 1205 Distillery in Westfield, featuring live music with My Yellow Rickshaw from 2-5 p.m. and Five After Midnight band 7-10 p.m. Plus green cocktails.
3. Watch Agatha Christie's "Murder on the Orient Express" through March 25 at Booth Tarkington Civic Theatre in Carmel, with reservations at civictheatre.org
4. Hamilton County Theatre Guild's The Belfry Theatre presents "The Great Gatsby," directed by Noblesville's Andrea Odle, opening today and continuing through March 26, with performances at 7:30 p.m. Fridays and Saturdays and 2 p.m. Saturdays and Sundays, today through March 26, at Arts for Lawrence's Theater at the Fort in northern Marion County, with tickets by calling 317-773-1085. ASL Interpreters and Talk Back at 7:30 p.m. March 18.
5. Westfield Winter Farmers Market is 9 a.m. to noon Saturdays, through April 1 at West Fork Westfield Event Center on East 191st Street.
6. See beautiful flowers and landscaping during the annual Indiana Flower & Patio Show through Sunday at the Indiana State Fairgrounds.
7. Enjoy live music at Grindstone Public House in Noblesville, featuring Jeff Brown on Saturday, Matt Record on March 23, The Dead Squirrels on March 25.
8. See work of artist Marc "Mozzy" Love's exhibit, "Welcome to the Boomtown," open noon to 5 p.m. Wednesdays through Fridays in March in the Stephenson House. Bobbi K. Samples' work is currently on display in the Meyer Najem 2nd Floor Gallery.
9. Experience the live music of The Juan Douglas Trio on Saturday and Mike Archer on March 25 at Spencer Farm Winery in Noblesville.
10. Check out the comedians at The Brick Room Comedy Club, featuring Monarchs and Ali Gautier at 7:30 p.m. today; Shannon Rostin, Sarah Huntington and Tennah McDonald at 9 p.m. today; and Gwen Sunkel, Natalie Bainter and Kristin Carnes at 8 p.m. Saturday with $10 admission tickets at thebrickroom.cc.
11. Participate in Gardening 101 during a free program from 5:30 to 6:30 p.m. March 23, and Pop-Up Bird Seed Cakes at 4 p.m. March 29 at Fishers AgriPark.
12. Ages 2-5 can partake in Stories & Snacks 10 to 11 a.m. March 21 for "How to Catch a Leprechaun," with trail mix for snack; and 2 to 3 p.m. April 27 for "Wiggling Worms at Work, with dirt pudding, with fee and registration at noblesvilleparks.org or by calling 317-776-6350.
13. Enjoy live music by the 78's at 7 p.m. March 24 and 31 and April 6 at Boathouse Kitchen & Swan Dive in Cicero and March 28 at the Hotel Carmichael in Carmel.
14. Auditions for Underdog Theatre's "Second Chances" will be at 10 a.m. on March 25 at Green Valley Church of Christ, 19005 Cumberland Road, Noblesville, for high school and college-age actors with rehearsals and performances to take place in Noblesville. "Second Chances" follows life on Mars long before life existed on Earth. Prepare a monologue, complete an audition signup and get more information at underdogtheatre.org
15. Get your tickets for Hamilton County Passion Play "Behold the Lamb" on stage March 29-April 1 at Noblesville High School Auditorium. Tickets are $1 each at https://www.beholdthelamb.com/
16. Second Ward Vintage Market is April 1 in the Lacey Arts Building in downtown Noblesville.
17. Legacy Keepers Music's new 2023 Classical Guitar series, a part of the Bicentennial Celebration, kicks off at 7 p.m. April 1 in the Historic Courtroom at the Hamilton County Courthouse in downtown Noblesville. NHS 2021 graduate, guitarist Santiago Baptista, will take the stand to give his own musical testimony before the featured artist, Joseph Jones, a 2020 Butler University Masters Guitar program graduate. The series continues May 1 with Brett Terrell and Friends, Nov. 4 with Nolan Winters and Dec. 2 with John Alvarado. Tickets are $20 each or $60 for season tickets for the four concerts, a savings of $20.
18. Board the Nickel Plate Express for an Egg-citing Easter train ride with the Easter bunny on April 1, 2, 8 leaving Hobbs Station at Forest Park Depot in Noblesville.
19. Bring Fido and sniff out thousands of treat-filled Easter "Beggs" with treats, at 11 a.m. April 8 at Hamilton Town Center's Dog Park behind Express.
20. Celebrate Spring at the Hide and Peep Egg Hunt and more 11 a.m. to 1 p.m. April 8 at Village Green in front of Dick's Sporting Goods.
21. Main Street Productions and Basile Westfield Playhouse present "Spitfire Grill," directed by Noblesville's Brenna Whitaker April 13-27, with tickets at westfieldplayhouse.org.
22. Hamilton County Theatre Guild's The Belfry Theatre presents "Crimes of the Heart," directed by Jen Otterman of Noblesville, April 28-May 7 at Arts for Lawrence's Theater at the Fort in Indianapolis, with tickets at 317-773-1085 and on sale soon at www.thebelfrytheatre.com.
23. Save the date: Board the Nickel Plate Express for the Peony Brunch Express at 10 a.m. April 29 for a 90-minute ride with brunch by Andy's Housepitality, leaving Hobbs Station at Forest Park Depot in Noblesville.
24. Save the date: Noblesville Chamber of Commerce's "The Taste of Business-Made in Noblesville is 4 to 7:30 p.m. May 10 at Embassy Suites by Hilton in Noblesville.
25. Save the date: Charity Ride for American Veteran Riders Association is at 8:30 a.m. May 20 beginning at the Ralph Lehr VFW Post 6246.
-Betsy Reason writes about people, places and things in Hamilton County. Contact Betsy Reason at [email protected]