HSE Senior Is DAR Good Citizen of the Year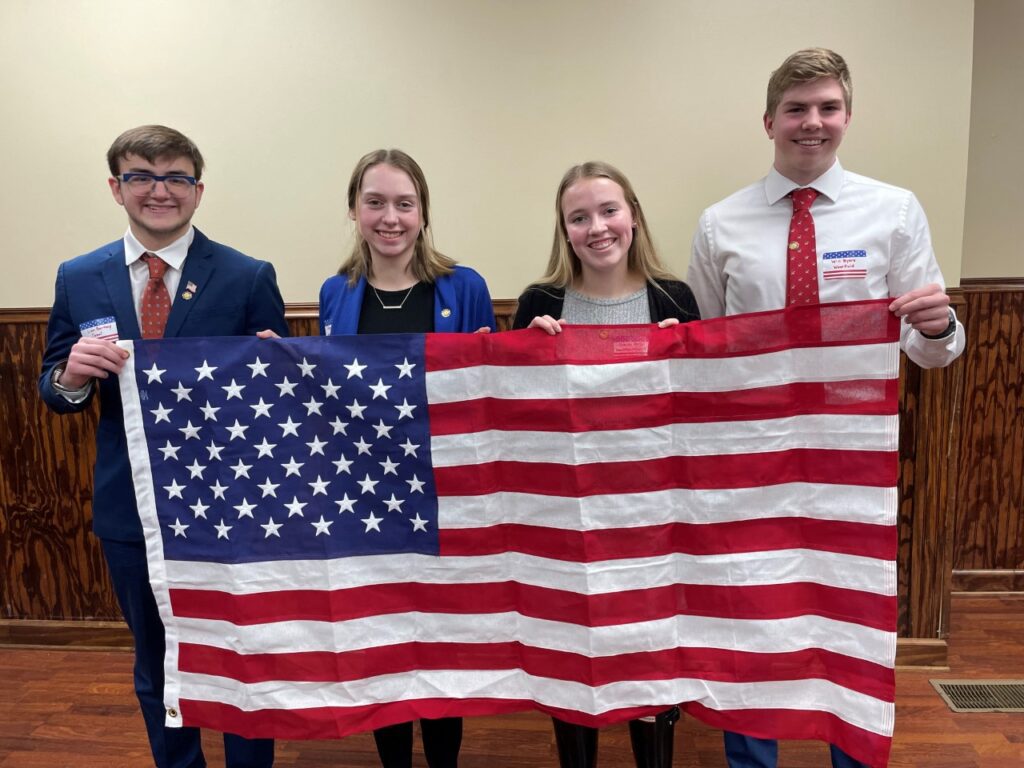 Kate Lantzer epitomizes the four qualities — dependability, service, leadership and patriotism — that define a Daughters of the American Revolution (DAR) Good Citizen.
The 17-year-old Fishers resident, a senior at Hamilton Southeastern High School, was named winner of the 2023 Good Citizen of the Year Award by the Daughters of the American Revolution, Horseshoe Prairie Chapter.
She accepted the Good Citizen of the Year award on Sunday afternoon during a special DAR Awards Tea at the Noblesville Township Community Center. She received a certificate, DAR Good Citizen pin and a large American flag that was flown over the U.S. Capitol in her honor at the request of U.S. Congresswoman Victoria Spartz (R-IN-05) of Noblesville. Lantzer was among six 2023 DAR Good Citizen winners.
Lantzer, who will graduate in spring 2023, uses her free time at school to assist the HSE Algebra teacher in helping others. "Kate will help students with their homework, look over previous assessments, study for upcoming tests and quizzes and will even write her own problems for students to work through," wrote JoAnna Peters, HSE math teacher and National Honor Society sponsor, in her recommendation letter. "Kate was not asked to give up her time but willingly came up with the idea to share her strengths with others. Her fellow students trust her knowledge and her approachability and calm and kind demeanor make her an obvious choice to help students who are not as confident in mathematics."
This is while Lantzer is a part of the HSE Mock Trial team and an executive board member of National Honor Society, the latter for which she is the meeting coordinator, runs all member meetings after school, answers questions and is the face of the chapter for younger members "Kate was chosen for this role based on her ability to lead and command a room, all while being a welcoming and warm presence for our chapter."
Peters refers to Lantzer as a "mature, professional, yet humble young woman," and "a strong leader."
She is the daughter of Jason and Erin Lantzer of Fishers and has a current cumulative grade point average of 4.3, with a total of 12 advanced placement, dual credit and honors classes. She has been on the dean's list since 2019, is presently summa cum laude (4.3 GPA) and then magna cum laude (at least 3.5 GPA) 2019-21.
Her volunteer experience includes interviewing candidates for the HSE school board in 2022, a volunteer math tutor since 2021, teacher's aide since 2019, an intermediate and junior high camp counselor and HSE Royal Rumble Mentor. She is team attorney for her school's mock trial and awarded "most valuable participant" for the 2021-22 season and has been a competitive equestrian since 2013. She's been riding for 10 years and has her own horse, Bama. "Lately, it's making me really happy."
She is in Law and Government Academy. She was peer-selected as vice president of Rho Kappa National Social Studies Honor Society chapter at HSE and helped register many eligible students to vote and helps find service opportunities for students. She also volunteers with her former junior high to serve as an outdoor education counselor for students.
"Dedication is a trait Kate exhibits at a high level," said Janet Chandler, HSE's Social Studies department chair. "Her organization and internal motivation enable her to show devotion to her activities. I am so proud of her growth in mock trials and her continued classroom excellence. Kate can be trusted to accomplish whichever task is assigned …" Chandler said, "Academic ability, activity participation and dedication" serve to distinguish Lantzer from other applicants."
Lantzer has been a member of We the People since 2022, serving as a member and captain. Lantzer said the mock trial and We the People" programs have given her the opportunity to become more patriotic. "We the People have opened my eyes to both new perspectives and love for our country."
She plans to double major in political science and history and hopes to intern in Washington, D.C. "Law and government is my passion," she said. Lantzer's career goal is to be an appellate court attorney, then a judge. "No matter where life takes me, I always plan to strive for the betterment of my community," she said.
Lantzer believes the reason she was selected as a Good Citizen of the Year was due to her leadership skills. "I didn't have as many activities or involvement as other candidates I feel like. But all of the activities and involvements, I am leaders in," she said. She's an executive member of her school's National Honor Society, vice president of her social studies honor society, lead prosecutor on mock trial, and We the People captain. "I might not do as much but, what I do, I put a lot of time and effort into, which I think makes me stand out," she said after the award presentation.
She is a very determined person, which comes from self-motivation and wanting to perfect everything as good as it can be, she said.
She said her communications skills and her drive make her a good leader.
Her inspiration? "My mom, most definitely, inspires me the most. She's my biggest critic but I think in a way to help."
After high school, she plans to attend Miami of Ohio University to study political science and gender societies. She wants to be a lawyer.
The Good Citizen Award and Scholarship Contest was partially based on an essay, "Our American Heritage and Our Responsibility for Preserving It," with the question, "How will the essential actions of a good citizen (dependability, service, leadership and patriotism) meet the challenges that America faces in this decade?" All of the finalists in attendance stood and read their essays, which were written to inspire others to become a better citizen.
All of the finalists — who represented their respective schools — had impressive resumes with many high school activities, achievements and areas of special interests, way too many to mention all of their accolades.
Each student contestant wrote an essay without the use of reference materials, according to contest rules.
Noblesville's Horseshoe Prairie Chapter of DAR presents the Good Citizen Award each year to one graduating senior.
While the winners from each school all have good grades, being honored as a DAR Good Citizen is so much more than good grades.
It means you've given back to the community, to your school, to your church and to your family, and that you were voted on by your peers and by your administrators.
Each year at the DAR Good Citizen of the Year Tea, winners from each participating school attend, read their essays and receive DAR Good Citizen Pins. The winners then pose for photos and enjoy cake served by the ladies of the DAR.
Other contest finalists representing each of their participating high schools included:
-Cassidy Rose Felger of Cicero, the daughter of Chris and Shelley Felger, is a senior at Hamilton Heights High School in Arcadia. She has been involved in Student Government, serving as vice president and treasurer, and played a role in putting on different events for school, such as the school's Ryan White Walk, homecoming and a dance marathon. She's a member of Honors Society and Husky Ambassadors for which she greets opposing teams and directs officials where they are needed for athletic events. She's a member of Huskies for the Cross, which shares devotions during a time of gathering for support and community, and is secretary for Bring Change 2 Mind, which works to remove the stigma around mental health and advocates for those who struggle with it. She is a member of Business Professionals of America and French Club of which she is secretary. She has played soccer for the past four years, captain her junior and senior years, lettering on varsity every year and was named Offensive Player of the Year twice for her team and Most Valuable Player, All-Conference honors the last three years and First Team All-District this year. She played basketball her freshman and sophomore years and was awarded the Mental Attitude Award, joined Unified Track her junior year, and earned academic awards in Health, French, Geometry, Honors English and was Top 10 percent of her class every year. She was also voted homecoming queen by her student body "because she is kind to everyone, and people see the compassion she has for others," said Joy Volz, her English teacher.
"She has a strong work ethic and personal standard for herself that have helped her succeed in the classroom and on the soccer field," said Travis Kauffman, her social studies teacher.
Felger sings on her church worship team, bringing others closer to Jesus, and has helped provide many kids in the elementary school with food through a backpack buddies program. She plans to attend Grace College in Winona Lake, Ind., and play on the women's soccer team, and is looking at teaching and business majors.
-Will Byers of Carmel, the son of Chad Byers and Virginia Byers, is a senior at Westfield High School and maintains a 4.34 GPA while taking AP classes. He earned a varsity letter in high school football. He was captain and academic all-state for his men's volleyball team, co-leader of FCA, four-year member of three-year state qualifier and one-year national qualifier for DECA, member of National Honor Society and Math Honor Society. He's a member of his church worship and greeting teams, a Sunday school teacher and a Backpack Blast spokesperson, a vacation Bible school leader and serves in his church's food pantry. At school, he is a tutor for those who need help.
He maintains a 4.34 GPA and is a member of the National Honor Society. He mentors young athletes at Rock School, is a strong leader for the football program and a strong voice for the men's volleyball team. He is a Fellowship of Christian Athlete leader.
"Will embodies what it means to be a high-character student athlete and member of the Westfield community. Will's commitment to excellence, devotion to serving others, and willingness to grow separate him from others his age," said Josh Miracle, assistant football and head track coach and social studies teacher and mentor program adviser.
"Will is the kind of student every teacher hopes to have in their classroom," said Heidi Mangus, mathematics department chair.
He plans to attend Mount Vernon Nazarene University to play volleyball and student finance or data science and hopes to focus on a career in business or data analytics. He's enjoyed after-school or summer jobs at Kidzone party rentals, caddying, dog walking and more, and pickleball, ukulele, club volleyball and building computers.
-Liam Courtney of Carmel, the son of Tim and Jennifer Courtney, is a senior at Carmel High School. He is a wind symphony member, band teacher aide, AP scholar with distinction, National Honor Society, German National Honor Society. His most significant impact has been through his volunteer service at his Jiu-jitsu academy, where he is one of the instructors for the kids' program. He plays Carmel Rugby, is a Hoosier Boys State Delegate, plays trumpet in marching band, is in the volunteer orchestra, jazz band, pep band and is a Model UN member.
"What makes Liam exceptionally unique is his unquestionable character. Liam is very kind … He treats others with compassion, which explains his popularity with both students and staff. At 18 years of age, he possesses a level of character that most people will not acquire over their entire lifetime," said Allison Hargrove, CHS social studies teacher.
"Liam's biggest strength … is his willingness to help younger students. He is a natural teacher …," said Michael Pote, CHS director of bands.
Courtney has chosen to serve in the U.S. Army with a three-year ROTC scholarship. He plans to study international relations in college with a focus on security policy. He hopes to work in the Department of Defense after his service in the military.
-Chaney Smith, the daughter of John and Kristy Smith of Sheridan, is a senior at Sheridan High School. She has been very active in sports, four years in varsity soccer and varsity basketball, five years in varsity cheer, two years in varsity softball, and soccer and basketball all-conference, National Honor Society, soccer academic all-state, sophomore princess and senior queen candidate, all four years on high honor roll. She was varsity basketball captain and varsity cheer co-captain her junior and senior years. She is a 10-year 4-H'er. She plans to pursue a career in speech and language pathology. (She was not in attendance due to illness.)
-Abigail Phillips, the daughter of Chris and Amy Phillips, is a senior at Tipton High School. She has been active at school in Student Council all four years, National Honor Society, varsity softball all four years and captain for two years, varsity basketball two years and captain for one year, varsity cross country, varsity soccer and class officer all four years. She serves her community by participating in canned food drives, clothing donations and art restoration projects, and through church by volunteering as an altar server and teaching Sunday school. She plans to study speech pathology, medical imaging or elementary education. (She was not in attendance.)
-Betsy Reason writes about people, places and things in Hamilton County. Contact Betsy Reason at betsy@thetimes24-7.com.