Let The Kids' Consignment Sales Begin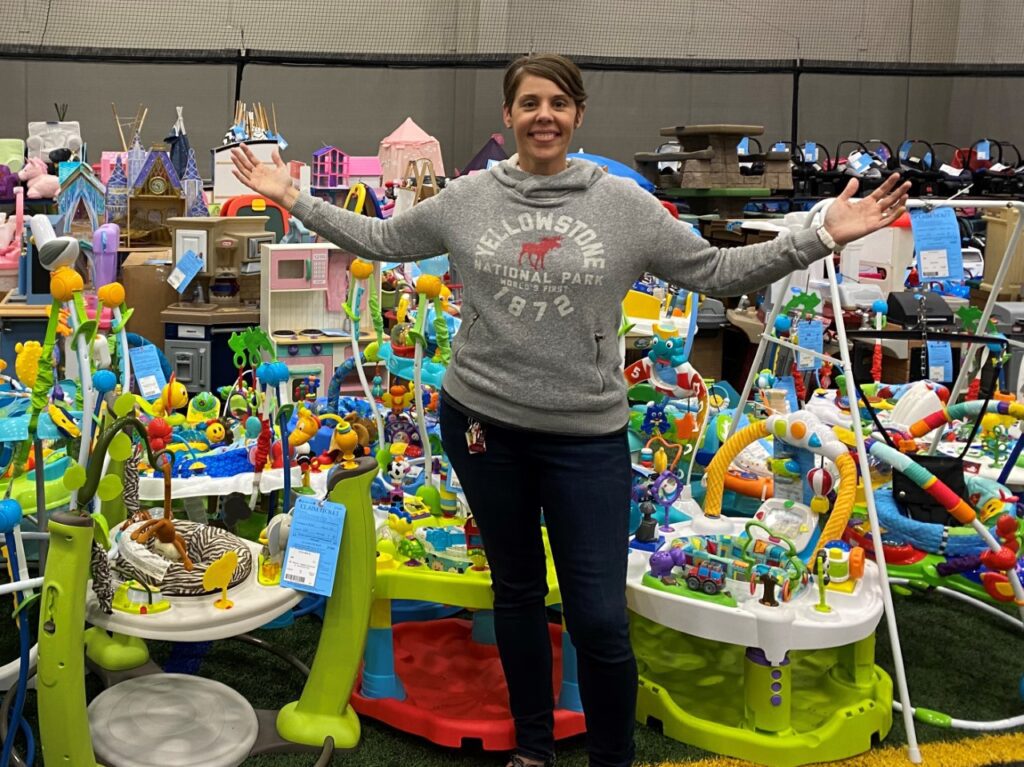 Want TO GO?
What: 18th annual Indy Kids Sale offering new and gently used children's clothing up to teen sizes, toys, furniture and gear.
When: 9 a.m. to 8 p.m. Friday and 9 a.m. to 1 p.m. Saturday (half-price sale).
Where: Mojo Up Sports Complex at Finch Creek Fieldhouse, 16289 Boden Road, Noblesville.
Cost: Admission and parking free. Bring your own bag or purchase one at the door.
Good to know: Payment forms include cash, MasterCard and Visa.
Info: http://www.indykidssale.com/
Indy Kids Consignment Sale – Indy's Favorite to Shop, Save & Earn
Indy's Favorite to Shop, Save & Earn
www.indykidssale.com
It's just three days until Daylight Saving Time begins and only 11 days until spring officially arrives.
For a lot of families, this time of year means getting rid of outgrown and unwanted kids clothes, toys their kids don't play with anymore and no-longer-needed kids gear. And for some moms, it means consigning their items and/or shopping for deals at the local biannual kids' consignment sales.
For us, it's a good time for my daughter to re-organize her closet and dresser drawers and make piles of items that she has outgrown or no longer likes to wear.
We started consigning at kids sales when my 16-year-old daughter was a toddler. Just a couple of years before that, I met Fishers mom Lori Chandler, who lives in Carmel now, and who turns businesswoman twice a year as the owner of Indy Kids Sale. The sale opens this Friday and Saturday for the public at Mojo Up Sports Complex at Finch Creek Fieldhouse in Noblesville.
Chandler and her husband, Mike, with the help of volunteers and employees, operate the consignment sale each spring and fall at Finch Creek. Public hours are 9 a.m. to 8 p.m. Friday and 9 a.m. to 1 p.m. Saturday, with designated items half price on Saturday.
The sale is huge and has grown to fill the entire 56,000-square-foot indoor youth athletic facility with more than 50,000 items. Consignors, who are mostly moms, tag every item electronically before they dropped off their items last Saturday through Monday. Consignors earn a commission, more if they volunteer at the sale. (Consignors, volunteers and new moms and moms-to-be can also get early access to the sale before the public.) And at each sale, consignors can choose to donate their unsold items to Good Samaritan Network of Hamilton County, which distributes food and clothing to those in need in the county, or pick up Saturday night.
Chandler's first experience with Indy Kids Sale was as a consignor after seeing an advertisement for the sale that had children's items from about 15-20 families in the front yard of someone's home. She came and shopped and was hooked. She was a shopper and then a consignor for about four years when she learned about the possibility of taking over the sale.
She's an organizer and a deal seeker at heart, so owning the business would be the best of both worlds.
"I remember a day when I thought it'd be amazing, but probably not achievable, to have 250 sellers," she said.
The numbers have surpassed those early dreams. The sale is gaining in popularity every year. "We had 650 registered for this sale," Chandler said. Indy Kids Sale, which was formerly at the Hamilton County 4-H Fairgrounds, in the O.V. Winks Building, then moved to the Exhibition Center, finally taking over the entire Center, before moving to Finch Creek during Covid to be able to spread out and have even more space. "It's such a great location for the sale, and we hope to be here for a long time," she said of Finch Creek.
The spots are filled in less than 12 hours from the time that consignor registration opened on Jan. 11."Each season, we grow and always have a wait list," she said.
"Our shoppers have also grown over the years. We started with just 100 or so and expect 4,000 to shop this week," Chandler said.
What's Chandler's key to success for her resale event? It's her great team of all local moms, "who really just love being together and putting this event on for the community," she said.
"The rule at Indy Kids Sale is kindness first. We are a family. We truly love being together every six months. I think people see that and want to be a part of that type of community."
Through the years, Indy Kids Sale has grown with the times. "Social media has really come about during the times of this business," Chandler has said. I've had to learn and adapt to using it for my business. We use Facebook and Instagram, primarily as ways to interact with local families that either want to sell their items or need to purchase items for their kiddos."
For Chandler, the kids sale is a year-around job and takes months to prepare for the spring and fall sales.
"I've learned over the years to be flexible. You can plan and plan and plan but there's always something unexpected. Roll with it and just keep going," she said.
Her husband has been invaluable help to her. By day, he's an editor, videographer and producer with his own company, Mike Chandler Media.
But when she needs him for the kids sale, he's all in.
"He has always been so supportive….staying up late at night with me to figure something out or getting up early to set up (for a sale)," Chandler has said. He is in charge of setup, tear down, IT and lots of pieces in the middle. "His primary role is leading the team that gets all the racks, shelving, tables and more set up and ready for us to take in our consignor inventory. He also sets up all of the computers that act as our cash registers. And during the actual sale, he is on the floor interacting with our shoppers and helping to carry large items out to cars. After the sale, he is in charge of the complete tear down of all the equipment."
She said, "I could not run this business without my husband."
Her kids, Ella, and Jacob, were 3 and almost 1 when she took over Indy Kids Sale. They've grown up with Mom running the business. Ella is now 18 and in her senior year of high school and helps as a cashier. Jacob is 15 and helps his dad with setup, tear down and carrying large items to cars.
"This is a part of their lives every spring and fall," the mom has said. "I hope that they are learning a good work ethic. They know that this is a very busy time, and they are a great help at home and at the sale."
Indy Kids Sale is just the beginning of spring kids' consignment sales. Here are two more in Hamilton County:
-Whale of a Sale is March 23-26 (half-price day for designated items) at Grand Park Event Center, 19000 Grand Park Blvd., Westfield. Visit http://whale-sale.com/
-Just Between Friends (JBF North Indy) sale is April 20-22 at the Hamilton County 4-H Fairgrounds, 2003 E. Pleasant St., Noblesville. Carmel native and mom Dawn Pfannenstiel has organized and operated the sale for the past 16 years. Consignors are still being accepting.
–Betsy Reason writes about people, places and things in Hamilton County. Contact Betsy Reason at betsy@thetimes24-7.com.