Noblesville Schools Announces 2023 Teachers Of The Year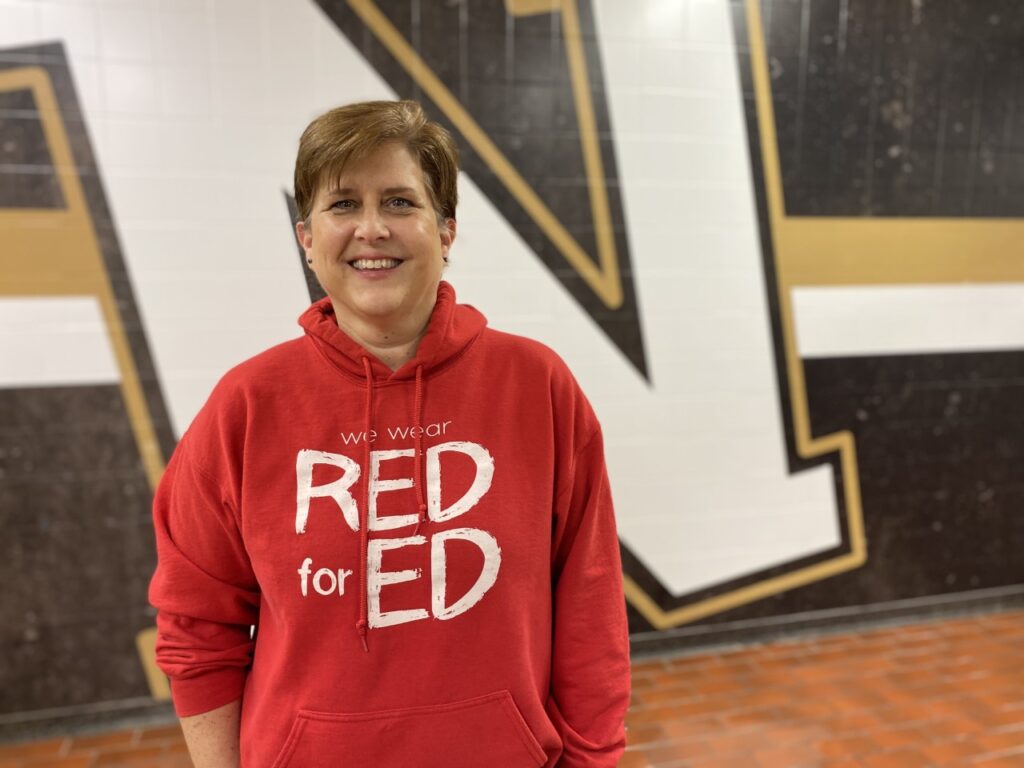 Noblesville Schools has named four educators as 2023 Teachers of the Year. The teachers were nominated by their principals and were selected for the honor by a committee of administrators.
The winners are:
Emily Griggs, K-2 Teacher, North Elementary (elementary winner and overall district winner)
Known for her patience, caring, and gestures to cheer others, Emily's strong relationships with challenging learners are second-to-none. A voracious learner herself, she is always the first to grow her professional skills and is a leader who is sought out by her peers. She pushes her students to be the best they can be, and they think of her as their mom at school. Always a cheerleader for others, Emily's life purpose is to empower her students to succeed.
Mario Dohnert, Fourth Grade Teacher, Hazel De Elementary (elementary winner)
A "game changer", a coach, a club leader, and a tutor,
Mario uses engaging real-life events and creative opportunities to bring learning alive for his students. Whether dropping off forgotten homework at a student's house or attending their events outside of school, he is 100% focused on his kids. A data-driven educator with success serving all, Mario's students set their own goals, interview for classroom jobs, and regularly show significant academic growth.
Betsy Lange, Seventh Grade Math Teacher, Noblesville East Middle School (middle school winner)
Betsy has a way of supporting students while holding them accountable that leads to success and ownership of learning, even beyond her math class. Strong relationships are at the center of her teaching, and she is known for making engaging connections with her students. As chair of the math department, she leads curriculum development, professional learning, and new instructional practices, and is a well-respected leader and role model among other teachers and staff.
Michelle Tharp-Taylor, French Teacher, Noblesville High School (high school winner)
In Michelle's class, students know that they matter thanks to her love and care. Funny, social, energetic, and wise, she eats lunch with students who don't have others to sit with and makes time to watch students at after-school events. Some have reported that they have learned more from her than any other teacher they've ever had. Throughout her career, she has fostered a passion for language among her students and a deep admiration among her colleagues.
The four educators were selected to represent different academic levels, with two teachers chosen at the elementary level to reflect the fact that 50% of Noblesville Schools teachers are in elementary schools.
One of this year's elementary school winners, Emily Griggs, was further distinguished as the overall district winner.
Selection focused on master teachers who excel at putting Noblesville Schools' mission and vision into action and whose accomplishments align well with the Indiana Department of Education's state Teacher of the Year criteria.
The winners regularly demonstrate the highest levels of quality instruction for their students and leadership among their peers. They will be honored at a Noblesville Schools Education Foundation recognition dinner in May.
As the overall district honoree, Griggs will also participate in the state Teacher of the Year competition.
Noblesville Schools employs approximately 700 teachers.