Lt. Gov. Suzanne Crouch Visits LittleStar ABA Center LittleStar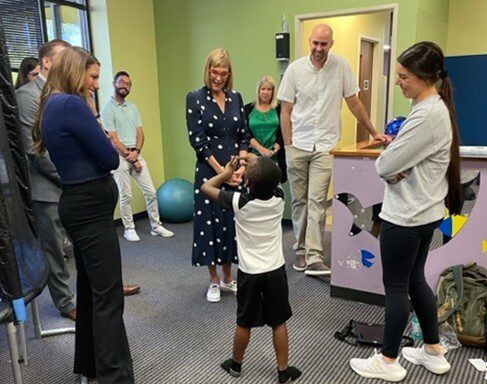 Today, Lt. Gov. Suzanne Crouch visited LittleStar ABA Therapy in Carmel to highlight the importance of Applied Behavior Analysis (ABA) therapy for those with autism. This is one of several visits Lt. Gov. Crouch has made to ABA therapy centers around the state.
"ABA therapies can have transformational outcomes for people with autism and their families," said Lt. Gov. Crouch, "It was an honor to visit LittleStar and meet with the professionals who make this therapy possible and are changing the quality of life for Hoosiers with disabilities across Indiana."
LittleStar ABA Therapy serves individuals and families across the state of Indiana that are affected by autism. Its services include testing and diagnosis, social skills training and other Board Certified Behavior Analyst monitored ABA therapy methods. LittleStar serves clients from 18 months to adulthood with specialized age group intervention trainings.
"LittleStar was the first ABA center in Indiana and over the past 21 years we have seen firsthand how important ABA therapy is to families every day," said Mary Rosswurm, CEO of LittleStar ABA Therapy. "This is especially true as autism rates continue to climb. We were honored and privileged to host the lieutenant governor today and truly appreciate her support of the autism community."
Also on the tour was Kim Dodson, CEO of The Arc of Indiana, an Indiana nonprofit committed to helping all Hoosiers with intellectual and developmental disabilities realize their goals of living, learning, working and fully participating in the community.
"The Arc of Indiana thanks Lieutenant Governor Crouch for taking the time to learn about the difference applied behavior analysis can make in the lives of people with autism and other developmental disabilities," said Dodson, "At a time when the state is proposing a rate change that could negatively impact the availability of this important therapy, we appreciate that our lieutenant governor wants to understand how therapists, ABA centers and people with disabilities could be affected."
Lt. Gov. Crouch is currently meeting with business leaders across the state, along with The Arc of Indiana, who employ Hoosiers with disabilities, including those with autism.