From the Desk of Your Congresswoman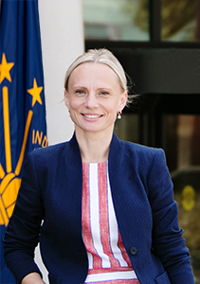 Two of my bills to hold China accountable recently passed the House as part of a larger package: H.R. 6285, Accelerating Holding Foreign Companies Accountable Act, which delists improperly audited Chinese companies from the U.S. stock exchanges, and H.R. 6329, National Critical Capabilities Defense Act, to diversify our supply chain and reduce dependencies of our strategic industries on countries like China.
I sponsored bills to retain a step-up basis for farmers to preserve small family-owned farms H.Res. 1015, Maximum Pressure Act to hold Iran Accountable, and H.Res. 881, condemning the heinous attack on the synagogue in Texas on January 15, 2022, which passed the House.
I also co-led letters with my colleagues concerning CMS vaccine mandates, requiring smart energy policies from the Biden Administration, concerns with the ATF's policy on silencers, and also supporting funding for Civil Air Patrol and the F-35 program in Indiana.
***
As all of you know, the situation in Europe is very serious and requires proper strategy, speed and scale to bring back peace and restore the international order.
In March, I joined two bipartisan congressional delegations (CODELs) with the House and the Senate to Poland to assess the situation on the ground firsthand. The humanitarian crisis has been escalating significantly and can destabilize not just Europe but the whole world before the end of the year if not dealt with properly and urgently. Therefore, I have been in touch with many stakeholders around the world and international organizations to assist with this serious situation.
I co-led the House Resolution 956, Supporting the people of Ukraine, with Rep. Meeks, Chair of the Foreign Relations Committee, which passed the House near unanimously. I also introduced a bipartisan and bicameral resolution with Sen. Lindsey Graham to investigate the alleged war crimes in the International Criminal Court (watch our joint press conference here), which passed the Senate unanimously. I co-led a debate on H.R. 7108, Suspending Normal Trade Relations with Russian and Belarus, which passed the House with overwhelming support.
Last week, I co-led a letter with Rep. Comer (R-KY), Ranking Member of the House Oversight Committee, to Rep. Maloney (D-NY), Chair of the Oversight Committee, requesting an oversight hearing on 13.6B in aid to Ukraine.
I also co-sponsored bills streamlining permitting to supply ammunition to Ukraine and naming Ukrainian Independence Park, among others.
***
I continue working with the Healthy Future Task Force to develop targeted solutions to the most pressing issues in health care.
My colleagues and I are actively engaging with patients, doctors, advocates, and industry leaders to hear their perspectives and develop common-sense solutions to improve health care value. Read an Op-Ed summarizing our latest work at https://www.washingtontimes.com/news/2022/mar/15/prescription-for-a-healthier-future-more-choice-lo/.
***
From ensuring IN-05 workforce is ready for the challenges of the 21st century, to visiting with organizations helping the most vulnerable in our community, to speaking to the leaders of tomorrow, I have no doubt that IN-05 remains the best place to live, work and raise a family. I look forward to continuing engaging residents and businesses in the community and representing your interests in Washington, D.C. We are planning a busy schedule during our two district work weeks in April, so please contact us below or at our District Offices if you are interested in me to attending your event or meeting in the district.
– Rep. Victoria Spartz represents the Indiana 5th District, comprised of the north side of Indianapolis, Marion, Carmel, Anderson, Noblesville, Fishers and parts of Kokomo. She is the first Ukrainian-born person ever elected to Congress.