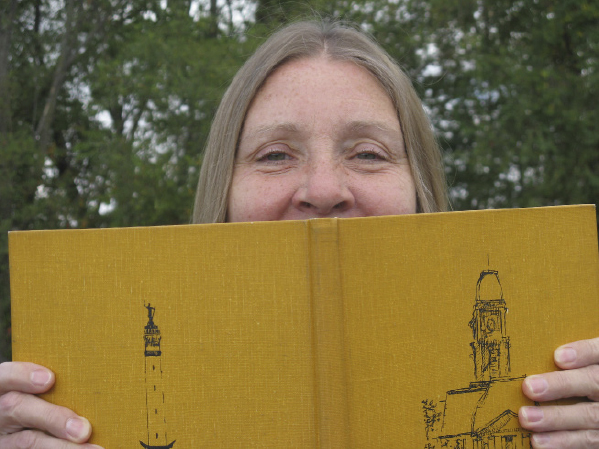 Okay, I'll confess. I didn't have time to do any in depth research this week, so, this being the season for holiday pitch-ins and parties, I decided to raid my recipe files for some easy cookie recipes.
I got this one from a clerk I worked with at Speedway Public Library in the 1980s. She brought these to our annual staff Christmas party one year and I liked them so much I asked her to write out the recipe.

Graham Cookies
graham crackers (enough to cover a cookie sheet)
1 stick of margarine
1 stick of butter
1/2 c. sugar
nuts*
Cover a large (15'' x10") cookie sheet with foil, then with separated graham crackers.
Boil sugar, margarine and butter for 3 minutes to dissolve sugar. Pour over crackers. Sprinkle with nuts.
Bake at 325 degrees for 10 minutes. Remove immediately to wax paper and allow to cool.
*The recipe doesn't specify what kind of nuts or how much. I'd be inclined to use pecans, but you could use whatever you like and as much as you like.
When I worked in the Indianapolis Star and News library, we'd set up a cookie table in the library for a couple of weeks each December and collect donations for charity from everyone who came in to indulge their sweet tooth. (The library was a VERY popular place at Christmas time!)
This recipe came from one of my co-workers. I'm not fond of peanut butter myself, but I know people who like it, so I added these to my repertoire. They are definitely the easiest cookies I've ever made.

Easy Peanut Butter Cookie
1 C. sugar
1 egg
1 C. plain or crunchy peanut butter
Stir together. Drop by teaspoonfuls onto a greased cookie sheet and flatten with a fork.
Bake at 350 degrees for 12-15 minutes.
The winter after I graduated from college, I worked in a small inn in the Adirondacks. (I could probably write an entire book about that experience!) The woman who owned the inn was kind of an odd duck to say the least.
Once she found out I could cook, I seldom got out of the kitchen. The things she had me make ranged from perfectly heavenly (her desserts, cookies and breads) to perfectly awful.
She was a VERY frugal person. Absolutely nothing that came out of that kitchen went to waste. Pancakes left over from breakfasts were used to make her "quiche." (The pancakes lined the bottom of a pan, a milk and egg mixture was poured over them and the whole thing was topped with a ton of shredded Jarlsberg cheese, then baked.)
Another memorable entree was her "5th Amendment" casserole. She said she called it that because she always pleaded the 5th Amendment whenever someone asked what was in it. (It was various leftover hot breakfast cereals like Cream of Wheat, mixed together and baked with gravy on top.)
Luckily, you could always fill up on cookies like these each afternoon at tea time. (I have no idea why they're called "Matrimonials.")

Matrimonials
1 1/2 sticks of butter (at room temperature)
1 1/2 c. flour
1 1/4 c. rolled oats
3/4 c. packed brown sugar
Jam (I think I may have used raspberry, but any kind would do.)
Work butter into flour and oats until crumbly. Press one half of the mixture into a buttered 8" square pan. Spread with jam. Gently press the rest of the mixture over the jam to cover completely.
Bake at 325 degrees for 45 minutes, or until golden and firm. Cool before cutting into bars.
Happy Cookies!

Paula Dunn's From Time to Thyme column appears on Wednesdays in The Times. Contact her at younggardenerfriend@gmail.com